You are viewing a single comment's thread from:
RE: Bitcoin (BTC) Mid-Day Update: Price Sitting on Top Trend Line as Support
No, @Haejin, you can't just draw the trend line wherever you want, "15+ year veteran" and you don't even know how to draw a trendline?
Here is the same chart that you plotted your trendline on (BITSTAMP, BTC/USD, DAILY), with the trendline drawn properly actually touching price at three points (not hanging in mid-air to pretend that the outlook looks good to your followers, because that is all you do, tell people that crypto is looking bullish, even when in reality Bitcoin doesn't look good at all right now):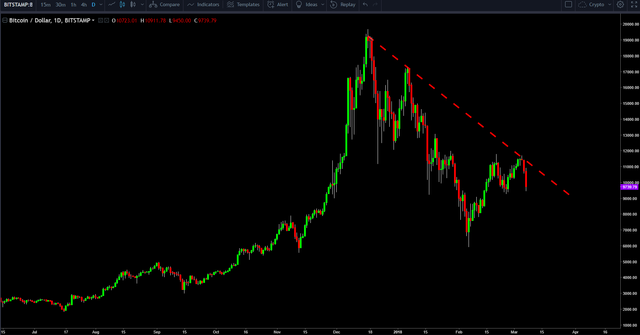 As you can see my falling trendline has been drawn based on the tops of the bodies of the candles at the three significant high points. Yours, on the other hand, has the start of your trendline hanging in mid-air: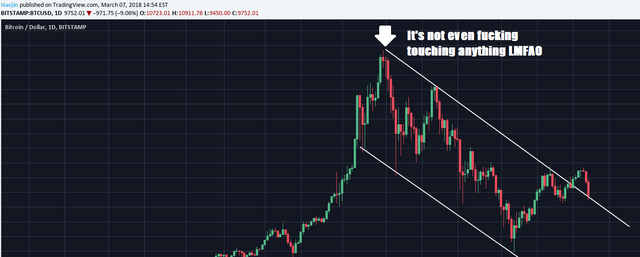 (If you can't really see it right-click on the image and press "open image in new tab" to see it full sized)
Wake the fuck up guys, stop following and commenting (aka begging for up-votes, get some fucking self-respect!) this fraud. He knows nothing about Technical Analysis, can't even draw a simple trend-line after "15-years" of experience!!!