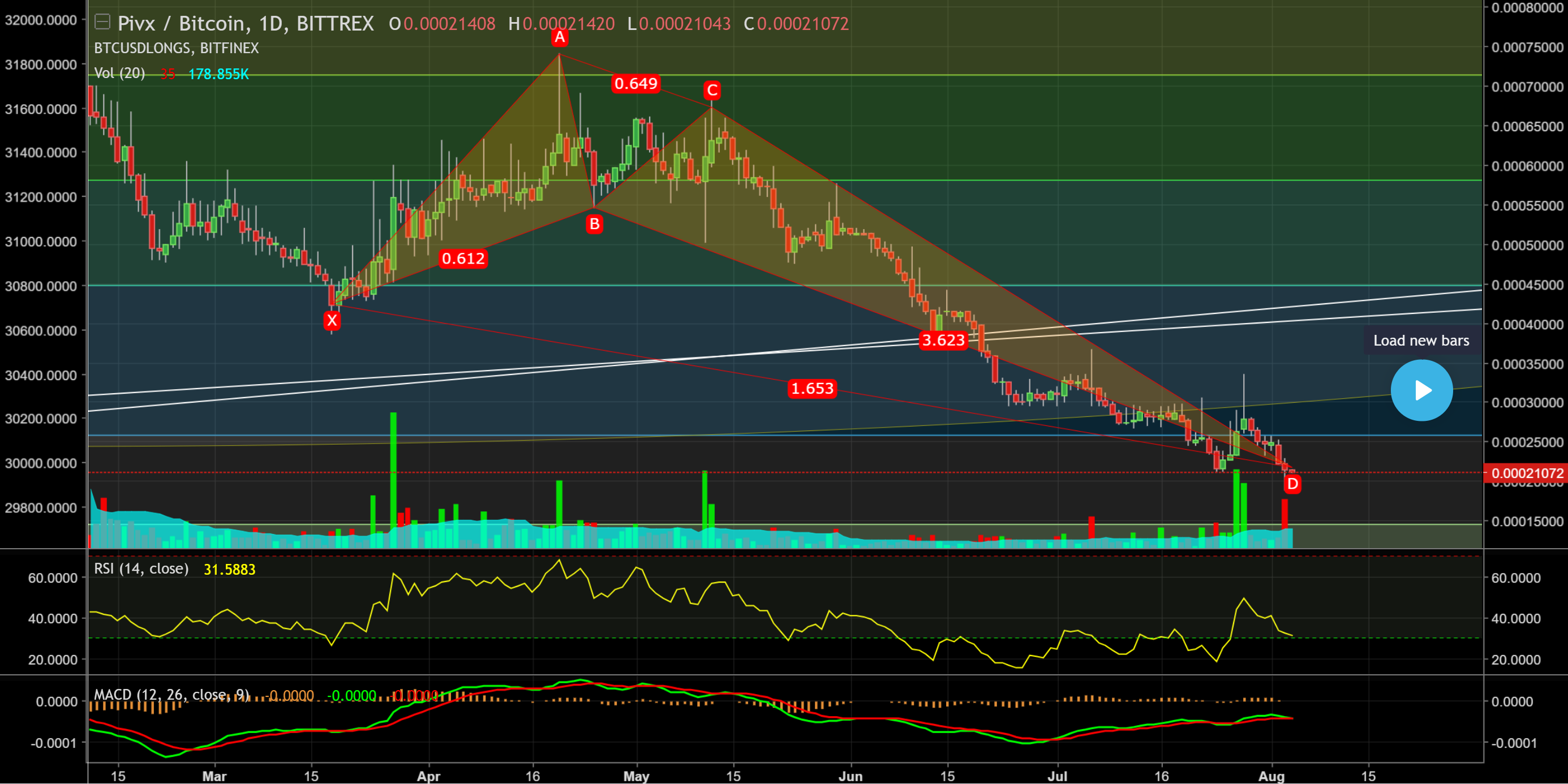 After invalidating the previous butterfly and (barely) the bullish bat I had pointed out on $PIVX's binance chart, there it is... once again "undervalued as fuck" as I labelled it on my livestream when it was a little higher than the current price(and before a ~50% rise). It's also sitting at the PRZ of a longer-term bullish crab pattern. In my opinion, the "undervalued AF" label will remain valid until PIVX/BTC rises by at least 200%, at which point it graduates to just "still pretty cheap."
Here's the interactive chart.
Bitcoin dipped slightly lower than I expected for bit longer than I anticipated but I like how it looks right now...
I have not modified the lines(since my last "market update" video) on the chart below(other than the horizontal arrangement), and as you can see, there's a pretty decent response to them so far. Much better than the action seen at the .236 around 7800, for example... BTCUSDSHORTS and BTCUSDLONGS is still interesting, but come visit my livestream for more on that...
Aforementioned chart(click/tap for full-size):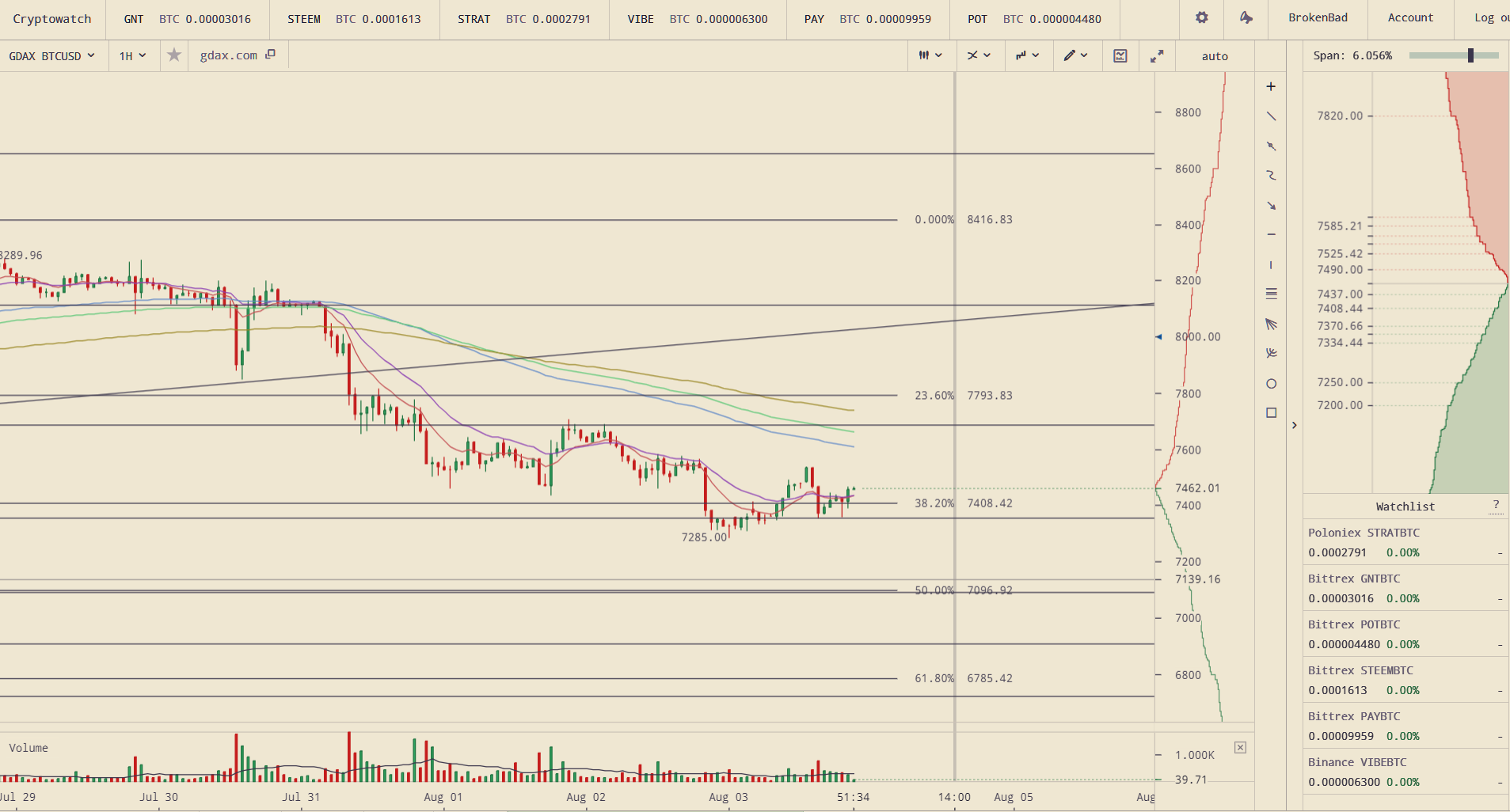 UPDATE (Aug 4 2018 @ 14:20 EST): As usual, right after I went to sleep, bitcoin said "NOPE!" As I mentioned peviously, since the 7300 level didn't hold, I'm somewhat expecting it to touch down around 6800. To be exact, the 61.8% level I'm watching now is at $6785. There is, of course, psychological support around $7000, which it just broke above again... Also, since I fell asleep, BTCUSDSHORTS shot up quite fast to a perfect spot to start coming down, while BTCUSDLONGS has continued modestly making it's recovery, breaking most recent resistance. At this point in time, I'd give this recent low of $6940 @ GDAX about a 40% chance of holding up. It's quite likely that most traders are expecting a low of ~6800, which could make that low less likely to be hit... the higher it bounces from, the more bullish I'll be in the short/medium-term.
Update (Aug 5 2018 @ 00:30 EST): Of course it wouldn't surprise me if it dips lower to 6800, but I just realized the 6900 level it bounced off is more significant than just the 50% level of my hyothetical fib extension I started watching sometime last month... The picture below is the bullish crab I posted shortly before the price shot up, and 6888 is the magical 1.618 level of the XA + D fib extension. Pretty perfect bounce so far...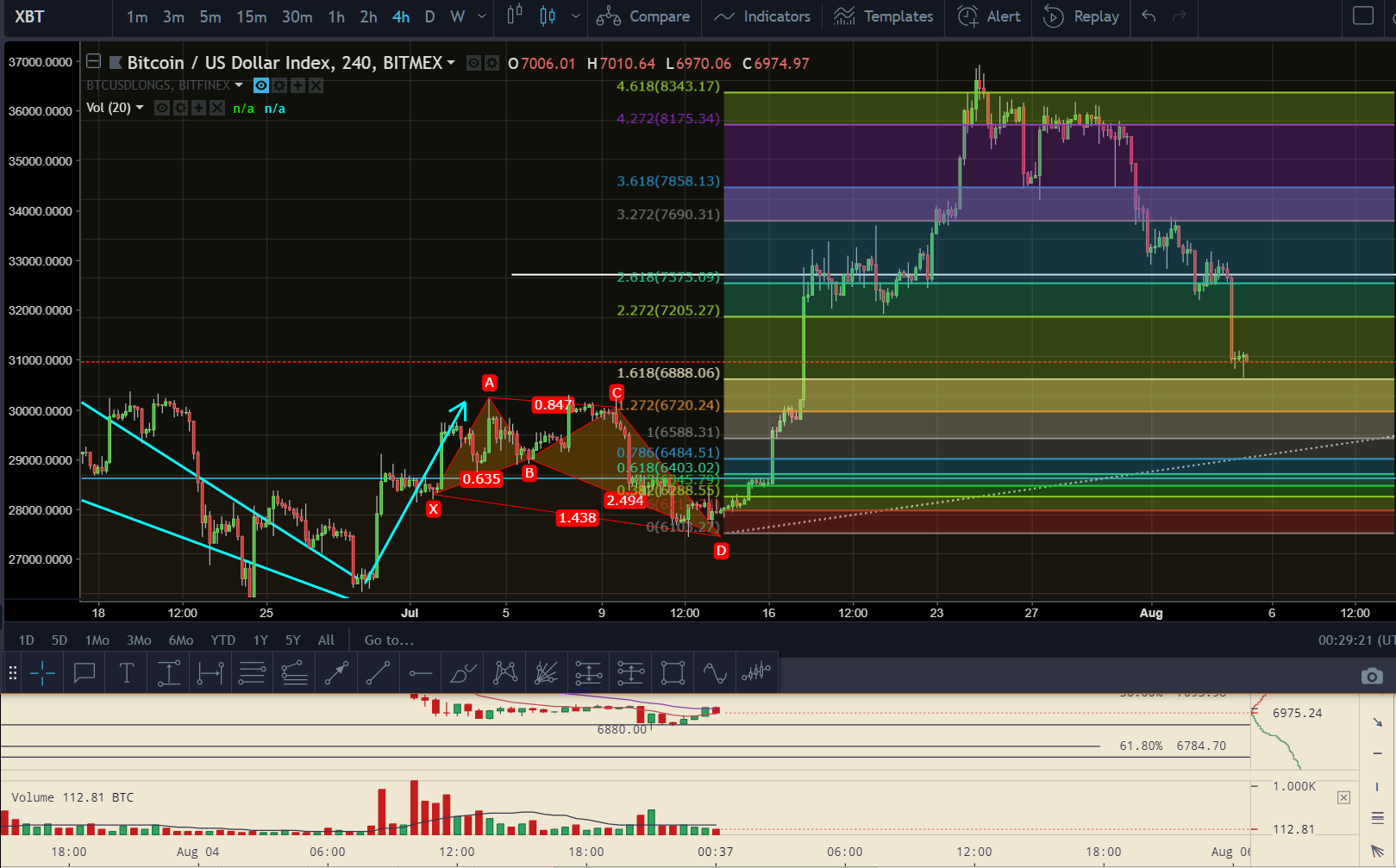 As I've mentioned in past tweets, I've (successfully) used Bitcoin Candy as a leading indicator for the market in general, and it seems to be bouncing pretty well off of the level that this falling wedge pattern seemed to predict near the end of July. I had seen some chatter about a 51% attack on the telegram channel recently, but the devs are very silent. Although I'd love to see it go up, I can't recommend it to the average trader(not that anything I say is financial advice!) until #CoinEx decides to add stop-loss functionality, at the very least. I'm also less inclined to continue using it as a leading indicator lately, however I still consider it a good sign that it seems to be making a recovery for now.


Similarly, @dalinanderson uses #EOS as his "altcoin indicator," and he basically says "it's time." I learned a lot of what I know about technical analysis from his YouTube videos. It certainly makes more sense to use higher market cap coins as leading indicators and as I mentioned in my last post, #ETH looks pretty good to me right now too(year-long bullish Gartley).
His tweet: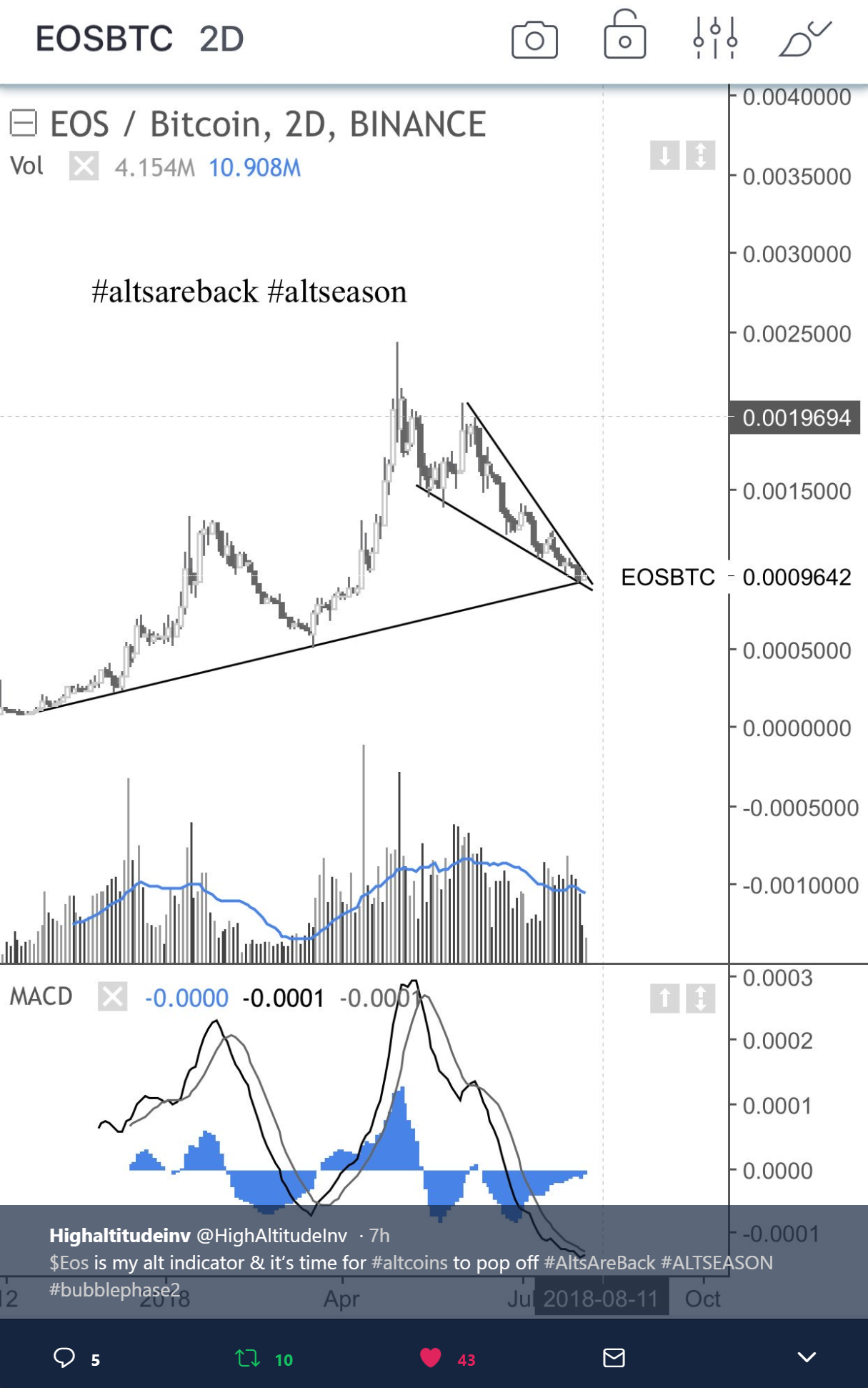 -Tom(@MyEmpireOfShit)
Personal links: Twitter | Tradingview | YouTube | Twitch | Facebook
iDC INC's links: Facebook | Twitter