Welcome to the WILD WEST of internet money! Current Market Cap: $733.1B (+$69.8B in 24 hours) Bitcoin Dominance 34.7% (-2.7%)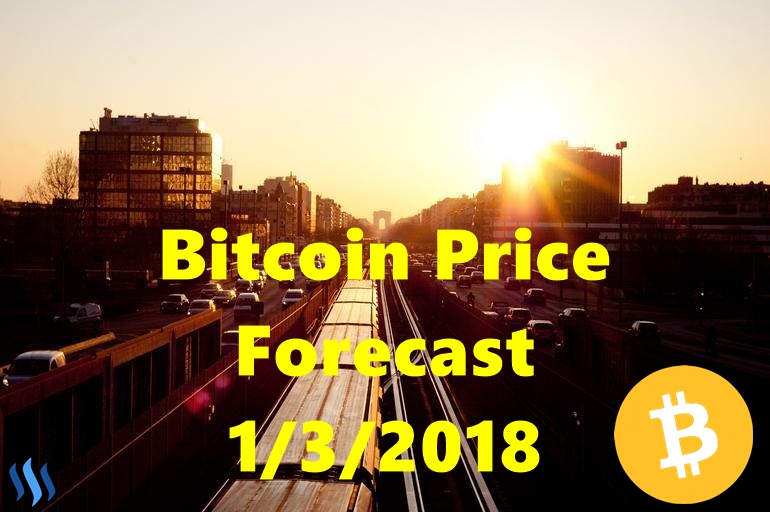 Yet another wild, wonderful day in the cryptosphere as we have reached all-time market cap highs. Bitcoin has truly been struggling to hold onto its lead here as we sink to a measly 34.7% dominance. This is actually the lowest it has EVER been- the last time it was even close to this level was directly before the BCH fork where Bitcoin congestion had caused a similar situation of high fees and long transaction times.
We could be seeing that 1 TRILLION dollar market cap sooner than we thought!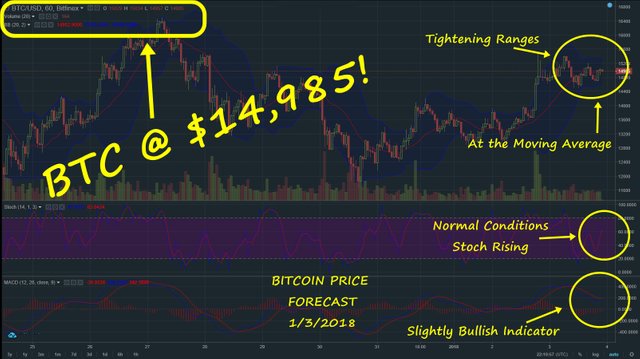 Today I have decided to use three indicators and trading tools: Bollinger Bands, Stochastics and MACD.
The Bollinger Bands are showing we are right at that moving average of around $15,000 right now and the high and low ranges are tightening due to low volatility.
The Stochastics indicate normal ranges, neither oversold NOR overbought, and moving toward the upper ranges.
The MACD is showing a slightly bullish signal with the Fast EMA about to cross over the Slow EMA while still remaining above the Zero Line.
Likely Scenarios:
There is an attempted shake-out pushing prices back below $14K, slowing around the $13-13.5K support level.
BTC holds steady for a while longer in the $15,000 support zone until volumes pick back up and push prices towards $16K.
BTC breaks out of the wedge and pops above the resistance at $16K establishing new support levels.
TLDR Version:
Bitcoin is quickly losing ground to the alt-coins and prices have begun to stagnate due to the high congestion on the network. Cheaper, faster alternatives are slowly eating away at Bitcoin's utility as a peer-to-peer currency, relinquishing its power and becoming just a STORE OF VALUE. Prices will remain stable between $14.5K-15.5K until we see that jump in volumes which will send us towards $16,000.
Alt-Coins To Watch (Waiting To JUMP!):
BCH
LTC
DASH
LSK
XVG
FUN
NXT
*Never invest more than you are willing to lose and always do your own research before making any investment decisions.
(All pictures are free domain images from snappygoat.com or created by myself.)