[BTC/USD Long-term view] - Bitcoin is far from dead!
The other day was talking with a friend which I meet in a crypto meetup and I exposed to him a few of my concerns. Not only about the tech about project A or B.
More about the price. The thing that can make or break us. Also I considered their opinion very relevant for me, given the fact that he's not a 'very BIG whale' but definitively someone with deep pockets in crypto (6 digit-range bags).
His answer was pretty clear and straight forward:
''I'm very relaxed accumulating. I sleep well at night. Without any doubt I lost a big chunk of 'USD value', but this slow period is giving me more than enough time to accumulate loads of the bags of the projects that I love.''
And showed me this chart (which I modified a little to explain a couple of interesting things).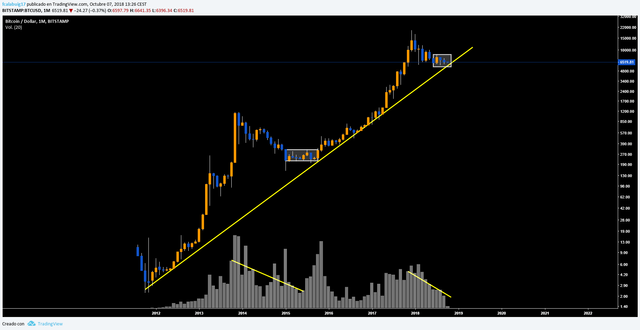 From this chart we can conclude a few things:
-Despite of the destructive behaviour from the last months, the long-term trend (showing us the way since 2011) remains INTACT.
-In both cases we have a descending volume and prolonged sideways period. Seems that the second one is (by far) accelerated.
-The most relevant scenario to compare the recent price action is the bear market which started in December '13 and ended with the breakout of Oct '15. This cooldown needed 22 long (and painful) months before the next bull rally.
---
If we use a lens (from 1M to 1S period) to further analyze the sideways action of the prize, we can also extract even more relevant information (pay att. to the accumulation periods in boxes):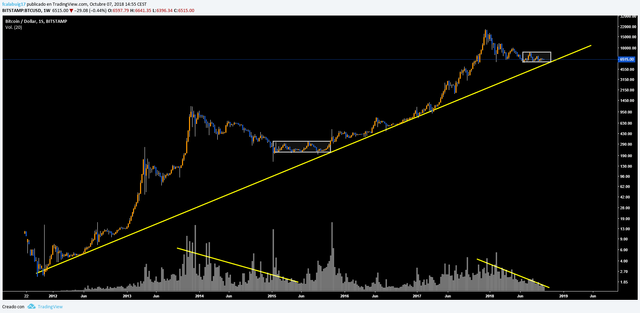 Even more if we focus in both of the bearish & sideways scenarios: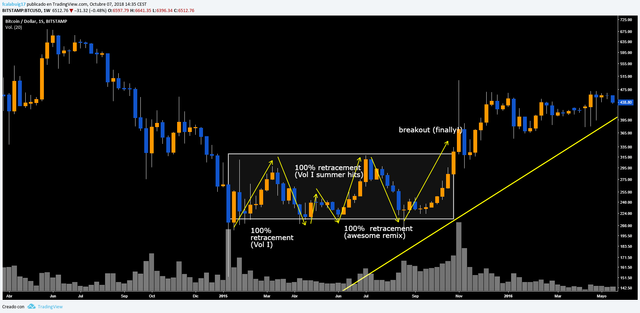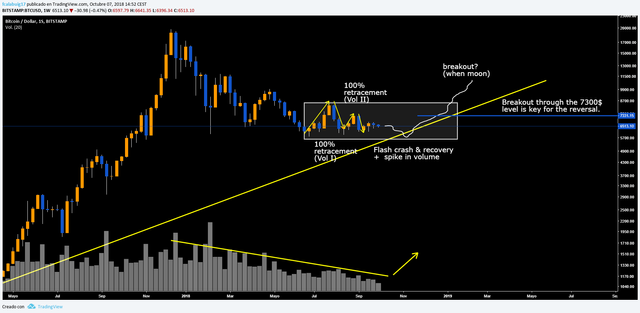 -The sideways period will naturally (as it has been doing lately) chop heads of both bull/bear margin traders. Every retracement is sweeping away big chunks of money from impatient & overleveraged hands.
-I expect it, but as always regarding trading we talk about probabilities. I don't discard a flash crash into the 5700$'s to (once again) sweep away stop loss orders and enforce a cascade of panic-sellers before the 'real' recovery.
Remember that THIS MAY NOT HAPPEN, so dont bet blindly and don't 100% expect another leg down.
-As it should happen naturally, a higher high and a lower low are required to confirm a reversal. I see the 7300$ and later the 8700$ as key resistance levels.
-I also have to say that if (for whatever reason) the 5700-6000$ fails to hold, it will become a MASSIVE resistance to break later on.
Disclaimer: As always; not financial advice.
---
Keep yourself strong and focused.