Logarithmic Scale is a good tool for long term analysis. Using it you can easily identify in which moment of the market cycle we are .
In the case of BITCOIN, if we apply the logarithmic scale on the daily chart we can identify 3 BIG BEARS MARKETS in all its history. Actually I am using the recorded data of BTC/USD pair corresponding to the BITSTAMP , one of the oldest Exchanges.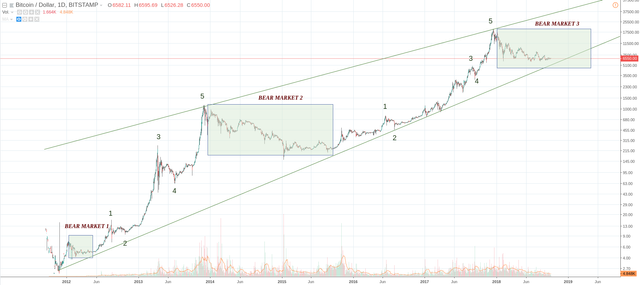 Impressive, isn't it?
3 Bull cycles (5-waves) and their corresponding corrections, the last one on going...
The more evident BEAR Market, the second, came after a BULL RUN which finished by the end of 2013. The correction was very long, more than 20 months, finishing by September 2015.
Since then, BITCOIN price grown continuously till the end of last year when the 3rd BEAR MARKET started...
How can we identify the end of the BEAR Market?
Seems that the 200 days Moving Average is a good tool for that: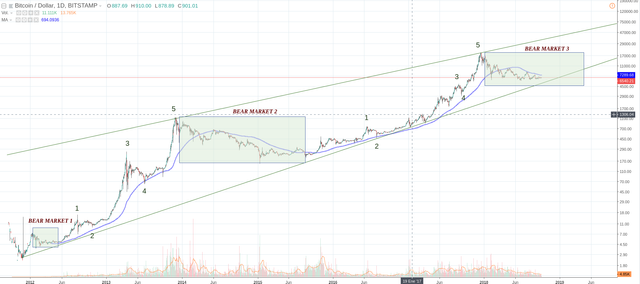 When the 200DMA crosses from above the price line, that is a good signal for determining the end of the BEAR MARKET: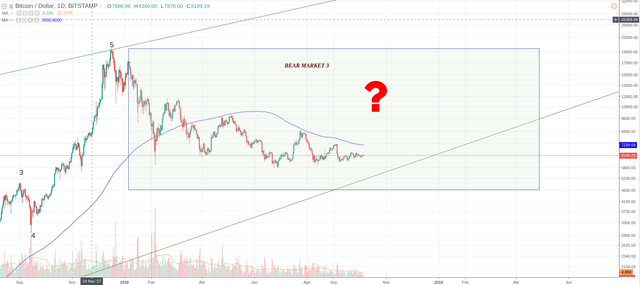 Currently the 200dMA is acting as our Resistance line...seems that BTC is very close but remember that the timeframe is big here... Prolonging the lines we may see that CROSS perhaps in very short time...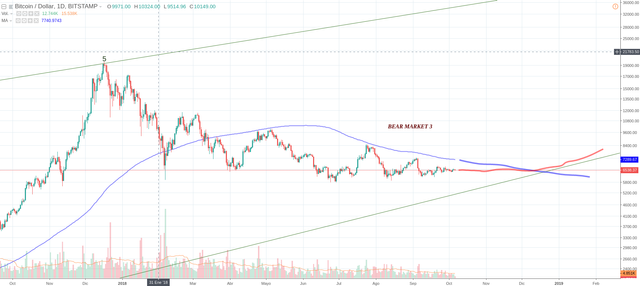 Enjoy!
---
---
*Disclaimer: This is just my personal point of view, please, do your own assessment and act consequently.
Neither this post nor myself is responsible of any of your profit/losses obtained as a result of this information.
---
---
Published on



by toofasteddie
---