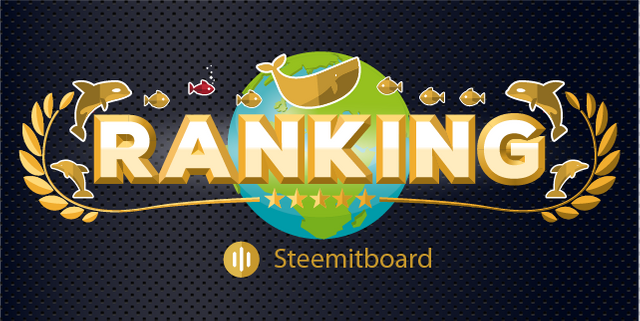 Who are the leaders of the Steem community?
How do I perform on the Steem blockchain based on Steem's key metrics?
If these questions are yours, then you now have the perfect tool to answer them.
We are proud to introduce the SteemitBoard Ranking!
With this tool, you will be be able to compare yourself to your fellow Stemians.
The ranking displays all the values you are used to if you have already viewed your own page on SteemitBoard.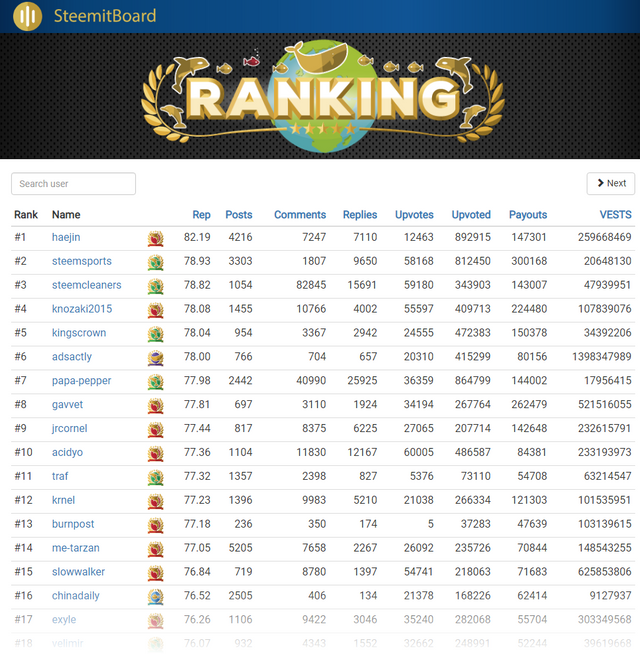 Features:
Columns are sortable
By default, the ranking is sorted by reputation in descending order. As you may have noticed, @haejin is the user with the highest reputation, far away from all other users. Congratulations!
You can also sort the ranking by Posts, Comments, Replies, Upvotes, Upvoted, Payout and VESTS by clicking on the column header.

Quick jump to user's page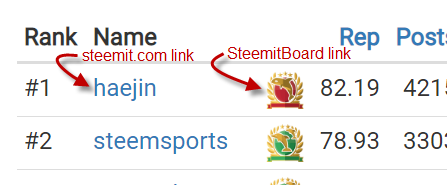 Each user's name is clickable and will open his/her blog on steemit.com in a new tab on your browser.
To the right of each user name, you will see a small icon with the current level of the user. Click on it to open his/her board on SteemitBoard's website.
Double decimal reputation
SteemitBoard Ranking displays your reputation with 2 decimals. This way you know more accurately how far you are from the next step.
Searchable ranking
The SteemitBoard Ranking page has a convenient search box to help you find yourself or any other user among the millions of users registered on Steem.

Type any name in the search box. Steemitboard will search for the user in the ranking given the current sort order, will scroll to the correct line and highlight the user's information.
For example, let's search for @stellabelle

If we click on another column to change the sort order, the page will update itself to be able to display the selected user.

How to access the SteemitBoard Ranking
In the top right corner of your board on SteemitBoard's website, you will find a hamburger menu.
Click on it to open it then select "Ranking"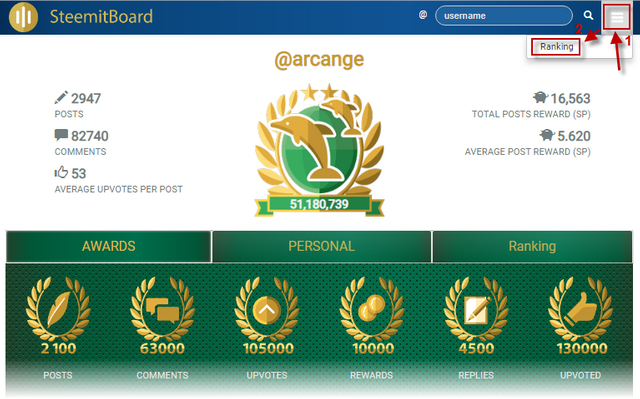 You can also go directly to https://steemitboard.com/ranking.
SteemitBoard ranking page use adaptive web design so it will selects the most appropriate layout for your screen. Landscape mode is recommended on small devices.
Future roadmap
Here are some features we plan to add to the ranking:
display who is powering down
display account UA
display number of followers and following
Split payouts into author rewards and curator rewards
SteemitBoard need your help!


Although @steemitboard still struggles and miss approximately 26800 SP to be able to operate as before HF20, we stay committed to our mission of providing fun to everyone and encouraging newcomers.
If you have not read our previous call for help, we invite you to do so.
A BIG THANK YOU to all those who already answered this call:
Thank you all for your support!
---
Support the SteemitBoard project and vote for it as a witness!


Read here why to support @steemitboard as a witness
Read SteemitBoard's latest witness report here
---
Steemitboard is a project created by @arcange