Regular daily update on BTC ta analysts opinions.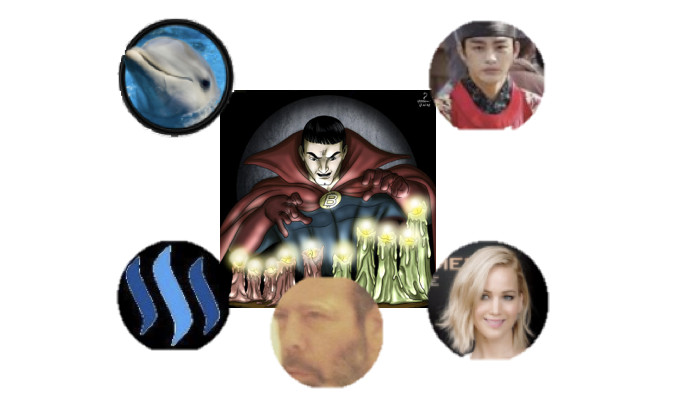 **My summary - short-term sentiment: bearish ** (last: neutral)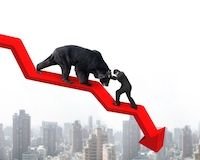 We are correcting and found support for the moment at 8'510 (0.382 fib).
The range the analysts see us bounce is between 8'400 and 7'800 with significant upside in the next wave up.
Just realized I have been ahead of time. May is usually a strong month. Lets see how it plays out in 2018.

News about the blog
I need to revise my 2018 long term table. I need to add a 2018 and 2019 target an be more precise on the sentiment here. Will do that after I am back in Switzerland.

We lunched the bounty project beta. If you are interested and you like to create a bounty on your own have a look at this post
Analysts key statements:
Tone:
Weekly: Weeks looks bad. We are hold up by 7 week MA. To maintain green count we need to close next week over 8'800.
Daily: He expects that we are going down till the 15th with a swing low at around 8'300 - than 4 day bounce and than lower.

Bitcoin (BTC) has likely put in the full five waves. Correction will likely decline towards the 0.618 Fib level. Soon, the B wave bounce should occur. Since the decline . Thus far looks like an ABC; the correction could be the Flat type (3,3,5).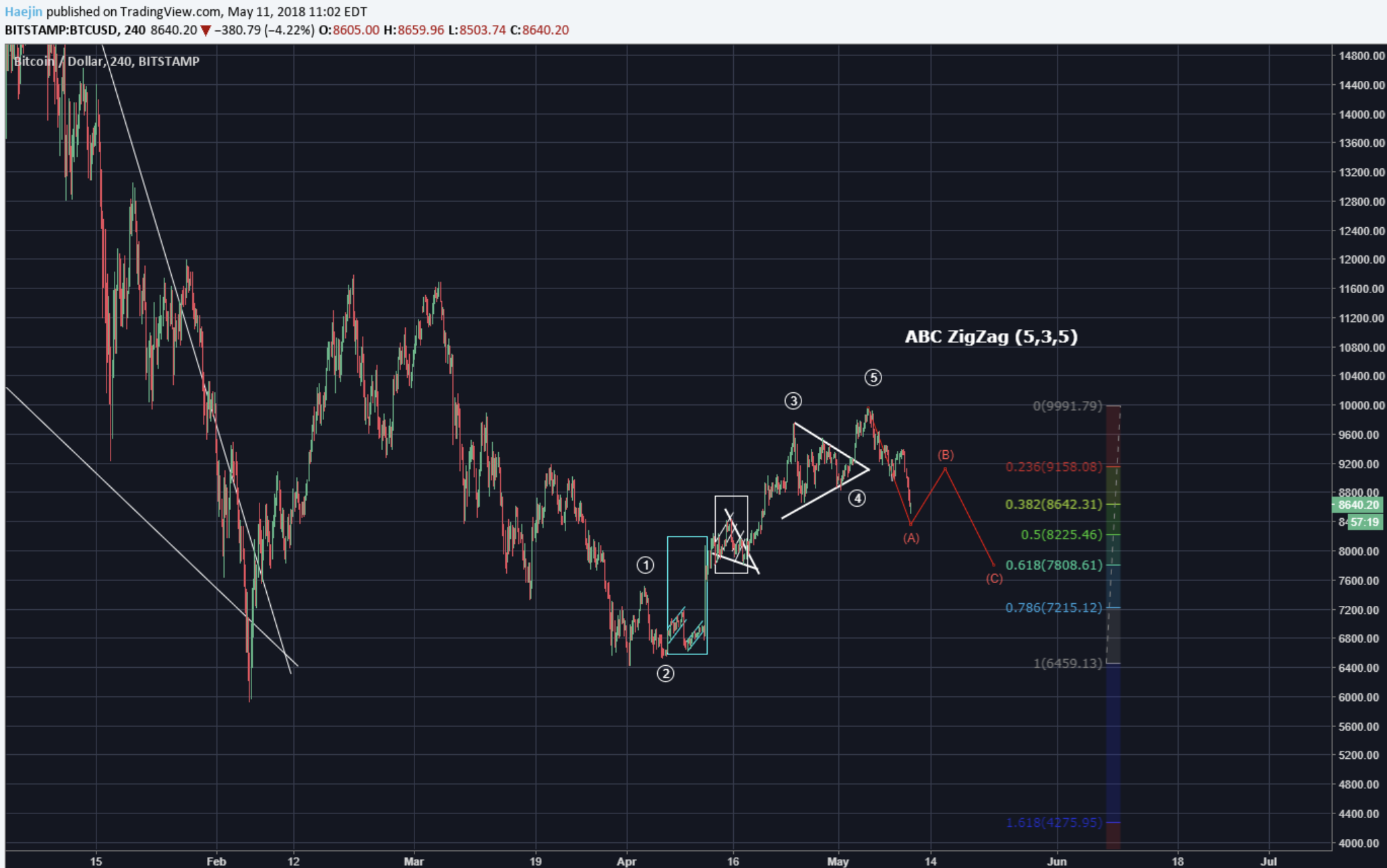 This morning the waves show a potential for blue wave 2 being in progress already! He sees us going down to the area of 8'400 - 8'000 and considers this a buy opportunity. For Wave 3 he sees a potential of minimum 14'000.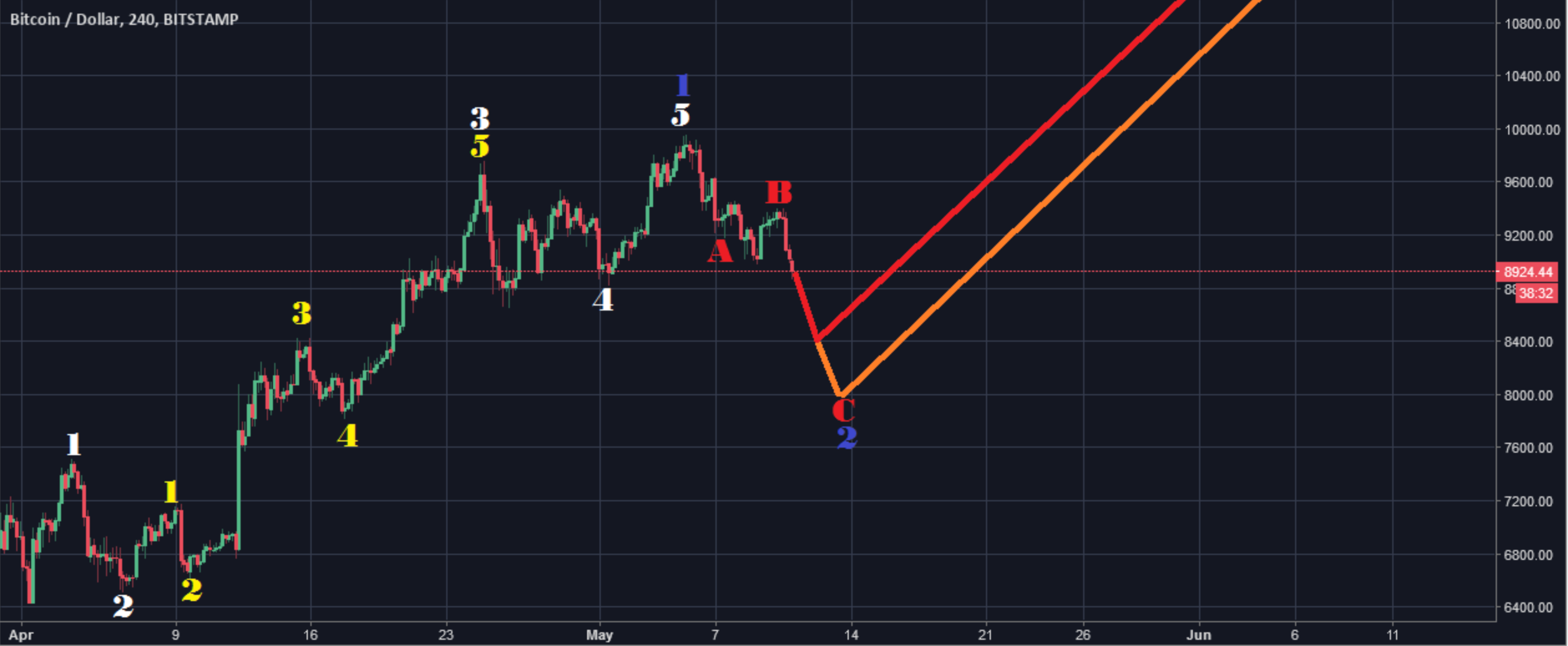 First target of 8'832 is met. Continuation of sell pressure is likely. 8'573 (0.786 fib) and followed by 8'367.
Todays trend is bearish. Expected trading for today is between 8'573 and 9'767.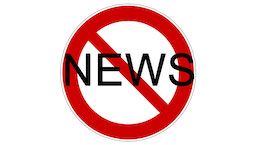 We see a massive rejection at 10'000 range and have now hit a 0.618 golden ratio fibonacci retracement level. I do not believe it'll hold and we can see 9'050 to 9'150 range. If that doesn't hold we go for 8'200 to 8'620 range.
If the preferred bullish count is to remain in place, bitcoin could go down as low as 7'887, which is a 0.618 fib retracement of the entire bullish advance from lows printed on April 9th. Short-term trend is down, and the 9'577 level is "key" upside resistance. If crossed we will see a short-term move above the recent print high of 9'948. If 9'577 holds we will see further downside consolidation before next bullish run higher.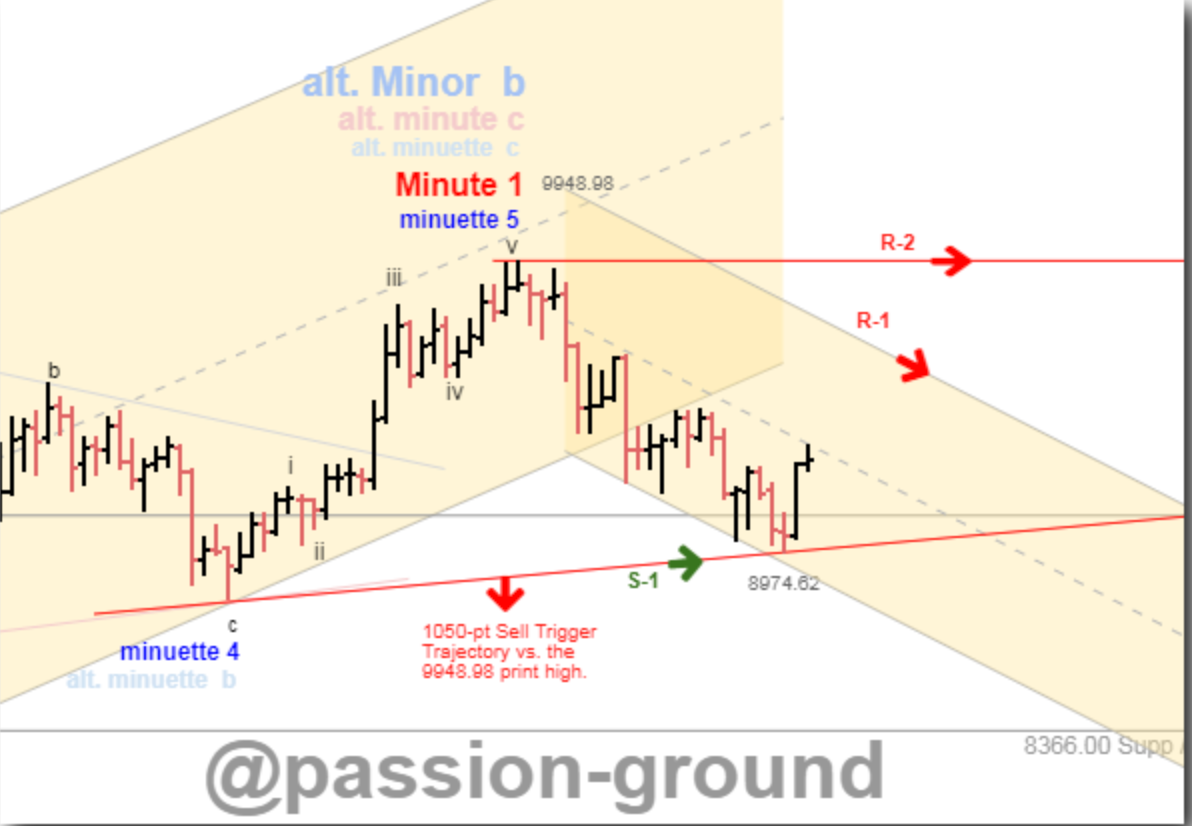 Summary of targets/support/resistance


Reference table
Definition
light blue highlighted = all content that changed since last update.
sentiment = how in general the analysts see the current situation (bearish = lower prices more likely / bullish = higher prices more likely)
target = the next (short term) price target an analysts mentions. This might be next day or in a few days. It might be that an analyst is bullish but sees a short term pull-back so giving nevertheless a lower (short term) target.
support/res(istance) = Most significant support or resistances mentioned by the analysts. If those are breached a significant move to the upside or downside is expected.
bottom = -> now renamed and moved to long term table. Low 2018
low/top 2018 = what is the low or the top expected for 2018?
Further links for educational purposes:
*If you like me to add other analysts or add information please let me know in the comments.