The War on Cash: Jeff Berwick Faces Off Against Statists on Al Jazeera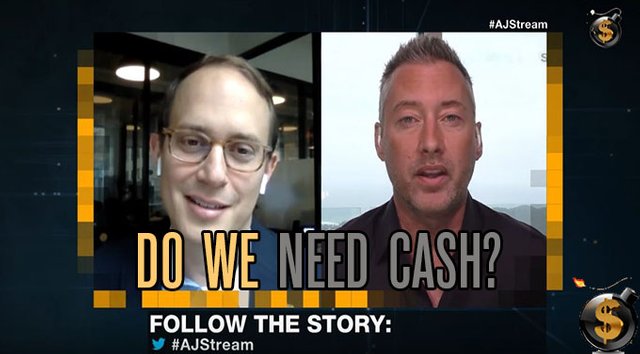 Do we really need cash? That is the question that was presented to the panel I was included in on Al Jazeera.
Some of the people on the panel were quite strong proponents of living a cashless existence, but they did admit that fiat currency cannot be done away with as easily as some say.
I mentioned that I, of course, prefer my Wirex bitcoin card (get one here) and Goldmoney (get one here) and Perpetual Assets precious metals cards (get one here) over using terrorist financing Federal Reserve notes or digital fiat.
Bitcoin being suggested as an alternative to government controlled fiat prompted some staunch opposition from the speakers on the panel who, being trained in government indoctrination camps, did not seem capable of listening and constantly tried to talk over me.
And, despite many people who think bitcoin is a globalist plot to bring in the "mark of the beast" system of total control and surveillance, I was the only one on the panel who even brought up this issue as one of concern.
You won't want to miss this video as it includes quite a bit of valuable information pertaining to the future of currency.
You can view it HERE
One of the arguments made by a bitcoin skeptic was that bitcoin couldn't even agree on the terms of its fork and segregated witness before August 1st. Of course now that August 1st had passed the value of bitcoin has skyrocketed tremendously along with the value of the newly created bitcoin cash.
Together, these two currencies have a combined value much greater than bitcoin had prior to the fork.
In the next few hours, we'll be releasing our August issue of The Dollar Vigilante newsletter where we discuss the future of both bitcoin and Bitcoin cash. To make sure you get our analysis, subscribe here.