State of the markets!
Again we see that we are not free from the bears just yet!. The markets are dumping!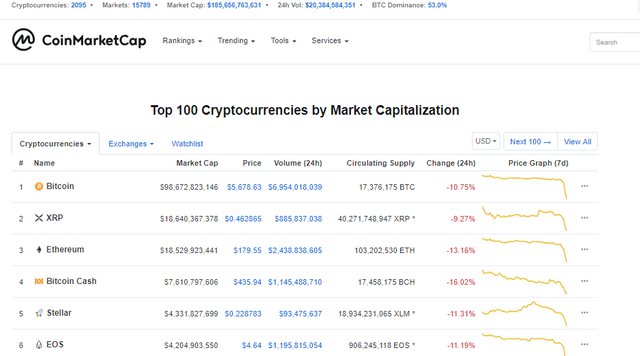 Source: Coinmarketcap, (2018)
For somebody who has practically sat out of the market for the last few months with minimal investments, I am still not worried! This is just a retracement of last years price action still playing through. Traders will call this the "emotional cycle" etc..., we still have not found that area of support required to continue up, obviously!. We can all speculate on when we think we are going to "moon" or "fall" but the truth is nobody knows, if we did we would all be rich!
Do not let this draw you away from the amazing work going on behind the scenes in many of the projects out there. There are boundaries being pushed every day on the blockchain technology front. I personally enjoy reviewing these projects and keeping up to date on them, which I need to do more of soon!
I just want to say steer clear of investing if this is getting you down, traders are making money on the backs of emotional "traders". Maybe invest time in research and be prepared for the next "real Bullrun", whenever that decides to happen.
What are your thoughts on it if any?