BTC TA (Technical Analysis) - ANALYSTS DAILY SUMMARY - JUNE, 19th
BTC TA ANALYSTS DAILY SUMMARY - JUNE, 19th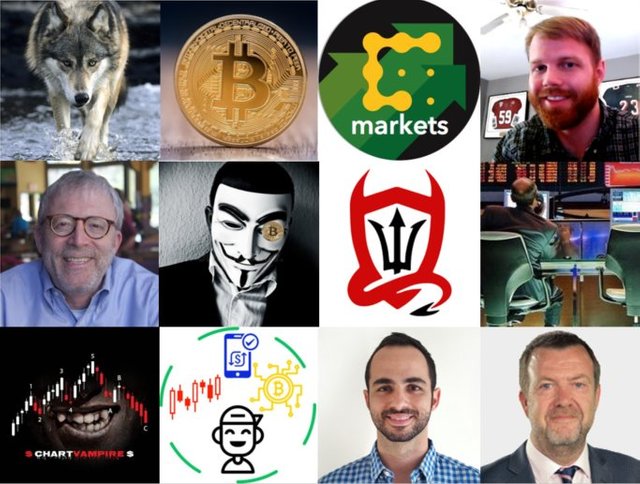 SENTIMENT SUMMARY

ANALYSTS OPINIONS
JD MARSHALL
Type of Trader: Medium/Long Term Trader
Best case scenario for BTC is price will trade sideways and build energy for higher highs later. Horizontal price movement is what we need to get ready for. BTC is definitely not 'mooning' any time soon. Keep the market in perspective. BTC is in a post-bubble phase and will take months and even years to recover to all time highs. In short BTC is building a base, expect price to trade sideways in the coming days. Do not get hyped in this market, you will get frustrated. BTC is flattening out according to the macro chart.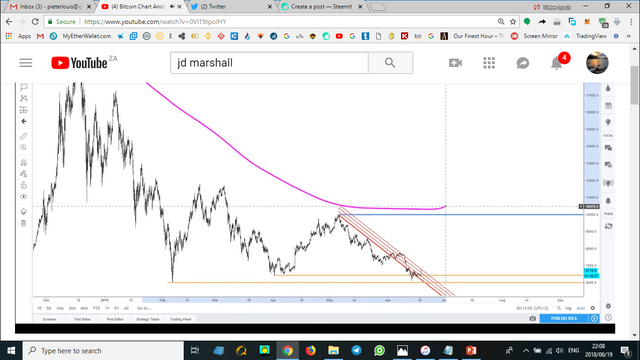 The trend for BTC seems to be lower highs, smaller arches. This might be an indication that big money is exiting the market. Recent rally is meaningless unless it breaks $7800. If not, we'll see the BTC price flop over and go lower.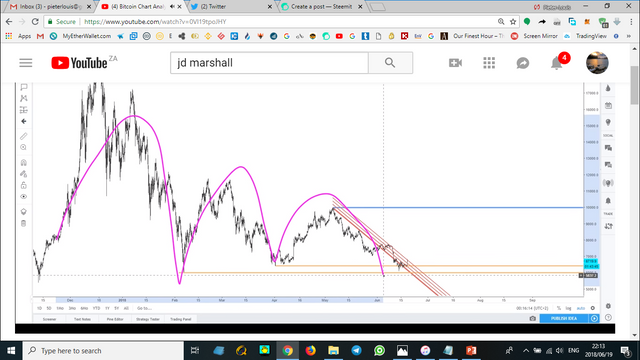 Crypto Guru (NO NEW UPDATE)
Type of Trader: Short Term Trader
Bitcoin is getting ready for a bounce based on indicators on the daily and weekly. Stoch RSI is oversold / aligned on both time-frames and MACD is ready for a breakout. Lastly, check out what happens each time the RSI gets to this level.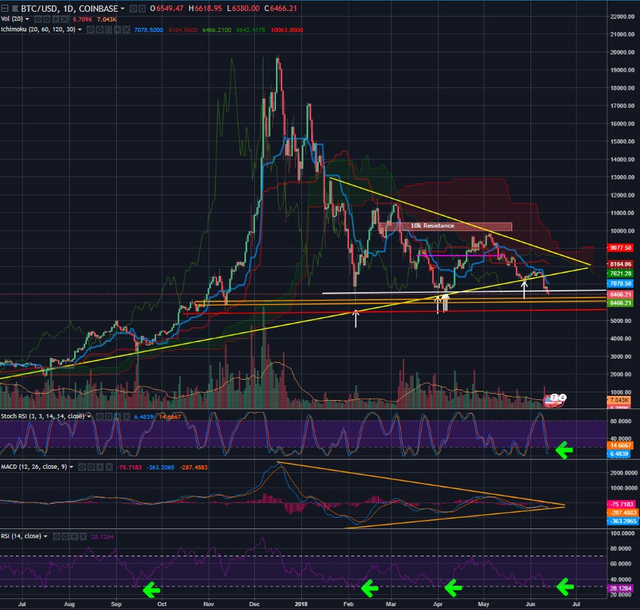 CoinDesk Markets
Type of Trader: Short Term Trader
MACRO:
Long-term outlook is mainly bullish as long as the support level .0013426 holds - a near bear MACD cross suggests a test is likely
Price is in the midst of a pennant (bullish) or descending triangle (neutral)
An upper diagonal trendline break will increase bullish bias
SHORT TERM:
#BTC bulls giving today's gains back to the bears as price is heading for $6650 support.
If the level is broken price will likely head to $6557 area for short-term support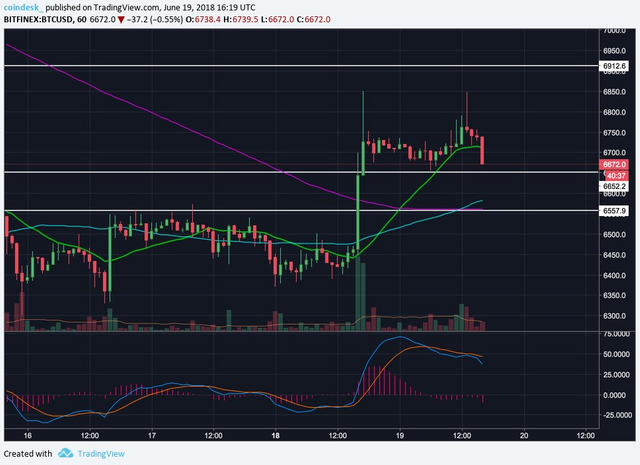 Trading Room
Type of Trader: Short Term Trader
Big Picture:
No matter whoever says whatever #Bitcoin can not cross 8500 in June or even July
Willing to bet. Best it can Try is broken trendline (check chart) or bestest is 50 Week MA (chart)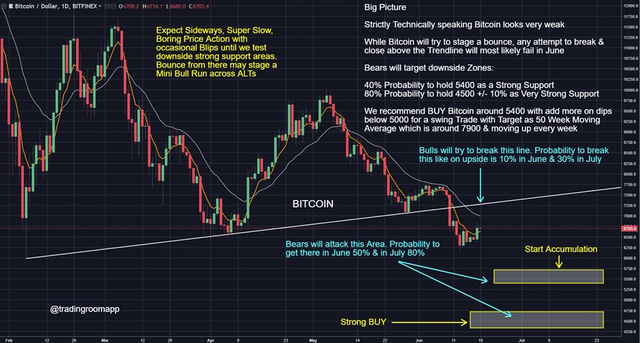 Nick Cawley (NO NEW UPDATE)
Type of Trader: Long Term Trader/Investor
The weekend's heavy sell-off continues with all tokens showing double-digit losses. The charts also look ominous with recent support levels broken seemingly with ease, indicating a floor has yet to be found. Some of the hardest hit tokens are now nearing multi-month lows, wiping out any gains seen in 2018.
Bitcoin (BTC) – Support @ $6,438 (currently being tested), $5,932 and $5,622.
While the market may be showing no signs of recovery yet, any bounce back should be treated with caution while the long-term downtrends persist in all the major tokens. We also spoke about how cryptocurrency 'whales' are in control of the market and how the ongoing CFTC investigation into potential market manipulation is weighing on investor sentiment.
EXTRA OPINIONS
Crypto Bird
Must break 7,2k on solid buy volume spike to confirm any type of bullish scenario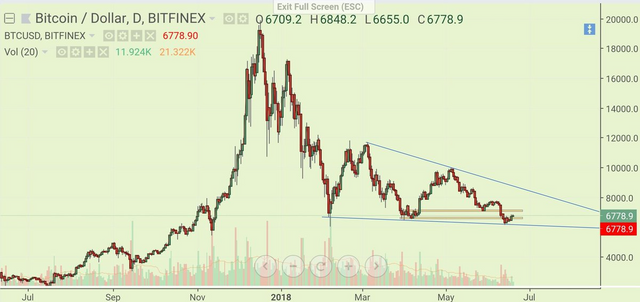 Crypto Wolf
He's expecting a small rally in BTC to around the $7100 zone, followed by pull-back to around $6.6k, before we break the $7700 level.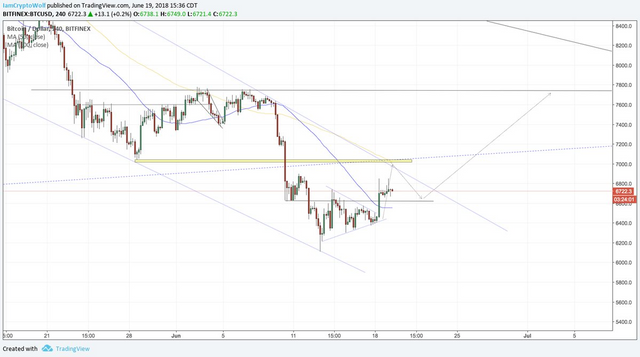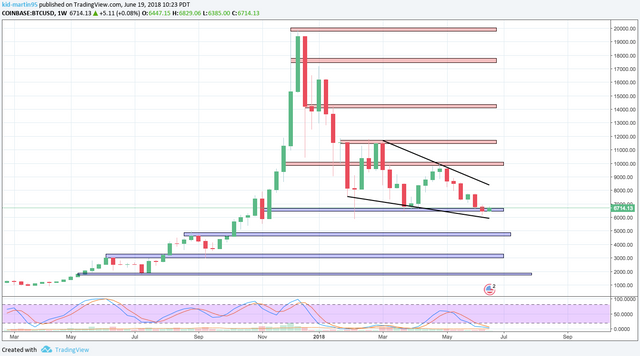 Weekly
Looking at our trend timeframe we see price is currently respecting our long term dynamic and horizontal support. Momentum still looking bearish, however it has slowed down. Yesterday we had a push from $6,400 up to $6,700 and since have remained at this level. Is the market being manipulated or are the bulls showing up? Still expecting price to fall towards $4,500 if reject at $7,400-$7,600.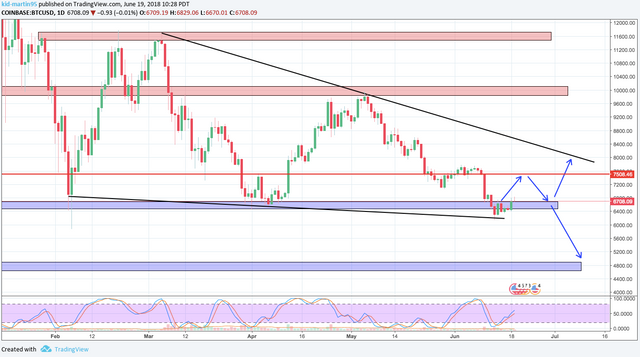 Daily
Shifting over to our pattern timeframe we see a couple of scenarios waiting to play out. Expecting a push towards $7,500 if we get a daily close above $6,700, however once target is reached expecting a higher low to form at our $6,700 support zone. If price holds at this higher low level expect a push toward the top of our wedge, however if we fail to hold a our higher low expect a drop towards $4,500. Momentum heavily shifted towards the upside, but this year has been crazy patience is key.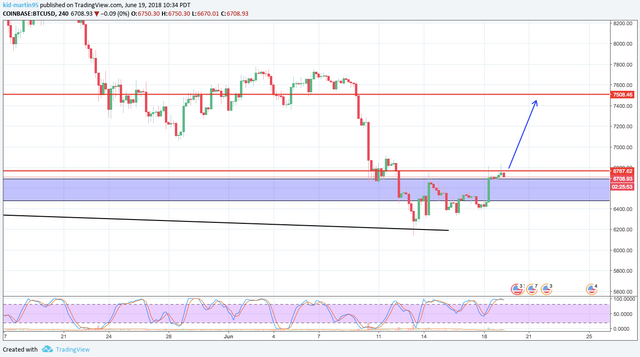 4Hour
Finally looking over at our trigger timeframe we see price is currently testing minor resistance, expecting price to consolidate at this zone for the next couple of hours possible 2-3 days. Momentum looks like it topped out and is slowing down, expecting an asian session push towards the upside.
Conclusion
Buy: After Daily Close Above $6,700
Sell: NO