Hey steemit , today i want to discuss think about hype of cryptocurrencies and bitcoin.
In 2017 in December was golden hype in bitcoin and any tv/radio/news tell us about bitcoin increasing and common people bought bitcoin at price of 10k, 15k, 17k,19k so bubble was at maximum.
if we look at trends of google: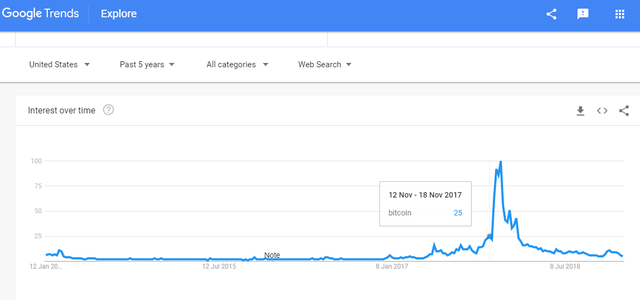 This google trend is looking same as price of bitcoin and crypto, so overall we are near bottom right now in terms of hype.
And its always good to buy then nobody is buying and sell then all is buying.
So basically now common people quit and only crypto enthusiasts,investors,bounty hunters and so on are here.
I think this year overall is good time to invest MORE TIME and RESOURCES into crypto, because its at bottom and now is good time to join ride before the crowd.
What do you think is it good time to buy more bitcoin now? will we see new hype of bitcoin in future?