Hey people, how's things going in your life? Yep, I thought everything would be as awesome as mine! Well, maybe not this awesome because today is a big, big day for someone who takes such little steps.
I will give you a hint with a song:
Yes!
It is my birthday!!

26 Moons woohoo! Who'd have thunk it?
I have been here on Steem for two thirds of my life - I bet there are very, very few out of the million+ accounts on Steem that can say that. Perhaps it is a record and I will get a birthday gift from @ned.
Neee-eeed....wheeeere aaaare yoooouuuu?
I like hide and seek too, Ned. You are one of the best players I have come up against and a formiddable adversary.
Kudos.
I am guessing he is busy composing a birthday song on his guitar. In the meantime, I will dance to something else.
Daddy bought me the glam fluffy cardie one day when I was cold. I wonder what he got me for my Steem birthday?
Maybe a .... Dolphin?
He's too cheap for that, so I will have to keep plugging away as I have a little way to go still. I should probably put a bit of my pocket money into Steem.
Daddy?? Can I get a 10 year advance on my pocket money?
I am betting by that stage, he is hoping that he can upvote me my allowance.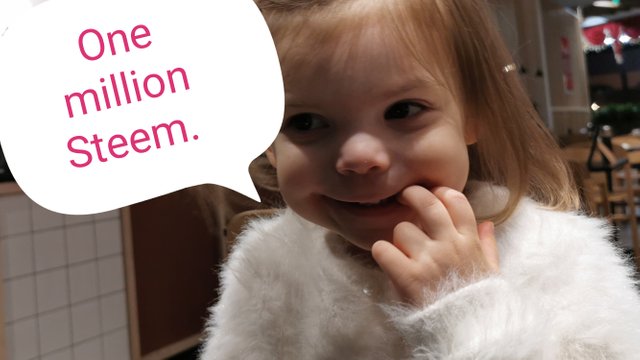 I wonder what the value of Steem will be when I turn 18, which just happens to coincide with the inflation rate becoming stable at 0.95? Perhaps zero.
Perhaps not.
Just to finish up, this was my bio from my introduction post all those moons ago.
I am very short and looking at the height of my parents, have likely peaked
Curiosity drives me and I love finding out how things work and then standing on them.
Books are a big part of my day and I love choosing what will be read
I have a very good memory which is surprising considering the genetics
I am a dual citizen and dual mother tongue (or will be)
Cheeky both in looks and attitude
My eyes are blue and I use them to express everything I need
Dancing has become my new favourite thing
From what I hear, I am fiercely independent
Steem hasn't changed me
although I am a little taller - but not much.
Happy Birthday to all those celebrating today, tomorrow and always on the Steem blockchain. Some of us might take small steps, but all of us are early adopters with a long way to grow.
<3
Smallsteps