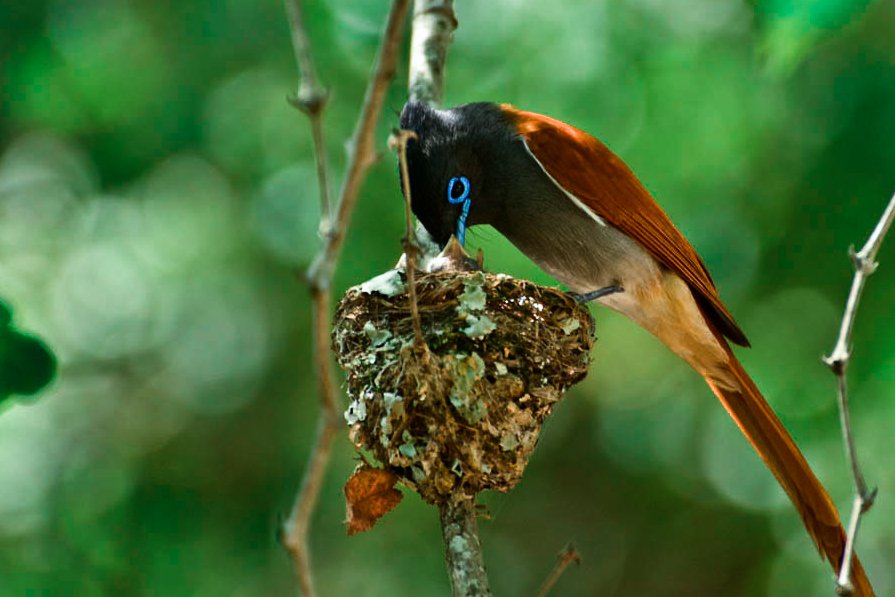 September 2013 - I had been living in the rustic cottage in Damhoek, Hekpoort for eight months and it didn't take me long to realize that I was in a bird paradise. The almost prolific avian species - not the most conspicuous, however - were the native residents, and so I took it upon myself to try and respect their dominion by being as careful as I could in my daily chores in and around the farm for, I am always loathe to upset or interfere with any of nature's earlier residents. Having been a part-time bird watcher for the better part of twenty eight years, I have learned a little of their habits, becoming quite familiar with a few species. One of my favourites would have to be the Paradise Flycatcher. Oh they are so beautiful, with an autumn shade of tawny-brown russet colour, covering most of the upper body; their heads and mantle a blue-grey sheen-like hue, extending down to mid-stomach, with the lower stomach and under-tail parts grey, shading to white. The beak and the section of the eye around the brown iris, a kind of an iridescent like shade of blue. The male's tail - which extends for twice the length of his body - is the same colour as the tawny brown of the upper body. The female, were it not for the much shorter tail, would be almost identical. Not large birds - their abdomen about the size of a small canary or, large finch.
After having observed a pair flying in an around the old Syringa tree - the trunk of which is about three and a half metres from my bedroom window - from their busy schedule, I realised that the pair were in the process of constructing a nest in the fork of two smaller branches located about two and a half metres from ground level. The branches extended towards my window which brought the proximity of the nest a little closer; were man to achieve half the rate of their work ethic, we would long ago have achieved Celestial status. It appeared as if they stopped not for one second, and their commitment to the project was exemplary. The shape of the nest - which was constructed with grass and leaves - was as a tiny wicker basket, and I just had to wonder how they intended rearing a family in the undersized grass cup. Not that they are large birds but the basket looked much too small to me. (guess my bird-nest engineering knowledge is wanting - quite some.) Curiosity having won over my clandestine observations, I carefully climbed onto the roof of my cottage during a period when both mom and dad were absent from the nest, and was able to steal a glance at the interior of the nest. It appeared quite comfy with what appeared to be rootlets and grass lining the inside of the cup-like nest.
A week later, I suspected that we had eggs, because mom would now remain in the nest while dad would venture into the field - hunting for food - which task he appeared to relish as he would return to the nest ten times a day with the latest catch in his beak. And mom then, after lifting her head up as he approached, opened her beak as he placed the nourishing meal onto her tongue. I would occasionally, in the evening, hear their soft, purring, cooing call as they undoubtedly showed their love for one another. It truly was heart-warming to hear.
It was about two weeks later I noticed a subtle change in their demeanour. He was flitting around the nest like only a new dad could, and she was the picture of contentment. A week later I noticed a tiny wedge-like shape protruding over the edge of the nest and the following day, another two; three chicks! Three healthy little Flycatchers - what a blessing! I was overjoyed as I'm sure were Mom and Dad.
Two days later, I was alerted by the frantic calls of mom, and I arrived just in time to see dad flying in at high speed to ward the attacking Shrikes off. Fiscal Shrike A.K.A. - Jackie Hangman - the notorious chic killer who, after stealing the chicks, baby lizards or frogs - as well as locusts and other insects - would then impale them on either a sharp thorn of a nearby acacia bush, or on the sharp barb of a nearby barbed wire fence, from where - he later on - would retrieve the dried out corpse for a dried-meat meal.
It was then that I became privy to the reason for dad's extra long tail. He flew right into the flock of the three much larger birds, his tail swinging and swishing every which way which - I then realised - appeared to the attackers as perhaps another bird and I think confused or, frightened them, sending them packing. The tail, almost like a fly on a fly-rod, swished to and fro as my hero fearlessly had flown into their midst and I truly was amazed at the genius of our creator once again.
Later on, a catastrophic attack which - I cannot believe would have actually been co-ordinated (as it appeared to have been) by the two pernicious predators, got me - I'm afraid to say - to question our creator's ethics once again. I noticed the shrikes again prowling around in close proximity to the tree and dad and mom immediately again went into defence and attack mode. But, while they were fully engaged in the hot battle - and hot it was - I saw the Babblers zooming in from the 12-o'clock high attack position - Arrowmarked Babblers (Turdoides jardineii) Newman's pg. 310/ Roberts pg 492 (no: 560-Plate 49). Oh no, these guys make those black and white Fiscal Shrikes look like nuns in comparison. Possessing a truly nasty, intimidating call, which sounds like machine-gun fire, they attack with the ferocity of a pit-bull who has blood on his eyes. They take no prisoners and are merciless. Three of them, and while one kept mom - who had been told by dad to sort them out as he had his hands full with the Shrikes - pre-occupied, (the Babblers are larger than the Shrikes and much nastier-they also have evil, yellow tinted devil-like eyes) the other two easily nabbed two of the chicks. I stared, helpless, and listless, as I cried for the sweet life which had just ended before my very eyes. And then, I truly cried when mom and dad returned to the nest where they tried to console each other with the remaining runt who, of course was in extreme panic mode.
The following morning I cried again after I found the remaining chick - listless - on the ground in the veggie garden. (Believe another attack probably took place later the previous afternoon after I had left the battle-ground or, in the height of the battle, it had managed to climb out of the nest, only to fall/flap down, landing in the veggie garden where - had it been perhaps a day or two older - it may have stood more of a chance). After watching it cheep around for about half an hour, I placed it in the nest, hoping that mom and dad would come and continue their parenting but, I think that they most probably were too overcome with fatigue and sorrow. The following morning it was still there, barely alive. I took it in and, with a small syringe, tried to nourish it with a home-made porridge/nectar type mix of Horlicks with a little brown sugar; think I added a touch of crushed dog pellet. It survived that day and the night but the following morning was dead.
I truly was very sad and couldn't help also feeling perhaps partly responsible as I thought that the few times I had observed the nest might possibly have drawn the attackers to the nest - probably not, but possibly. I did manage to fall in love with them during the time, however, and so was overjoyed when a year later, Sunday the 19th October 2014, I witnessed their return to the nest. I see an adult male as well as an immature male, I think? Could be the female - not too sure - but I am thrilled that they are back.
Their flight is as a ballerina or, ice skater dancer; dancing, gliding, and bobbing, gracefully across the invisible floor and their song is the most delightful music to the ears. The male's elongated tail seems to wave as he bobs around the nest and reminds me of a bass or, trout fly. I pray with all my heart that they manage to rear a healthy brood this time and wish only for their success and happiness. Also that I still had my camera with which to record the miracle. One of the most impressive and attractive species that I have yet come to know.
Sun 23rd November. I am thrilled to report that they are still alive and well. Two or three chicks now about ten days old and I am ecstatic. I almost have a baby each time that the parents leave the nest unattended to go and hunt and I sigh with relief each time they return to feed the two or three hungry little beaks-have still not been able to confirm two or three. (Thought I saw three last week but its difficult to be sure for sure without getting too close). I pray for them each night and day
because it is extremely important that they make it this time/year.
Thurs. 27th November, have been monitoring the rearing and feeding of three chicks for the past ten days. (First thought there were two but then noticed a third who is a little smaller than the other two.) On Monday, or thereabouts, the two started flight training, and soon were flitting around their back yard - in the Syringa tree - always returning to the nest. Yesterday I saw them for the last time and I hope and pray that they have flown off somewhere because the shrikes have been very active round and about the vicinity (mom and dad have been busy chasing them away in between their food gathering trips away from the nest). Baby/Junior was left alone and sat on the edge of the nest most of yesterday (took a couple of shaky test flights around the branches) This morning saw Jnr. for a short time but now – 09h00 - he also has gone. Hope that they are all okay. Dad and Mom still came around a few times and I am hoping that Jnr. is not missing in action?
11hoo have just spotted Jnr. again, perched high up on a thin little branch. Huge gust of wind and he went missing again for twenty seconds and then saw him again perching on another twiggy-branch. About 11h30 lost him again after the gale force wind blew him off again but he has resurfaced on the short wire-grill piece of fence. He is holding on for dear life and I was pleased to see Dad feeding him down there. Still wondering where big brother and sister have gotten to?
I did observe all three a couple days later, catching flies, and I felt relieved and blessed. Junior also flew straight into the duck-pond on his first day of flight training. Fortunately, I was close by and I fished him out in a flash and placed him back in the nest. A little later he was flapping his mini-wings like crazy again and soon returned to his practice sessions. My heart truly was warmed after I saw all three of them later on in the lower camp, catching flies like old hands, and they roosted in the nest once or twice more. They continued flying and hunting around their Syringa tree for a couple more days after which they supposedly found greener pastures. A true elixir for the tired and weary soul it was.
SA Bird books that can be consulted:
Newman's pg. 368/ Robert's pg. 620 (no:710-Pl.58)