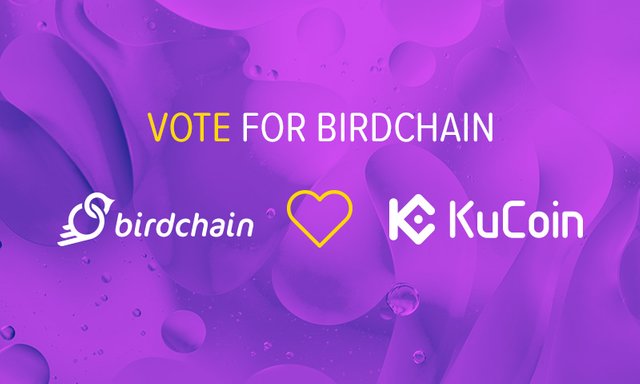 KuCoin is starting a competition and the winner will get a free listing on their page. In addition, the project with most votes will get a 30,000 USD advertisement package!
If you need even better incentive, here it is. For everyone who voted for the winning project a 5 BTC value purchase in their tokens will be distributed via KuCoin. Thats roughly 3000000 BIRDs distributed to our community!
SO, VOTE FOR BIRDCHAIN!
How To Vote For Birdchain:
Log in or Sign up on KuCoin.
Join this Telegram group, read the pinned message and start a private conversation with KuCoin's voting bot to cast your vote. Voting will go live at 18:00 UTC+8 (10 AM GMT) on July 12th.
Once the voting has gone live the bot will ask you the following questions:
What is your KuCoin account e-mail address? — Type in the email address.
Project name you want to get listed — BIRDCHAIN
What is special about Birdchain, why should it be listed in KuCoin? — Share a reason or a few, why you like Birdchain. If you're not in the creative mood, we will share some ideas in the end of this post.
Make sure to spell the project name correctly, in full, and DO NOT use the ticker. The votes are counted automatically and only votes with correct spelling will count.
As with every competition there are some rules. Therefore, we must emphasise — please do not cheat or spam. Lets keep the competition fair and let the best bird win!
VOTE FOR BIRDCHAIN!
Competition Rules:
The competition has a dedicated group of admins and bots to go through all the data. Any cheating will result in disqualification.
You are not to vote for the same project twice. You can vote for multiple project, one vote per project!
You are not to spam! Remain polite and listen to the admins carefully. Offenders will be banned.
Competition ends on July 15th 18:00 UTC+8.
For more information click here and in the pinned message of this Telegram chat.
VOTE FOR BIRDCHAIN!
---
As promissed, here's 10 ideas for you. Just one request — do not copy+paste. Instead, rewrite in your own words :)
Birdchain is focused on solving real world business problems;
Businesses will be able to pay for Birdchain services only using BIRD tokens;
Birdchain will start releasing working versions of their product since July 16, 2018;
The Birdchain can easily become the first mass-adopted crypto dapp, as it rewards its users for simple tasks;
You can earn crypto simply by having Birdchain dapp on your phone;
Birdchain will attract a LOT of new people to crypto by allowing to earn BIRD tokens easily, and if BIRD tokens will be listed on KuCoin, all this mass will start using your services as well;
Birdchain has big, strong, and inteligent community;
Birdchain has HUGE YouTube channel;
Birdchain has the full team to deliver the product;
Birdchain fully incorporated the spirit of blockchain and bringing power back to the people.
VOTE FOR BIRDCHAIN!