MONDAY MOTIVATION - 2019 ISN'T ON AUTOPILOT, MAKE IT WORK.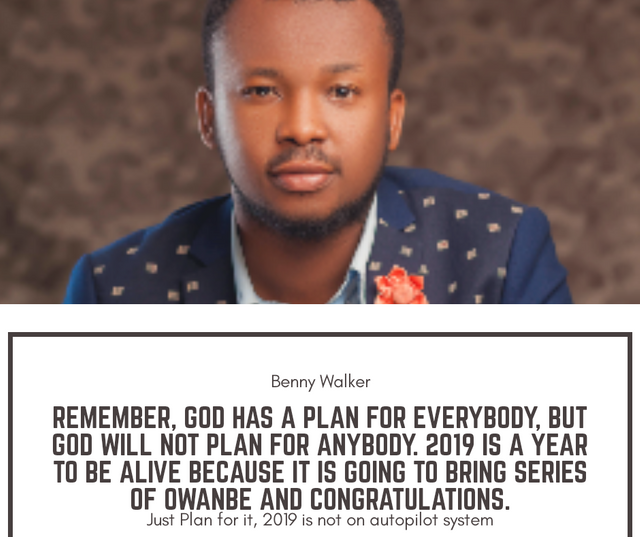 ---
I want to start with this statement by my Father, Bishop David Oyedepo: "God has a plan for everybody, but God will not plan for anybody". You may have to go through that statement again and this time even slower. It is deep on all fronts.
Many people have started talking about 2019, how beautiful a year it is going to be, how they are going to achieve this and that, and how the new year will be better than the old. It is a good thing to do.
Please note that, if you are part of the persons who diss people who make such plans or resolutions and say all those stuffs don't matter, your case is worse, because companies, firms, churches, organizations etc, they make resolutions, plans etc to become better, don't just live your life on autopilot, assuming what will be will be - A big NO
Now, with all the beautiful things you say about 2019 and even standing on diverse promises of God, you have to make it happen. How? Through a well documented review of how the current year went, goals set, those that were achieved, those that weren't, why you didn't achieve it. Then set fresh revised one prayerfully for the new year, well written on paper and how to achieve it.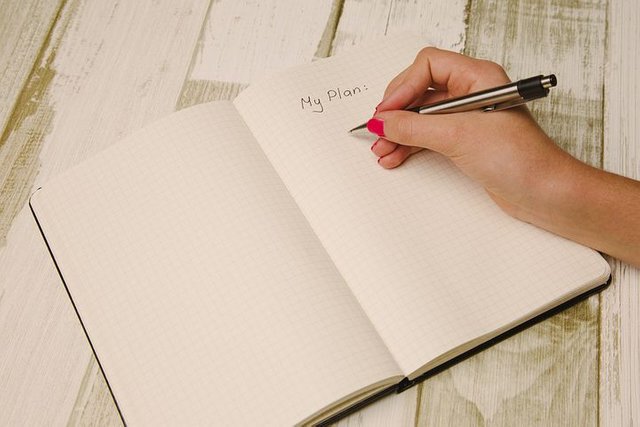 The concluding part of Joshua. 1:8 says
"... For thou shall make thy way prosperous and thou shalt have good success"
So the making of the way is a product of reasoning and planning because God will not do for man what man should do for himself.
So this is what i'd love you to do, people pay for this, but you are going to get it for free, maybe subsequently, you pay for it.
Break down your life into 5 compartments, namely:
Spiritual
Career/academics
Family/Relationship
Finances
Health
I believe everything can be captured in this 5.
The spiritual is about your relationship with God, the most important, so you will consider:
Your lifestyle, is it acceptable to God?
Any habit or weakness, how would you deal with it
Your prayer and study life
Evangelism and soul winning
etc
You know what is peculiar to you, sort it out and make workable plans on how to deal with it and be better.
Career/academics talks about what you do, life purposes and ambition.
How to be better at work or in your career pursuit
What to do so as to climb, maybe take some courses, read more books, go for trainings, workshops and seminars
Academically, how you fare, what is your current grade point, how to study more and become better. Etc
Family/Relationship brings to fore our family ties and relationship with people, lover, coworker, boss, kids, friends etc
how we fared as a family
Your relationship with your parents and siblings, how to keep in touch, build a stronger bond, show kind gestures.
Break away from friends who are not productive, build a better relationship with friends who lead you right, motivates and pushes you to be the best version of yourself
Build a network of productive company or friends and many more
Finances is one place people complain about a lot, so you have to consider how much you earn or make, pattern your life and spendings accordingly.
What saps your money more
Is it worth it? Does it have the capacity to make more money for you?
Deal with financial draining habits
Avoid debts at all cost
How much does your finances fund God's kingdom - Tithes, offerings, projects, welfare, motherless babies, prisons etc
Health talks about wellbeing and how you look
How to take care of yourself and not be sickly
Monitor the kind of foods you eat
Routine checks and exercises
Body maintenance and outlook
Looking better and attractive without endangering yourself in the long run etc
This has been a very long post, and I believe it is worth the read, take out time prayerfully to do this, get a personal book, and put this plans down in a detailed, easy to read form, and then from time to time review it.
Remember, God has a plan for everybody, but God will not plan for anybody. 2019 is a year to be alive because it is going to bring series of owanbe and congratulations.
Let me humorously end with this, today is 31st of December, most people are already in 2019, totally given up on 2018, Dear Lord, the crowd has reduced, for us that still believe that 2018 still has a blessing for us, give us a pleasant surprise that will make us laugh hard. Amen
Happy planning
Facebook link