Delegate Your Steem Power and Earn Passive Income!
Hello Steemians,
Would you like to earn regular passive income on Steem?



If so, we're inviting you to be a joint investor on @minnowfairy by delegating your Steem Power to us!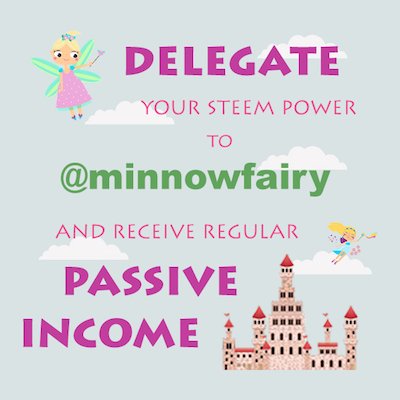 What is Steem Power Delegation?
Delegating your Steem Power means lending your Steem Power to another user. In this case, you will be entrusting your Steem Power to @minnowfairy.
By doing so, you will have a stake in the vote bidding activities of @minnowfairy. @minnowfairy will include your Steem Power when upvoting posts. In turn, you will receive a share in the profits on the total bid amount.
Is Delegation Safe?
Yes. Delegation is a feature that operates fully within the Steem blockchain. If you are interested to know more, click here
As you are only lending your Steem Power, you are still ultimately the owner of the Steem Power. You can also cancel your delegation anytime. (Note that canceling delegation will take 7 days to process, as enforced by Steem).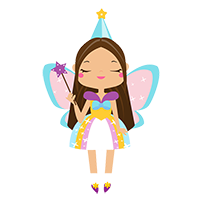 What are the Benefits?
By delegating your Steem Power to us, you are letting your Steem Power work for you in the most optimal way possible. @minnowfairy will work tirelessly for you 24 hours a day, 7 days a week!
Hence, this is ideal for users who use Steem moderately and whose Steem Power are idle on long stretches of the day (for example, when you're at work or when you're sleeping).
What Kind of Returns Can I Expect?
@minnowfairy will distribute 90% of the daily payout to delegators. The actual returns will vary based on the amount of bids received for the day and the price of Steem and Steem Dollar at that time.
How Often Can I Receive my Payout?
Payouts will be given on a daily basis at 12:00 midnight UTC time.
How Much can I Delegate?
There is no limit. The more you delegate, the higher will be your absolute Steem returns.
However, we have 2 base suggestions:
Leave at least 50 Steem Power for your own use. If you delegate all your SP, your account will easily run out of bandwidth and you won't be able to do anything until it recharges.
Delegate at a minimum 50 Steem Power. If you delegate too little SP, it is possible that you may not receive a daily payout if the payout is too small.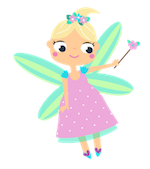 How to Delegate?
You can delegate via the Steem Bot Tracker website. Click here.
On the Delegator field: Enter your account name. Then click the Load button.

The page expands and you will see additional additional fields:
On the Delegatee field: Enter minnowfairy
On the Amount (Steem Power) field: Enter the amount of Steem Power to delegate

Click the Delegate button.
When asked, provide the Active Key for your account to complete the Delegation. (Please make sure you're doing this from a secure computer)
Final Word
We encourage you to try out this feature and experience for yourself the benefits of delegation. You can always delegate the minimum 50 Steem Power first and steadily add-on more at a later time as you get more comfortable.
We look forward to having you as a joint stakeholder on @minnowfairy!
Questions?
Feel free to leave a comment below, or catch us on Discord (Username: minnowfairy#2586).
Appendix: Helpful Links
If you are new to @minnowfairy, please check out our previous posts: