Being an Informed Bidder
As mentioned in our introductory post, @minnowfairy has a bidding round of 2 hours and 24 minutes. She will upvote at 100% Voting Power, which will be shared among all bidders and weighted according to the amount bid. What this implies is that the total number of bidders and the total amount bid will play a factor on the payout you will receive on your bid.
In this regard, three questions you may understandably have are:
Where am I in the current bidding round? How much longer before it ends?
How many bidders am I sharing my bid with?
What's my estimated payout for the bid that I placed?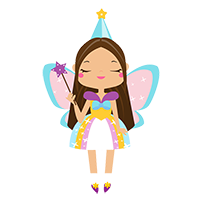 BE AN INFORMED BIDDER
It is important not to bid for the sake of bidding. Know the situation on the current bidding round before placing your bid. Fortunately, all the information needed for you to make an informed bidding is available on the Steem Bot Tracker site: https://steeembottracker.com. This tutorial will give you a quick overview on where to find the essential info on the site. It will not be an exhaustive guide on Steem Bot Tracker (although feel free to ask if you have any questions).
On the Steem Bot Tracker home page, you will see a table similar to the one below. This table contains a list of various bid bots, including @minnowfairy.

Don't let all the numbers on the table overwhelm you. There's a wealth of information aligned towards bidders that you will appreciate once you get comfortable. In particular, pay attention to the following columns (highlighted by encircled numbers in the picture):
The total amount of bids already placed for the current bid round (#1)
The max suggested bid you can place to still be profitable on this round (#2)
When the current bid round is ending (#3)
You can also click on More Details (#4) which will pop out a box providing further details, as shown below: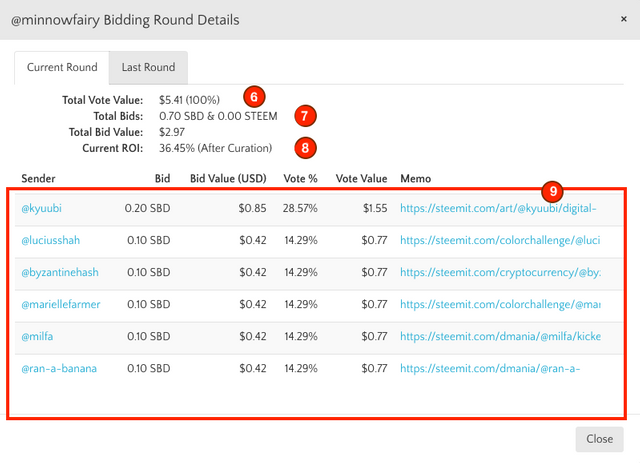 You will see an itemized view on the current bidders and their bid amount (#9). It will also display the estimated upvote value for each bidder at that point in time*. Also, pay attention to the line Current ROI (#8) -- if this value is positive, it means the current bids placed will have a positive ROI; conversely, if the value is negative, ROI is negative and the upvote payout will be less than the bids placed.
With all these info at hand, you can have a better view on what's happening on the current bidding round. When you are confident to place your bid, you can do so right from the site by clicking on the Send Bid button (#5).
FINAL NOTE
You can certainly place your bids with other bots listed on the site, though we will be greatly thankful and appreciative when you bid with @minnowfairy. We have plans toward building and nurturing a community of passionate Steemians and hope to share them with you soon in a future post. Please follow @minnowfairy if you are interested to stay updated.
For more information on @minnowfairy bid bot rules, policies and how to join, please visit: https://steemit.com/bidbot/@minnowfairy/introducing-minnowfairy-bid-bot
If you believe information on this post will help the Steem community, please pass it on by resteeming this post or referencing it on one of your own posts. Let us all help to grow the Steem community. Thank you.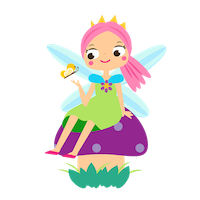 Notes
Read the notice on the Steem Bot Tracker site:
Vote values shown on this site are ESTIMATES based on the available information at the current time.
For bid-based voting bots, bids often come in right before the round ends which affect the payouts.
Please make sure you understand how the bots work and that any payouts estimated here are not guaranteed!