If you have been trying to connect to the @officialfuzzy popular BeyondBitcoin hangout via a PC, then you will need to download Mumble and follow the steps in this post. 
The credentials to connect with are:
Label/Username: BeyondBitcoin
Address: 149.210.187.155
Port: 64738
Username: Enter your username
Password: w0rldCh@NG3rsUN!t3 
But i tell you, though there is a Mumble app for IOS, connecting to BeyondBitcoin on an IOS device is a bit harder. 
You may not be able to find Mumble directly on Appstore, depending on what nation you reside in, so all you need is; 
Pick up your IOS device and from Safari browser or any other browser on your IOS device, type this search phrase "Mumble for IOS" in google.com and the search results, will suggest the Mumble app for download. Click on it and it will pull up App store, where you can complete the download.
If you want another client for Mumble on IOS, type in Mumblefy IOS on google.com from your IOS browser and it will serve you a link to Mumblefy on App Store. 
Both apps have similar interfaces and are quite easy to navigate as they don't have as many features as the Mumble (PC version).
However, upon inputting all the credentials for BeyondBitcoin as seen above, both Mumble (IOS) and Mumblefy (IOS) will not be able to connect to BeyondBitcoin. Yes, even with all the credentials correct, both apps will not be able to connect and upon trial, the error will be something like "No certificate found". 
You need a trusted certificate for BeyondBitcoin, to connect using IOS.
The only way i have seen to create a certificate in my small research, is to generate one using the Mumble software installed on your PC. If you already have Mumble PC version, creating a certificate is a piece of cake. 
Here is how you do it:
If you have already connected to BeyondBitcoin in the past, then simply pull up Mumble and connect to the BeyondBitcoin server. 
Basically, you want to be creating the right certificate! If you have never connect to BeyondBitcoin on Mumble (PC), simply use the credentials above to connect. You can find the full steps for PC connection here! 
Back to creating certificate to use on your IOS (Mumble):
Connect to your BeyondBitcoin server on your Mumble PC Version.
Open the Certificate Wizard at the top left under "Configure Menu"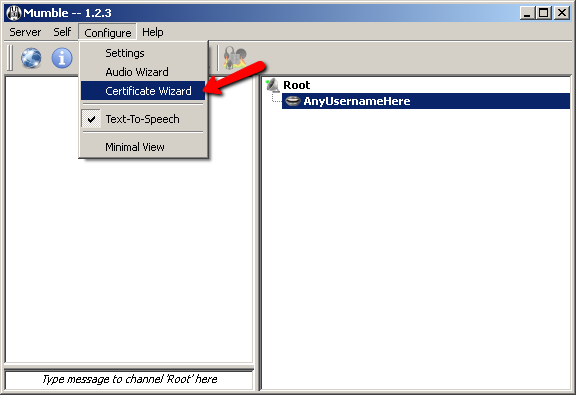 3. Click on "Create A New Certificate" then click the "Next" button.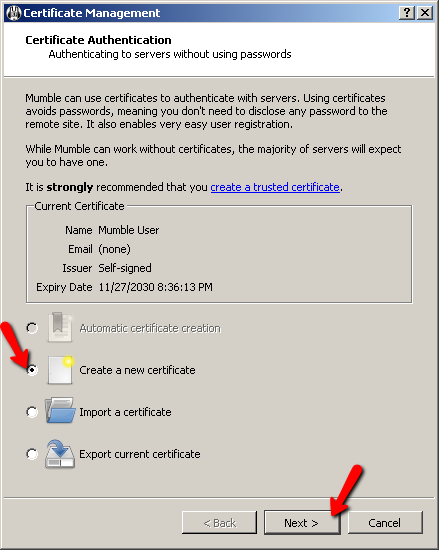 4. Enter Information. Here, i simply used my BeyondBitcoin username!
Putting in your information will create you "a signed/trusted certificate". I think putting in your details is optional but better!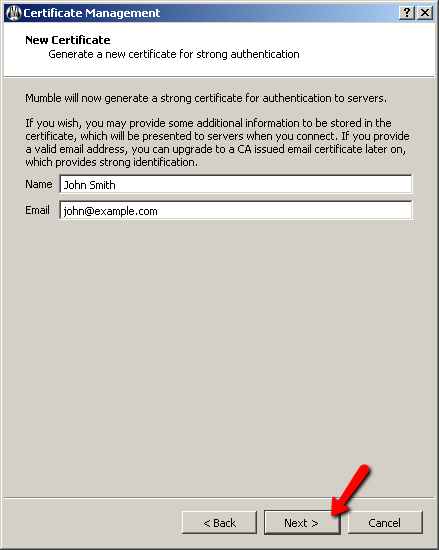 5. Here you are simply replacing the default certificate to one that has your name!
Click the "Next" button to replace the certificate.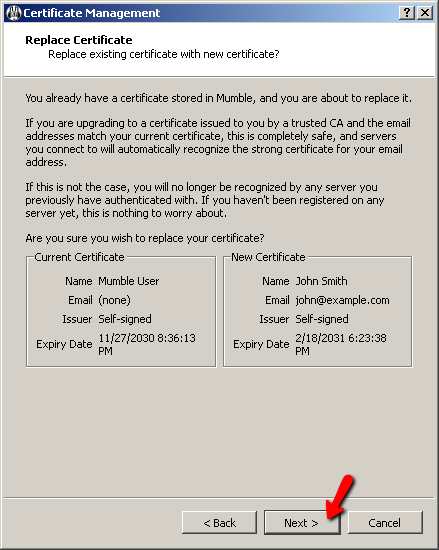 6. Final step is to save the generated Certificate
Click the "Save As" to save the certificate on your computer. "Best to save it to desktop!"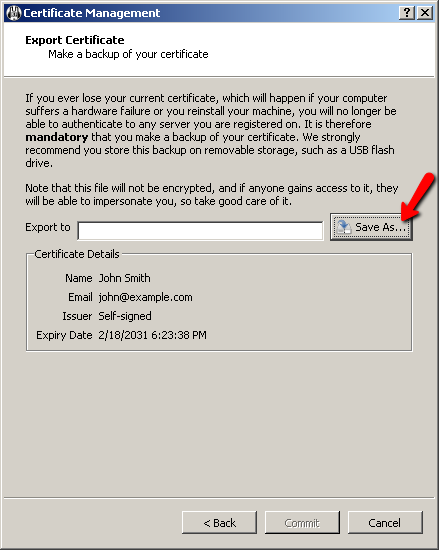 7. Finish!
Basically, you will be passing this saved file onto the Mumble app on your IOS device. If your IOS device has already been synced to your PC in the past, you are in luck!
The ITunes app will come up automatically, when you connect your IOS device to your the PC by means of a USB. 
Being that both PC and IOS devices are in sync, you will see a list of your IOS apps on the ITunes apps interface. 
Yes, you will find Mumble and Mumblefy enlisted towards the bottom of the itunes interface, if you have them both on your IOS device. In this case, simply locate the saved "certificate" file from earlier and you will be able to drag it into the Mumble or Mumble app or icon that you see on the ITunes interface.
When this is done, go back to your Mumble app, click on preferences on the top left of the home-screen, the you will see a Mumble certificate (or your name is the certificate is signed) enlisted on there. 
If it is the only certificate you see, you are good to go, else you will have to click on the Mumble certificate from the list of certificates listed, so that the right certificate is used, to connect to the BeyondBitcoin server. 
Simply go back to BeyondBitcoin server and click on it, then click "connect" from the scroll down AND you will now be able to connect to BeyondBitcoin.
Ultimately, if you have got your the certificate already sitting in your IOS device, then connecting to Beyondbitcoin is pretty straightforward as seen in this video: (Simply using the BeyondBitcoin credentials at the onset)
video source/credit to: KDGNOR1990/youtube
You can find out, how to sync you IOS device to your PC here!
You can also see this video to help you get ideas on how to transfer files from PC to your IOS devices using ITUNES: