Rooftops of the Colonial Quito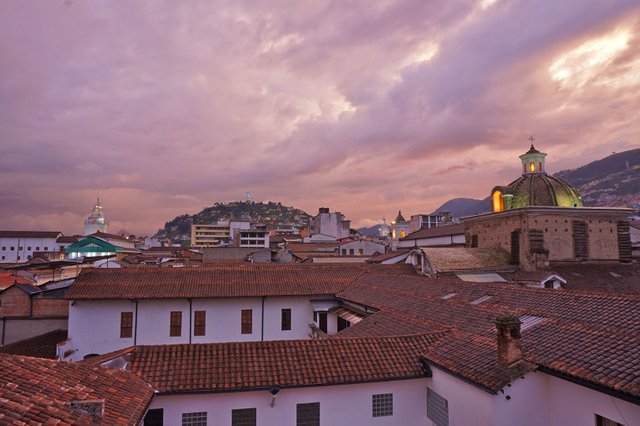 One of the first photos I took after arriving in the capital of Ecuador, is this shot from the roof of a 4-floor building in the historical center of the city. This part of Quito strikes me as a very stark yet wonderful place, the large colonial buildings with high ceilings appear as if they were built for giants, and the humans just came after. None of that can be seen on this photo, though. Only rooftops and the hill hosting a statue of Virgin Mary.
| | |
| --- | --- |
| Category | cityscapephotography |
| Location | Quito, Ecuador |
| Settings | ISO 100 f/14 2s |
| Camera | Sony Alpha 5000 |
| Lens | Sony 3.5-5.6/16-50 |

If you liked this post, consider giving it an upvote or resteem. Follow me for more cool stuff and stay loco!
Me on the other platforms:
---
To view my posts on @SteemitWorldMap click here:


「My recent posts」
The Prettiest River Confluence I've seen so Far
Going Macro
A Glimpse of Paradise
Rainforests of Ecuador, the Importance of the "Rain-" Part
Indians on the Streets of Ecuador
[Stoner Travels #2] Ecuador / less than 24 hours left in smoke.io airdrop
「My best stories」
Sectants and magic potions, Ayahuaska experience in Colombia
Haiti: Poverty, gangsters and UN party
Exhausting ride along the border of Afghanistan
Overnight adventure in Haunted Bhangarh, a Ghost Town in India
Beheaded Goat and Bloody Idol above the Clouds in Himalayan Temple