An Old Story Told Anew
Greetings, friends!
Here I am, joining this new initiative called Behind The Photo.
Good motivation for something we all needed to do. It is an idea that reminded me I wanted to tell stories. Views. Life... That's what blogging is about, too, isn't it?
And if you took the pain to get to my very first post, the introductory one, made fifteen and a half months ago, you would find that I tried telling this story. But I had no audience and I knew nothing about the proper tags. Nobody knew I was both introducing myself and telling a story about something important to me.
Anyway, I am posting a new version of the same picture now...
The One Photo To Bring So Much Change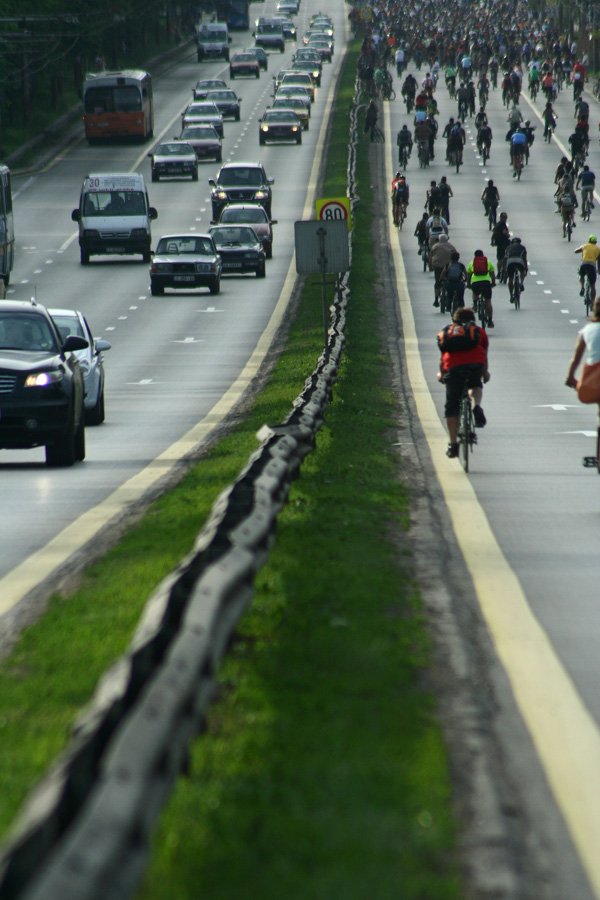 Sofia, 2009
ISO 400; Aperture F 7.1; Shutter Speed 1/1000; Focal Distance 300 mm
Camera Body: Canon EOS 350D
Lens: a cheap EF 75-300 mm Canon Zoom Lens
This is the originally used one, the color version. Not perfectly edited but it was never perfectly shot, anyway. But it lived a long life and I will tell you again about some of it. Instead of making the regular Showcase Sunday post.
Let's start with the bottom line otherwise, I risk boring you.
It was the single financially most successful image I made.
So far.
And I had so many doubts which I overcame to get to it on that day.
I could have not gone to the event. I was lazy and I wondered if I could do something else, instead of getting on my bike and joining friends for the massive march of bicyclists. But I did go.
I could have left my camera behind, especially with that long lens, because it had to be dangling from my neck while I was pedaling and that would make me knock it with my knees from time to time. I learned to strap better in time. Anyway. I did take it.
Most of the people invited could have not turned up. But they did. And the event was massive, relatively, as far as I had no guess at how many were there. They were not to end quickly.
Finally, when they went on that long boulevard and I saw the crowd riding downhill, the cars coming in the opposite direction in the other lanes, I noticed that division, caused physically by the railing, as something symbolic, too.
Still, I could have skipped taking the shot, because of all the other photographers around me. This, I had said a lot of times, here on the blockchain, included. I thought everybody saw what I saw and everybody was taking advantage of it. But then I also thought that it was my responsibility to mind my own business.
And the resulting image...well, it was not of that good quality. My lens was not very sharp, my parameters were set right, but still, my focus was not quite clear, also. My point of view...was behind the bikers so they all had their backs towards me...
A teacher in Journalistic Photography later reviewed the image and rejected it as not quite successful for the above-mentioned reasons.
I did not listen to him. There was still that something about the contrast between two opposing lifestyles. And others saw it, too.
And the idea proved successful enough.
It was the first image of mine to reach highest acclaim on a local online photo forum.
One year later, it was awarded the first prize at a national photo competition about rhythm and nature.
Two years later, a black and white version of it was awarded the first prize at an international photo competition about sustainability.
It brought me some cash, I think three digits in Euro, but also a camera body worth more, and a trip to Prague, and a jacket, and a thermos, and a small metal climbing loop. Those mountaineering equipment vouchers give back no change.
But the success of the image (about people who wanted change) did change my mind. For good.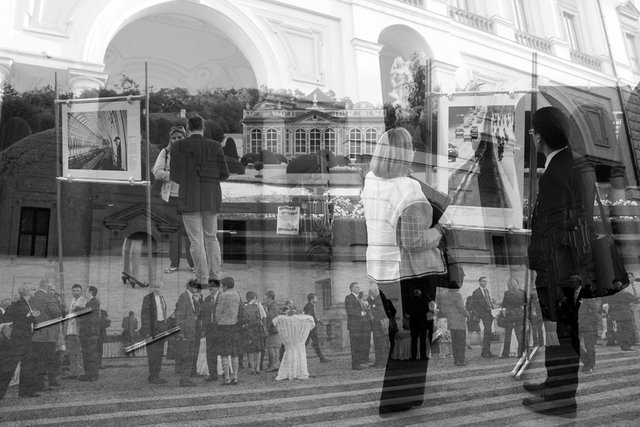 A double exposure image of the participation of my frame in an exhibition at the Czernin Palace, Prague, during an OSCE forum about sustainability.
I was given the chance to speak at the award ceremony there but I was a bit short on words so the only thing I said was...
"Thank You!"
And I did not tell its story then.
But it was the beginning of many other stories to come.
Peace!
Manol Donchev