Behind The Photo - Contest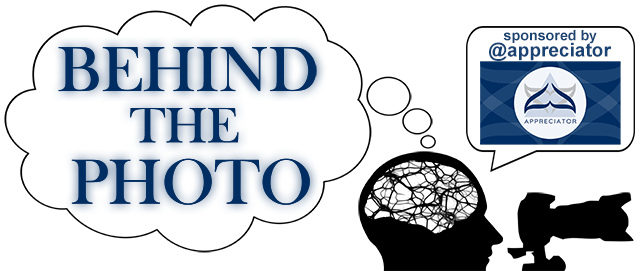 ---


As you all know, there are already several great photo contests running continuously. These contests are really good, each in their own way, because they help the photographers to make their work visible to others.
But we wanted to do something different. Looking at all the great photography that is showcased on this platform, we sometimes feel that we want to know more about what went on with a particular photo. We thought that the story behind could be just as interesting (if not more) than the actual photo itself. Also, being amateur photographers, we felt that it would be great to "pick the brains" of all the pros. To perhaps learn new techniques, tricks, planning, gear and everything else they know so much better.
...And that's how the idea of "Behind The Photo" was born. This contest is not about the photo itself, but about the process before or during the photo was taken. (If you decide to enter this contest, you can of course include the "final" photo if you want. :) )


---


We would like you to document your journey towards the photo - with text and/or photo(s) or even video(s). We would like to know your thoughts, ideas, decision process or the story behind. For example:
Was it spontaneous, in the moment? Then show/tell us about why. What prompted you to take the photo?
Was it planned? Then show/tell us about your preparations.
Who or what were you going to photograph? For what? This contest, a magazine, for this platform?
When did you take the picture?
How did you take the picture?

Camera, tripod, lenses, filters, etc.

Did you have to travel to where you took it?
Did you have to wait for the right moment?
Where did you take the picture?

Was it during a vacation, or while walking to the supermarket?
Was it deep in a forest, waiting for animals to walk by, or with your dog in your backyard?
Was it outside in freezing snow and ice, or inside a warm and comfortable high-end studio?

Did you do any post-processing?

What software did you use? Filters, cropping, retouching, colours etc.
All of these are ideas which we think could help you make a good entry in the contest and we would like you to use as many of them as you can.
Here is a very simple "quick and dirty" example we made yesterday, just to show you what you could do. Or not. Because we are sure you can do better, this is just an example.
---


Yesterday afternoon, it was a bit warmer than the couple of days before, so we decided to go for a walk. (You should try it, it felt really good to get away from the computer for a while...) We passed some very familiar houses, greeting neighbours who were walking their dogs or coming back from the supermarket as we went. Without planning it or thinking about it, it was getting very close to sunset. So, on our way to nowhere in particular, we were suddenly greeted by a profusion of colours through some trees, as the sun started setting behind the mountains along the coast. We both said "That looks really nice!" and stepped off the sidewalk to snap a few shots.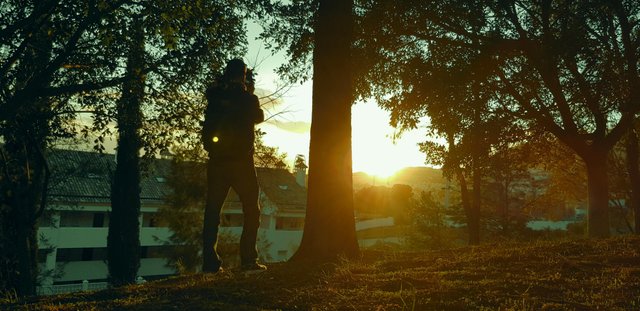 We've passed this particular spot uncountable times before and to be honest, it's not a very attractive spot. Some grass struggling to keep alive after a very dry summer, the usual beer can and plastic bag (the trash can is right there next to the bench, you moron!) and of course an abundance of dog poop. But it does offer a rather nice view towards the sun setting through the canopy of the trees.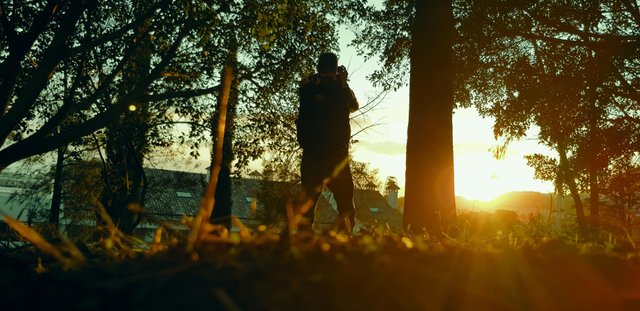 As we usually do, we took pictures of ourselves taking pictures - just because it's fun to look at afterwards. You can look pretty weird sometimes, when you're concentrating on getting your cell phone to cooperate. When the sun sets here, it's a really fast process, you can actually see the sun moving when it gets close to the horizon (mostly due to the curvature of the earth and the atmosphere acting like a lens, bending the light). So if you want that special photo, you have to be quick on your toes - and if on digital, just keep snapping.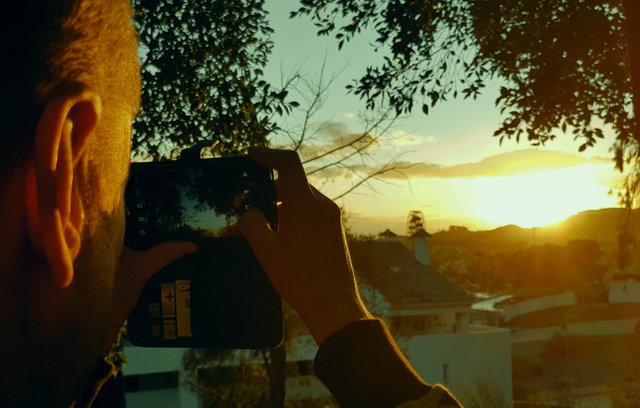 Having the sun so low in the sky created some really great warm oranges, together with the darkening blue sky, but at the same time the glare from a low sun can be pretty tricky to handle for the eyes, but even more so for a cell phone camera. The screen on a cell phone is never really good enough to see if the results would stand any close scrutiny, it's just too small. So when we got home, we fired up photoshop and looked at the hoard of pictures we had accumulated. We experimented (a lot) in photoshop to see what could be done. We went through a lot of filters and the curve choices weren't always that good...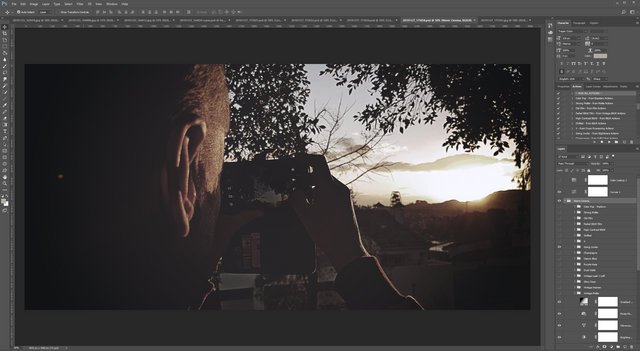 If it's really late and dark, you see the lights from the town below, and from the amusement park right in front of it. Here are two pictures we liked the best of the ones we took. But really, that sunset looked much better in real life!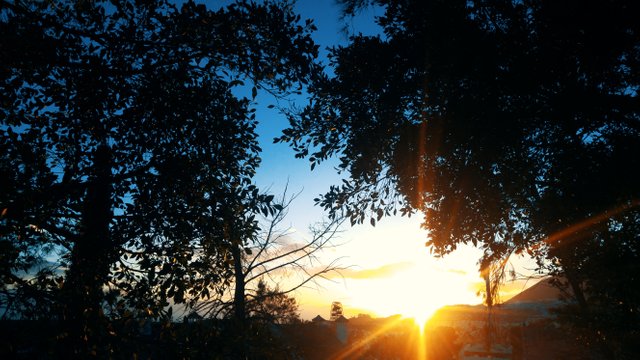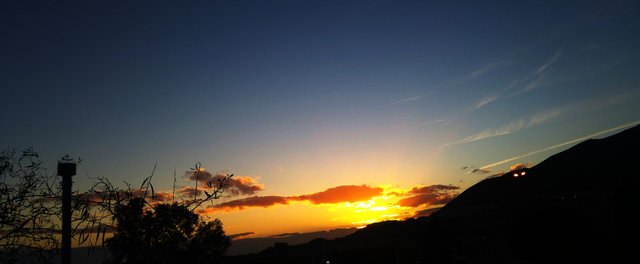 ---
As any other contest, we have rules:
One (1) entry per account.
Your entry can be in the form of writing, photos or even videos.
Text, video(s) and photo(s) must be your own. This will of course be checked, and any form of plagiarism will result in automatic disqualification of your entry and will be reported to steemcleaners.
Multiple photos can all go in one post.
Your entry must be in English. Feel free to use additional languages, but the translation must be equivalent to the English version.
You must use the tag #BEHINDTHEPHOTO. It does not have to be the first tag, as long as you use it. This way, we can easily find your entry.
The title of your entry must have the words "Behind The Photo" as a part of it.
Your entry must include a link to this post (for example at the very end of your entry).
If you want to do a collaboration with a friend (like the example above) that is totally fine. Just don't tell the same story! Be nice and credit each other!
Resteems of this post are not required, but would of course help, to let other users know about this contest.
You do not need to post the link to your entry in a comment below - we are watching the tag.
We reserve the right to exclude any entry which we deem to be low-effort. I.e. one-picture entries with a couple of sentences, or a two-minute video will NOT cut it.
Timeline:
The contest will be active from the moment THIS is posted, and will run for seven (7) days. We will make a second post in seven days to let you know that the contest is closed. After that we will take a couple of days to decide and announce the winners. Only entries posted after this post and before the closing post will be valid entries.
Prize pool:
STEEM: 60 (edited)
SPACO: 20K
PHOTO: 4.5K
The prizes will be distributed as follows:
1st place - 50% of pool
2nd place - 30% of pool
3rd place - 20% of pool
Edit, clarification:
1st place - 30 STEEM, 10k SPACO, 2250 PHOTO
2nd place - 18 STEEM, 6k SPACO, 1350 PHOTO
3rd place - 12 STEEM, 4k SPACO, 900 PHOTO
Apart from the prize pool, there is a possibility that our sponsor @appreciator will upvote some of the good entries. Any such sponsored upvotes are completely at @appreciator's discretion.
Jury: @nelyp and @johan.norberg
Sponsorship: We sincerely thank @appreciator for sponsoring this contest!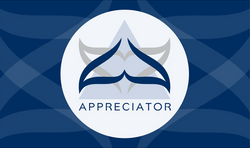 We look forward to your entry! Good luck!