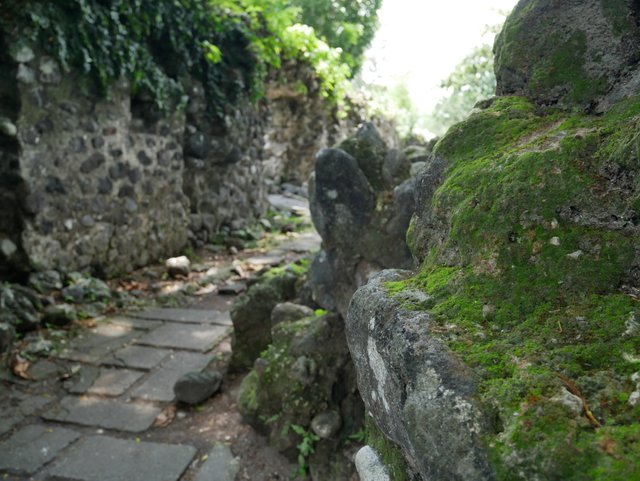 Hello again for another part of our adventure here in Bicol Philippines. After our side trip from the monastery, we continued on to our journey to or main destination. We are headed out to see the ruins in Daraga Albay which is one of the most iconic sites in this region. Your visit to Bicol is not complete unless you get to see the ruins. So take a ride again with me today as we head out to visit an iconic site and also surprise you with an unusual treat.
Road to the Ruins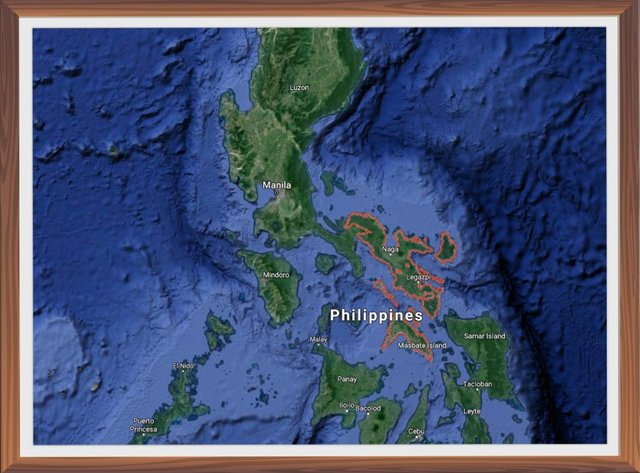 Catch up with the previous parts of our Bicol adventure series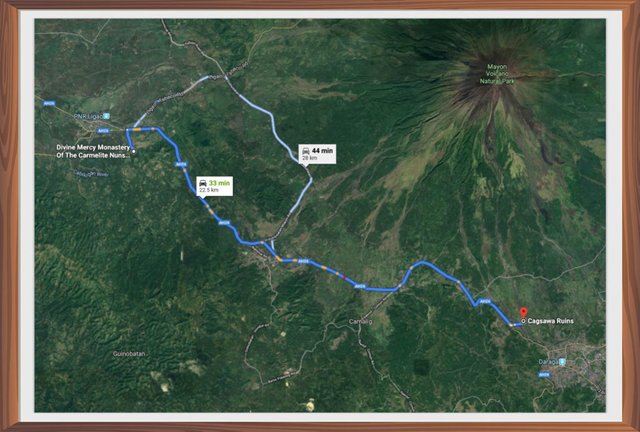 Coming from the Divine Mercy Monastery travel time by car will take you around 30-40 minutes to reach the site. Quite a short ride but still you would enjoy the provincial ambiance along the way. Stress-free driving as you could see that there are not many vehicles on the roads here.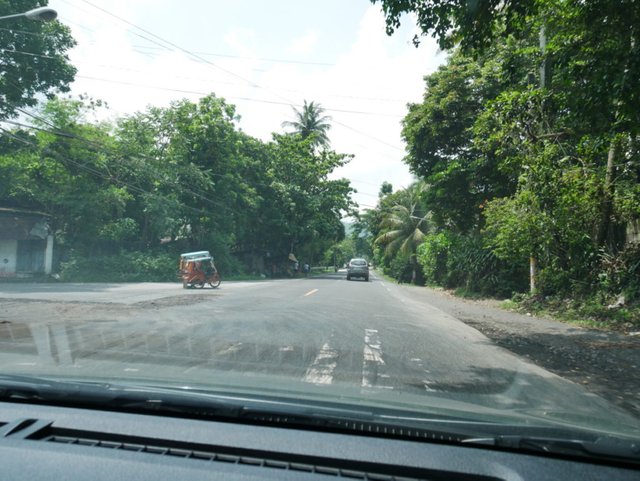 From here could see the symbol of the region which is the Mayon volcano. Known to be the world's most perfect shaped cone volcano it is one of the main reasons to visit Bicol. The ruins that we will be visiting is also a great spot to view the majestic volcano. Unfortunately at this time, the summit is hidden away by clouds and I am not sure if it would clear up once we get there.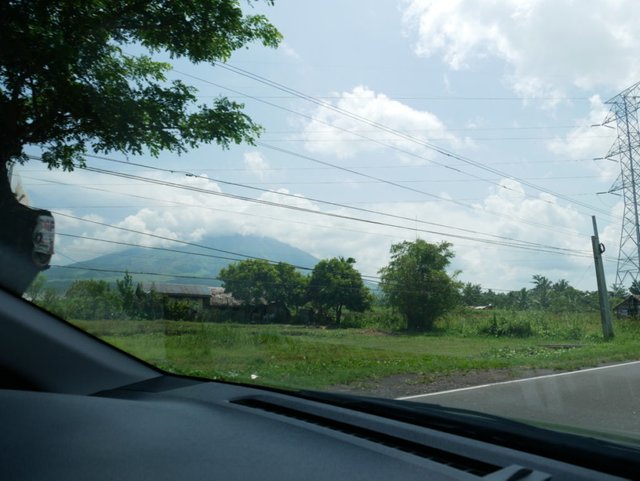 As I mentioned in the previous parts of our travel, Bicol is known for their spicy dishes. The chili called Siling Labuyo is a common plant that almost every household has a plant in their backyard. No meal is complete without the chili. Whether infused into dishes, used as a condiment or just eaten as it is. The Siling Labuyo is loved by many and has been a part of our culture, not only in this region but in the whole country as well. So loved that they even made a bus waiting shed in the form of the chili.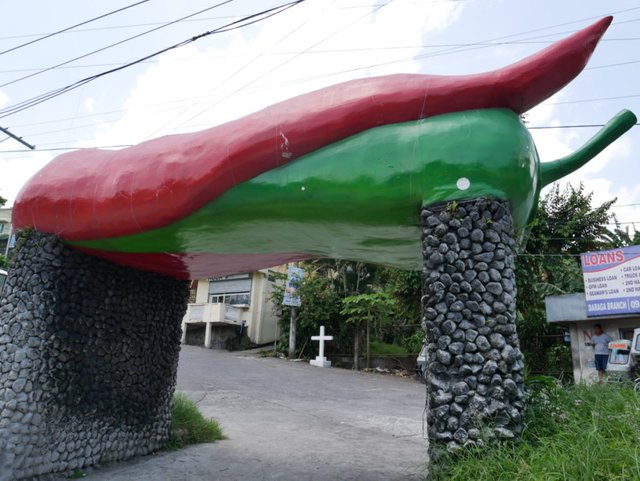 As we were getting closer we were greeted by people who offered ATV rides. If you love outdoors adventure this is an experience that should not be missed.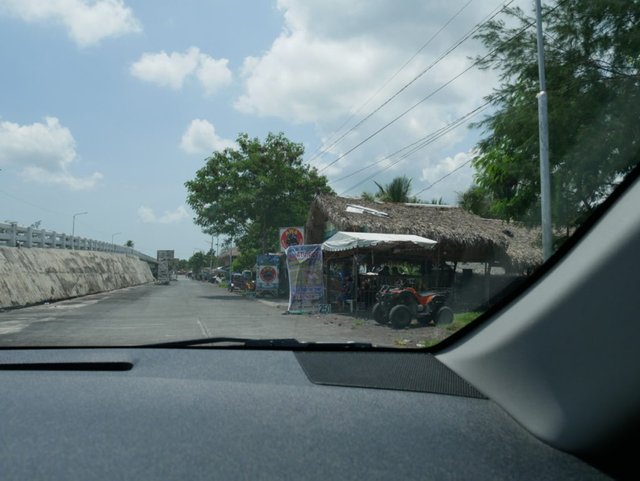 Some offer an ATV experience for 99 pesos which is around $2.00 USD. They charge by the minute and I am not sure if their offer is good for 15 minutes or 10.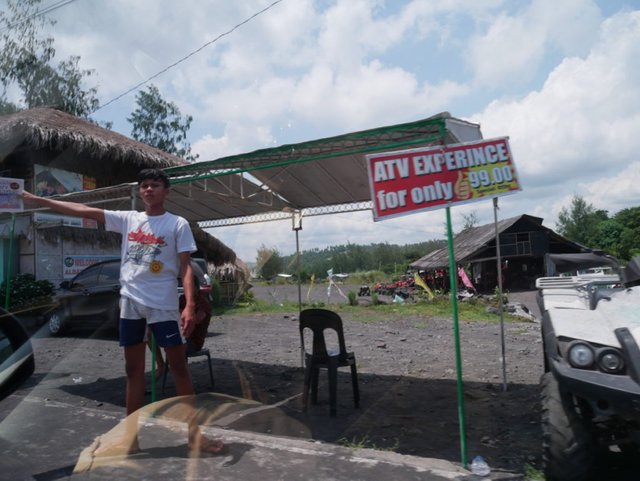 You will be following a trail going up to the foot of the volcano and would cost a lot if you want the full experience. As much as I would like to try it we decided not to as it was almost noontime and was very hot that day.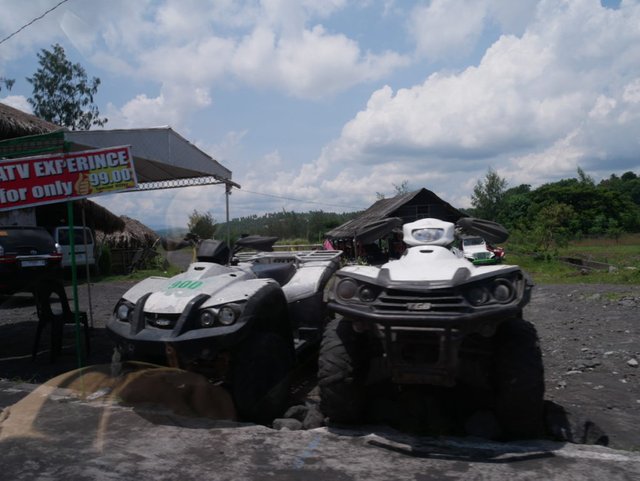 This would have been an exciting experience if only we came in earlier in the morning and had more time to spend. Maybe next time we visit, we will surely try out the ATV experience. To those who are planning to visit I suggest to come in the morning or later in the afternoon when the sun is not that hot. How would you like to take an ATV ride to the volcano?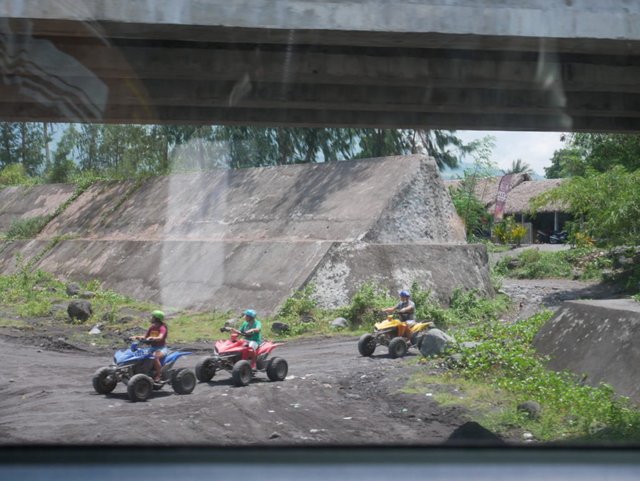 We reached the entrance of Cagsawa ruins and everything looks the same in my recollection. Last time I visited was around 7 years ago and the sight of the ruins made me feel like revisiting an old friend. The bell tower if the first thing that you would see and would get you excited if it is your first visit.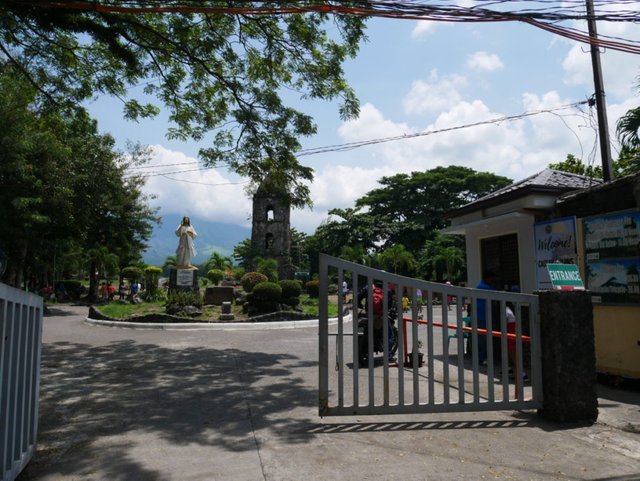 Entrance fee is posted by the gate.
8 years old and above - 20 pesos ($.39 USD)
7 years old and below - 10 pesos ($.20 USD)
Parking Fee
Cars - 30 pesos ($.59 USD)
Motorcycle and Tricycle - 20 pesos ($.39 USD)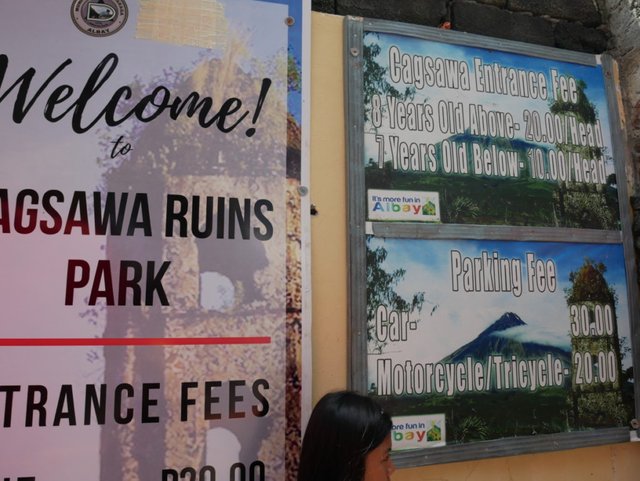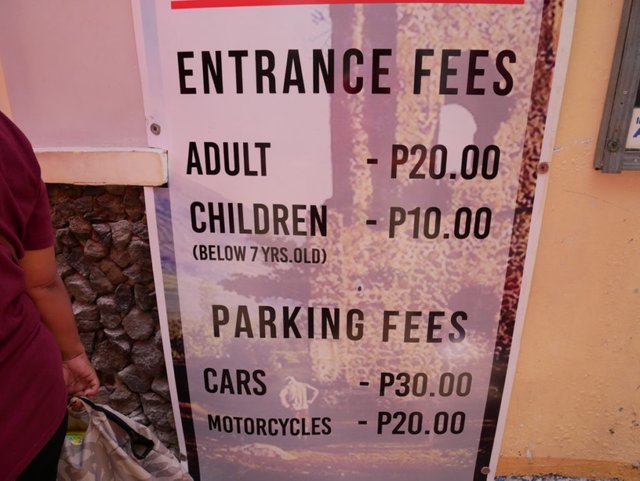 They also have offers for ATV rides that has two trails that you could follow. There are two trails which are the Green Lava and Black Lava trail, each has its own unique attraction. It would be up to you which adventure trail you would choose.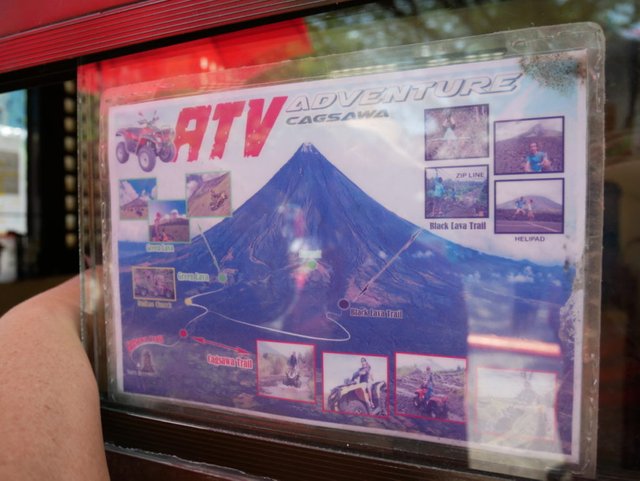 Before we proceed with the exploration of the ruins it was time to eat first. There are tables available if you choose to bring your food but there are a lot of stalls that offers various local dishes.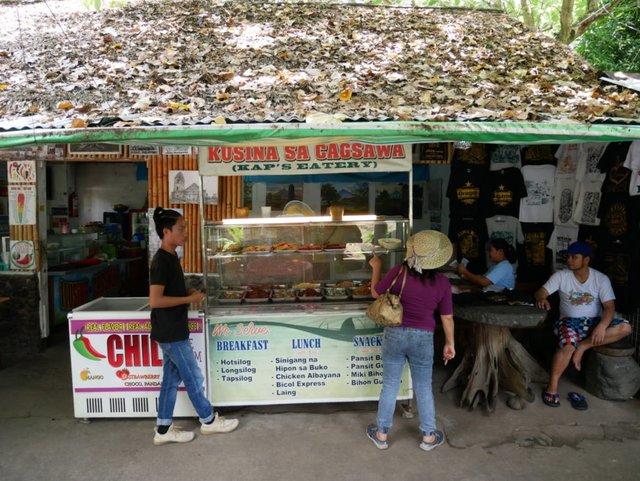 If you are looking for souvenirs there are t-shirts for sale and other trinkets to remind you of your visit.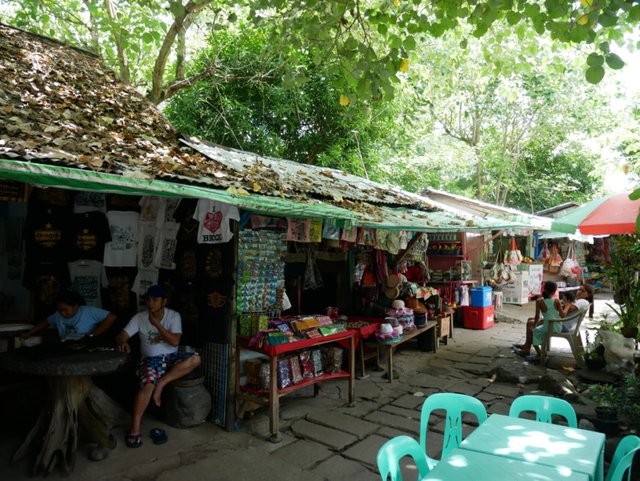 To cool down in this hot weather, a stall offers fresh fruit shakes. Take your pick to enjoy a cool shake made from guyabano, ripe mango, avocado, banana or chocolate shake if you don't like fruits.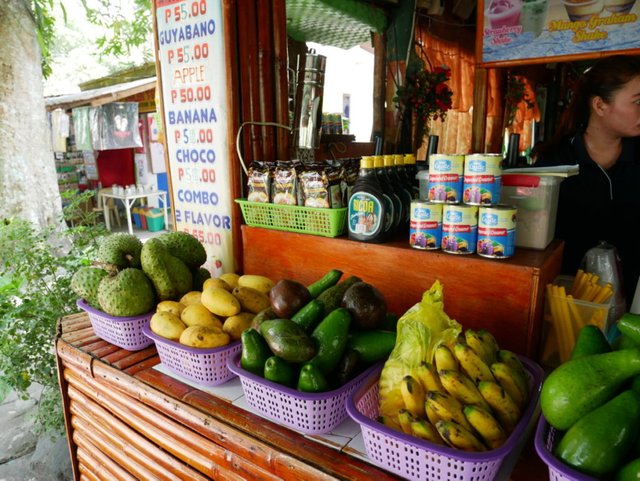 We chose a covered spot to have our lunch, my mother in law brought some food with her. To add some more food she bought two other dishes from the stalls. It skipped my mind to take some photos of our lunch as I was starving but I could say that it was a good one.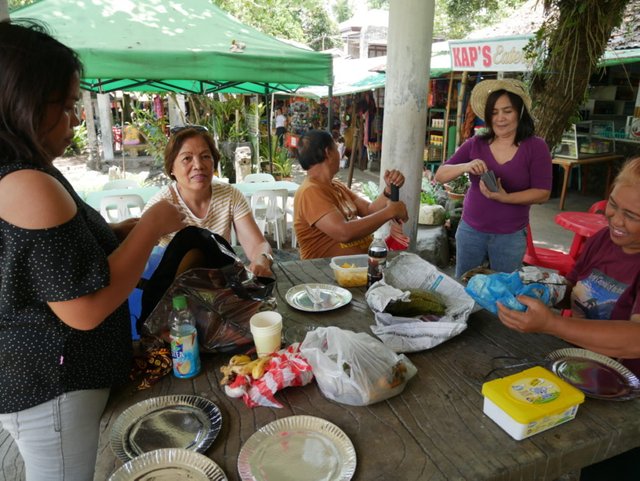 After that meal, I asked who was up for dessert and of course, everyone wants dessert. As for desert, something unusual caught my eye, "Chili Ice Cream"! I think their passion for the chili has gone overboard here but curiosity was telling me to give it a try. I have never heard of Chili Ice Cream and there is always something inside me that always convinces me to try something new.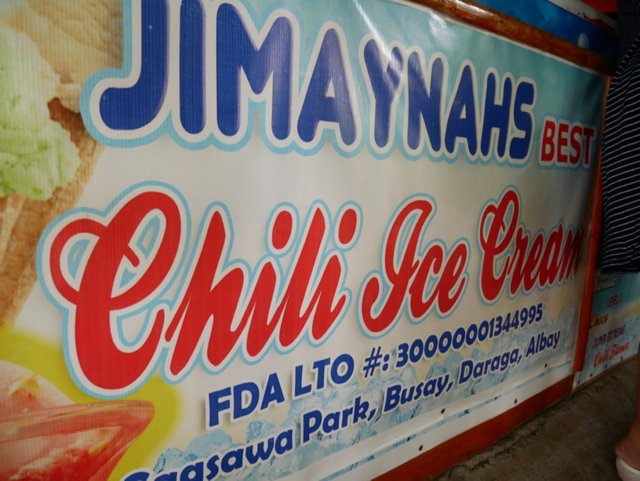 They had three levels of hotness for the ice cream and I am not sure if I am willing to try the Level 3. To be on the safe side I chose level 2 and now I just need to find the flavor that I like.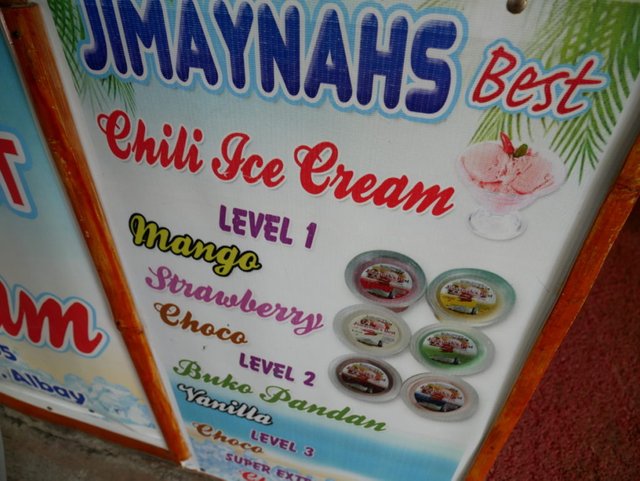 I wanted a level 2 strawberry chili ice cream but this stall only had level 3. So I decided to check out the other stalls to see if they have what I was looking for.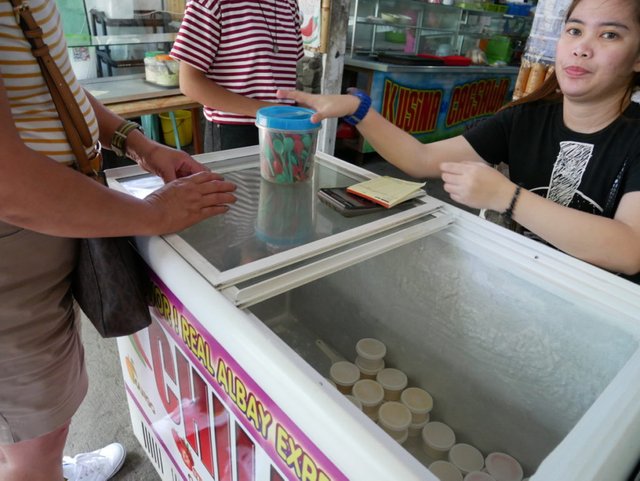 It wasn't hard to look for it as there are a lot of stalls lined up selling the ice cream.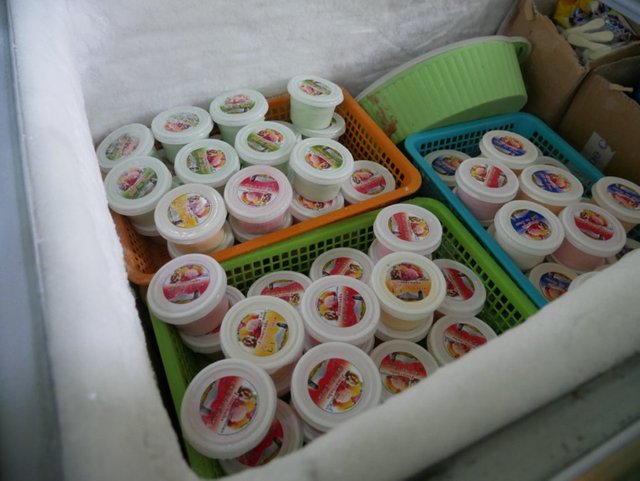 I removed the cover and it just looked like a normal ice cream. I had mixed emotions and imagining how something hot and cold would taste like. It must be the notion that we have that chili is only used for dishes and normally not for desserts.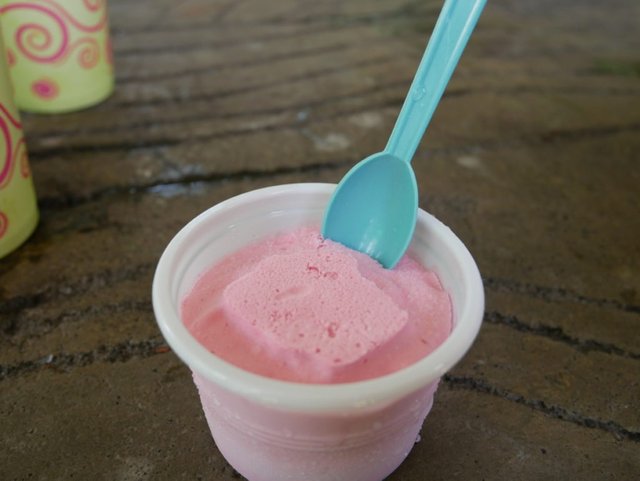 I took a spoonful and as I placed it in my mouth. I tasted the sweet strawberry flavor of the ice cream and I said to myself, "Seems normal to me". After a few seconds the chili flavor kicked in and I felt the hot chili flavor on my tongue. You know that you are eating something cold but the hot chili tells you otherwise. It was a weird experience but I could say that it was not bad, actually I liked it. Maybe I could handle Level 3 the next time around. Are you willing to give the chili ice cream a shot?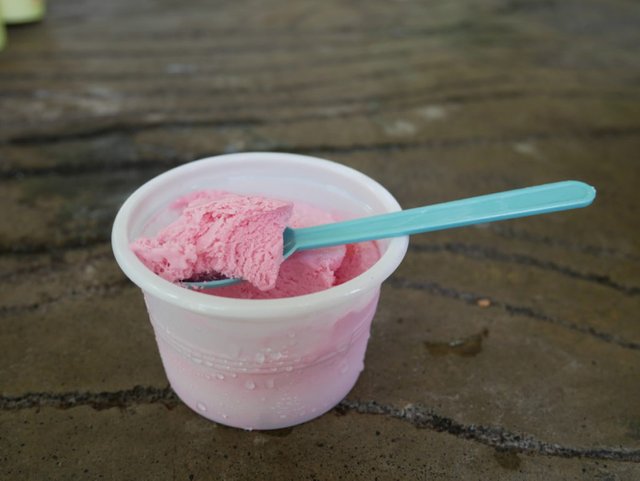 After that hot and cold dessert, I am now ready to explore the ruins. Unfortunately, this ends the first part of the tour and I hope you join me again next time as we explore Cagsawa ruins. Come again with me for the next part to see what is left of this church that was covered by lava during the eruption of Mayon volcano.
Thank you for joining me and I hope you join me again for the second part of the tour in Cagsawa Ruins.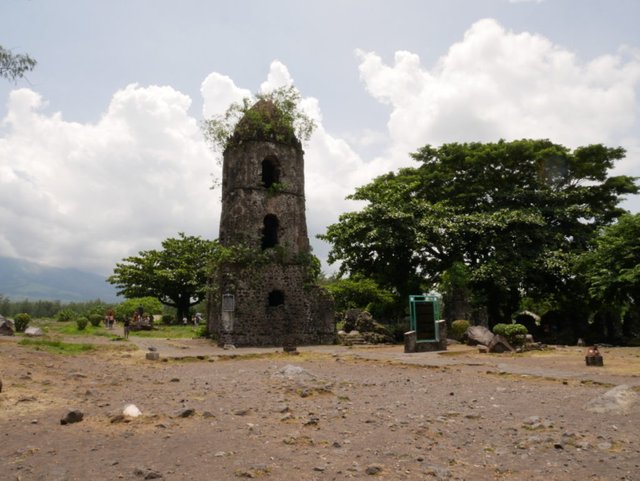 Visit and follow @steemitbloggers AKA #powerhousecreatives. A community that is exceptional, talented and engaging.
Discovering exceptional content in the community follow @curie and vote as witness
To have a glimpse of awesome content from the Philippines check out @bayanihan
Follow @surpassinggoogle to witness an extraordinary person in this platform and vote for @steemgigs as witness
All photos are original and taken with
Lumix GX85 12-32 mm kit lens





---
Posted from my blog with SteemPress : http://watersnake101.steemblogs.club/2019/11/24/road-to-the-ruins-beautiful-sunday/
---