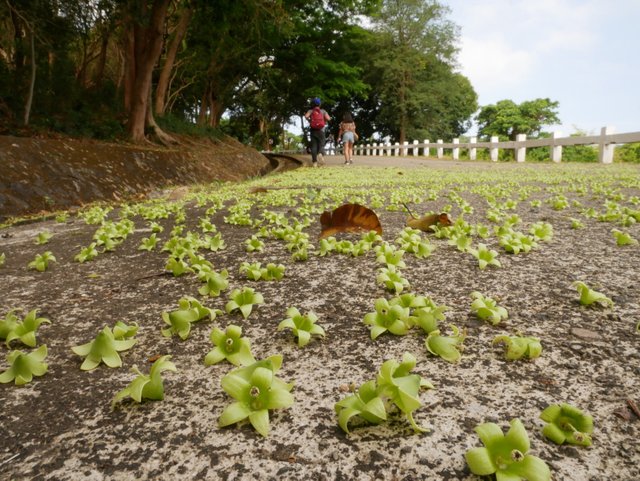 Welcome back to next chapter of our adventure in the beautiful Island of Corregidor in the Philippines. An island rich with history and blended together wit the beauty of nature. Last week I showed you how we ended up in this island. Hitching a free ride from a naval ship. Feel free to check it out if you missed it "Voyage to the Island of Corregidor." Today I will take you with us on our exploration to see more of the island.
Exploring the Island of Corregidor

Last time after disembarking from the ship we were about to head out to South Beach. It was were the majority of the visitors are headed out to. As I mentioned last time, the Island of Corrigedor is shaped like a tadpole or maybe something else. I would leave it up to you on your imagination.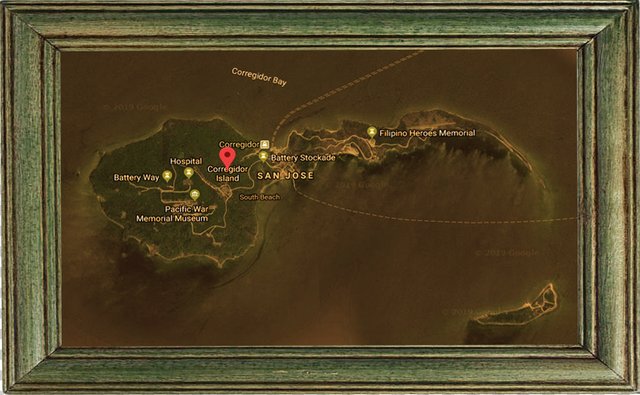 From the docks, it will take you around 7 to 10 minutes to reach South beach. It is a short and easy walk going to the beach and the road is shaded by trees.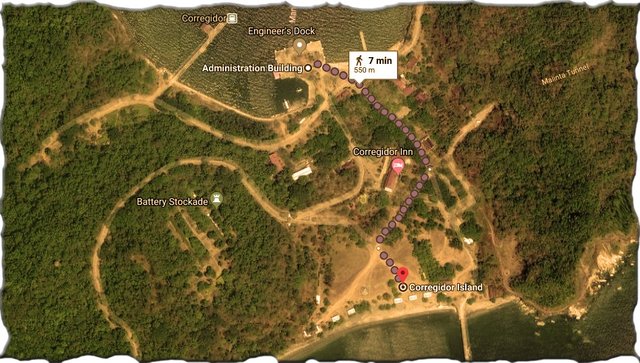 Here there are some picnic tables available for the visitors. Camping is allowed and as you could see there are a lot of campers on this part of the beach. We love camping and maybe next time we would be able to stay longer and camp out on this beach. It's not crowded and the camping ground is very clean and well maintained. Also there are a lot of toilets and shower rooms available. Plenty of fresh water and no long lines to wait for your turn to get a shower.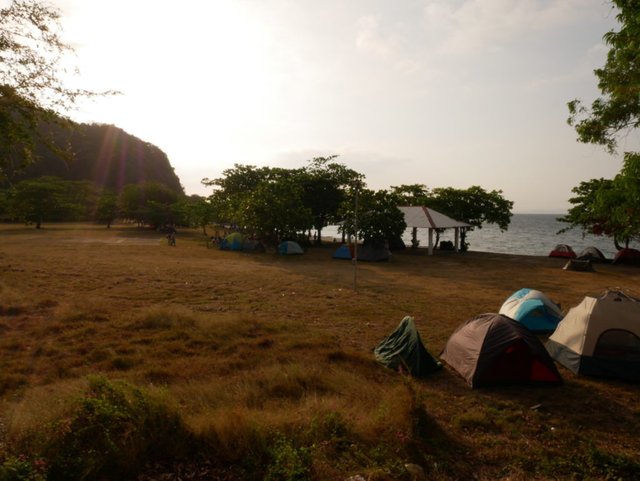 As the kids were finding a spot to set up our camp and I was immediately drawn to the beach. The sound of the waves and the cool breeze from the ocean is very hypnotizing. My love for the beach is like a spell that can never be broken. The dream to live on the beach and sleep underneath the stars is one of my goals in life. A quiet and simple life just hearing the songs of the waves all day.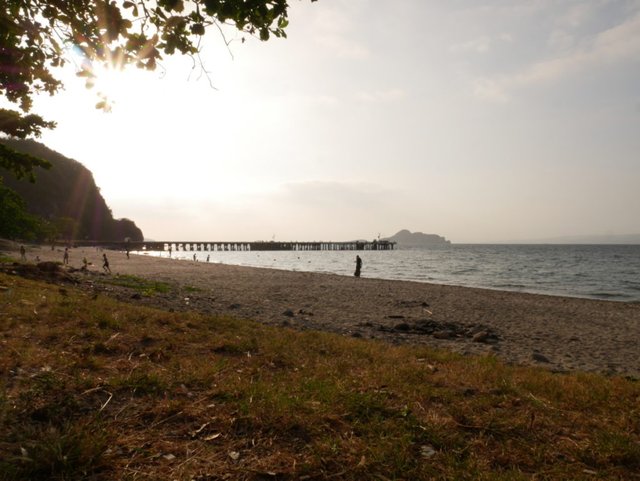 The water here is cleaner here than the beaches that we have near our city. Since this place is hard to get to it's beauty does not get abused. I looked around and was amazed that there are no plastic wrappers on the beach. Just seaweed, rocks and pebbles in different shapes.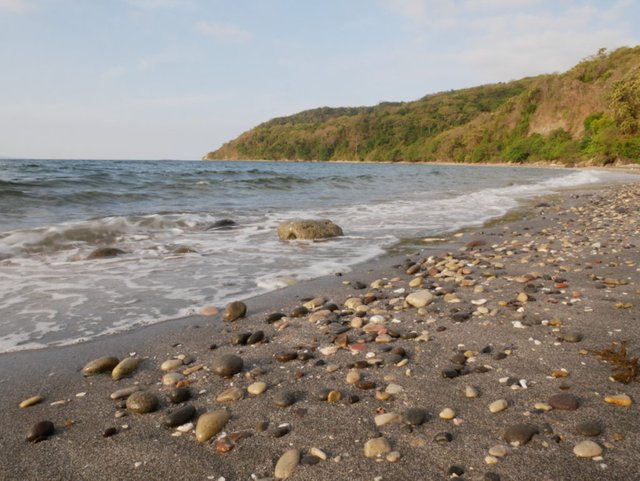 I would love to explore that dock, but we do not have much time to spend here. We need to strategically plan the places that we would be visiting to make the most of our time. I have a small chat with one of the staff here and he said that near the dock there are a lot of oysters. We are free to get some and cook them over the fire. Those fresh oysters sounds heavenly but just collecting them and cooking will take up a lot of our time. Maybe visit we will have all the time that we need.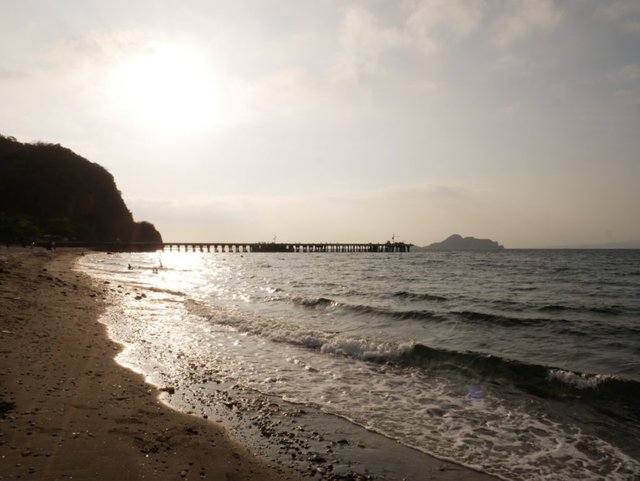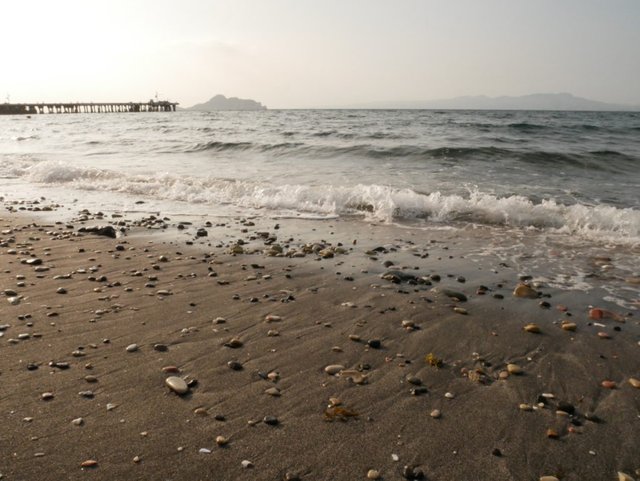 After setting up the tents, we had some breakfast and talked about our agenda. Our plan was to explore the western part of the island as it is where the majority of the tourist spots are located. Since we are not a part of a paid tour we plan to hike around the island. Looking at the map it looked so easy, but we were in for a challenge that I didn't expect. My wife, my two kids and their two cousins were are up to the challenge.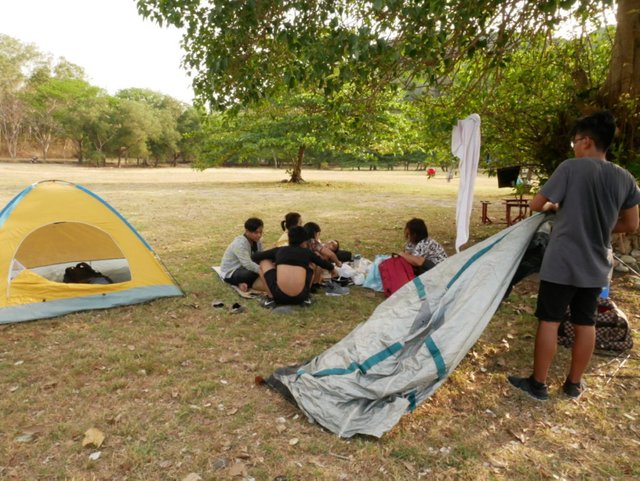 So we started our journey, pack extra shirts and a couple of bottles of drinking water. My in laws were left behind at the camp as they didn't feel like going on a hike.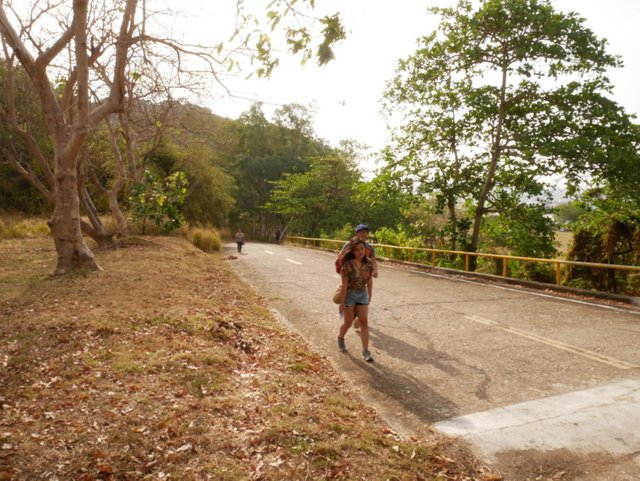 The kids were ready and had so much energy and excitement on our journey.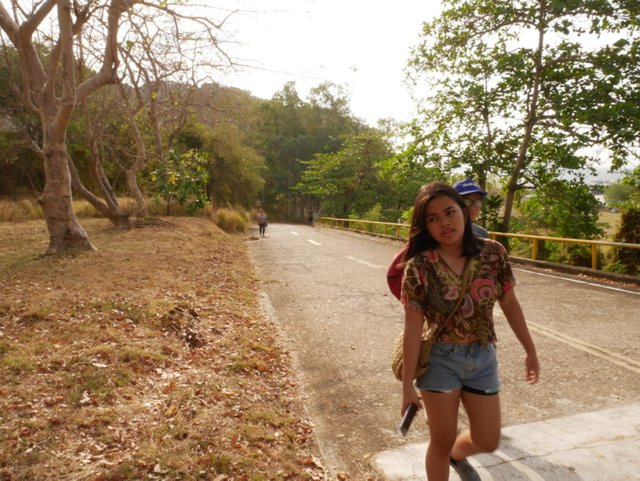 This arch says it all and there is no turning back now. This road leads to the majority of the historical site on the island.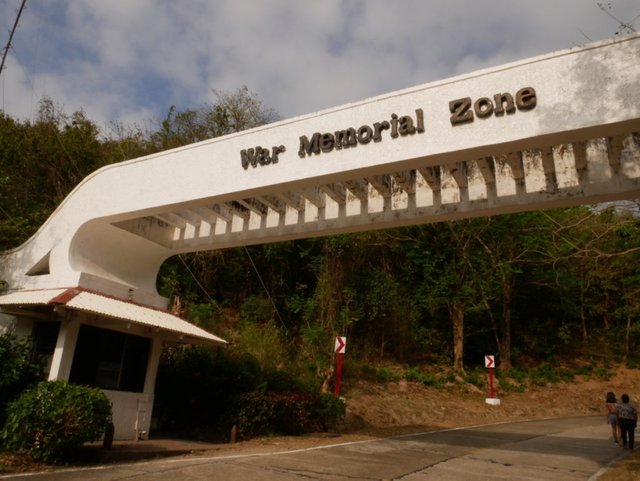 Although we are following the road the trek is uphill which makes it difficult. I felt that it took us more than 15 minutes just to reach this point. It is very rewarding though as it gave us a breathtaking view of the port with the ship that took us here.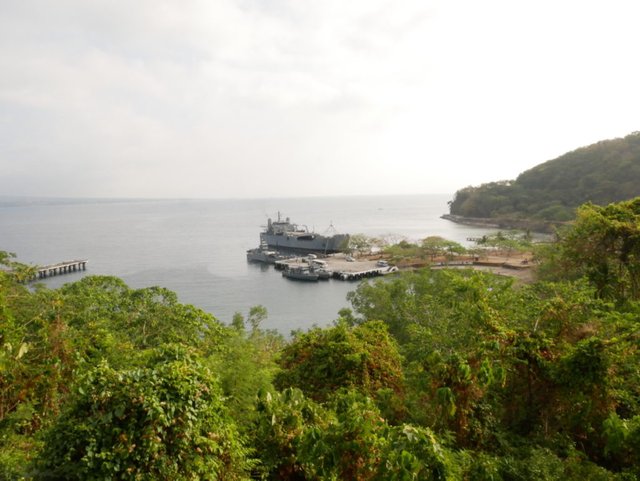 This island was also used during the Spanish era and served as a gateway to Manila. The galleons all needed to make a stop here to be checked for their documents. Just imagine all those galleons that used to dock here, carrying all sorts of cargo for trade.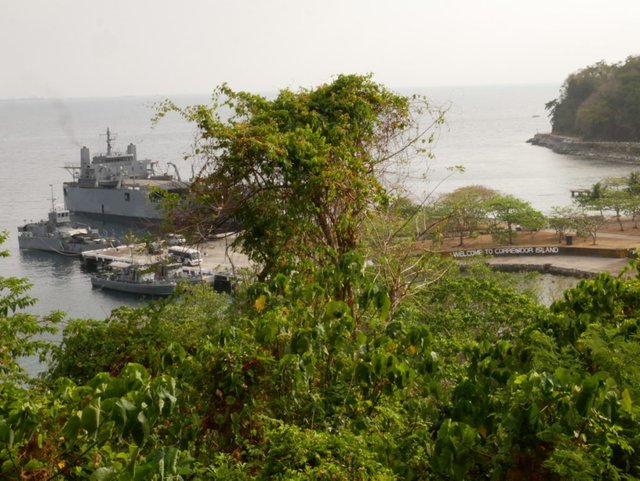 We needed to move on if we wanted to complete our agenda. As we went further uphill we noticed that the road was covered with green flowers although I'm not really sure if they are flowers. I have never seen anything like it, star shaped flowers that fell from the trees above. Please let us know if anyone identifies this type of tree that blossoms green star shaped flowers.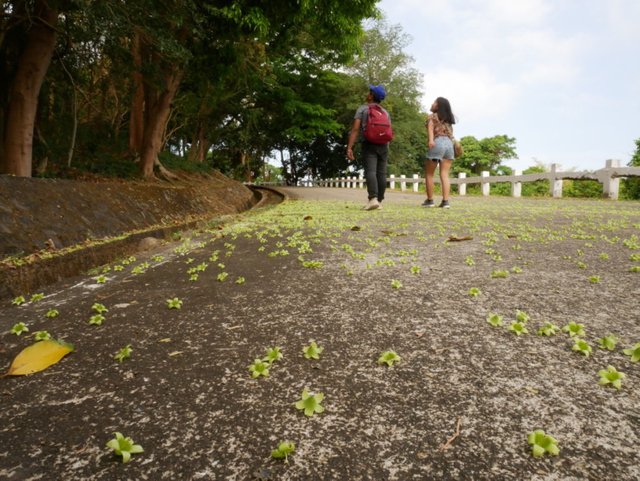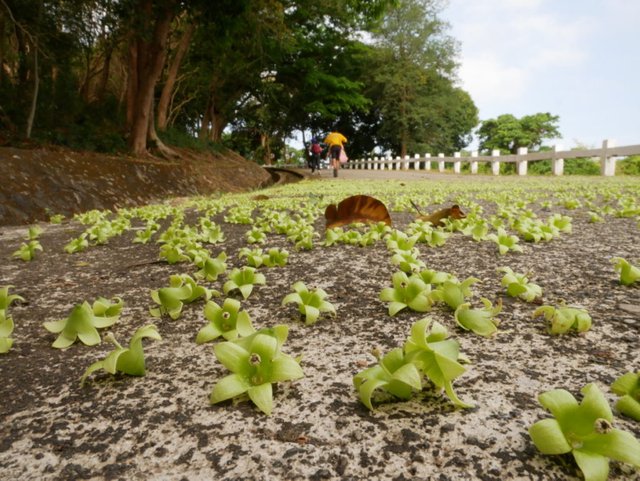 Everyone was amazed seeing the green flowers, but we didn't expect what we are about to encounter. Something is about to cross our path that will bring us fear and excitement at the same time.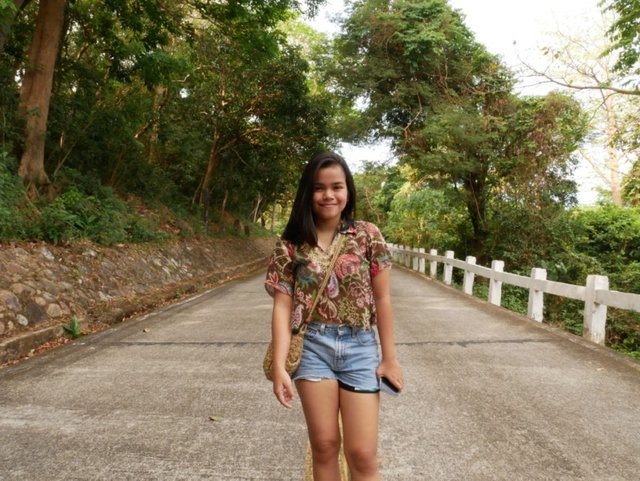 My son and his cousins were a couple of steps ahead of us. Suddenly they stopped and said that there is a gang of monkeys blocking the road. We didn't know how we will proceed seeing them blocking the road. Although, this is common is most countries. This is our first encounter with wild monkeys. I told everyone to stay calm as I took a couple of steps forward. As I came closer, they all moved to different directions and some climbed up the trees. I felt it was same to move on and everyone walked behind me.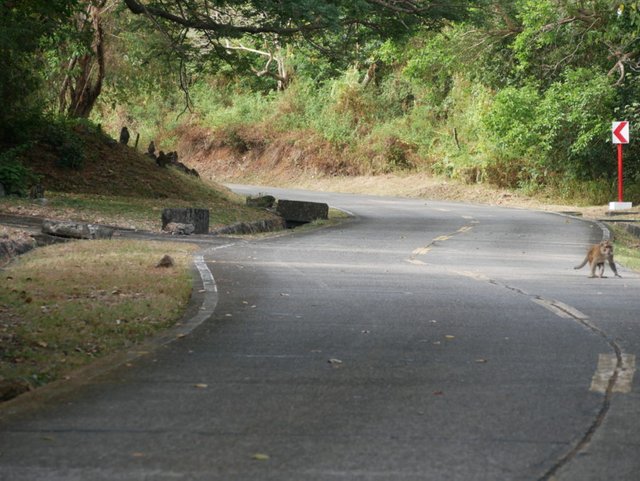 As the slowly walked away, we all walked in a straight line in the middle of the road. My wife was getting ideas that once we get near their perimeter they would be jumping down from the trees and begin attacking us. I told her that was in the movie Planet of the Apes, don't think about it too much.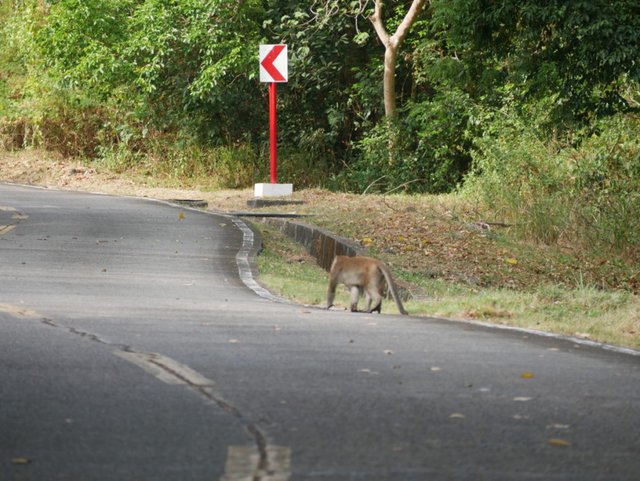 As we came closer, my heart was raising a bit faster. I am not sure how monkeys react to people especially near their territory.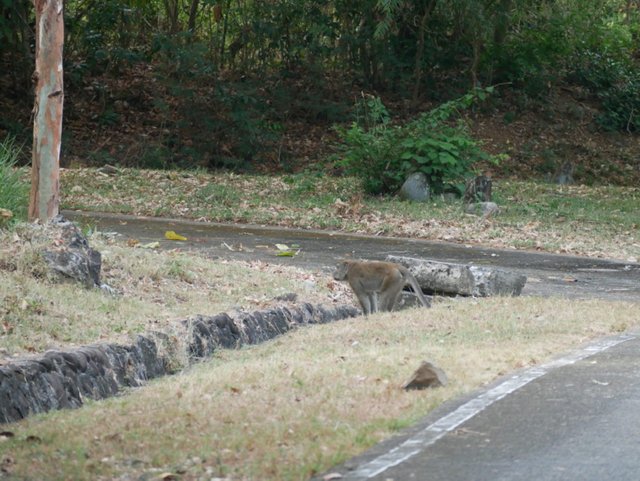 We felt more at ease as they moved further away as we were passing by. It seems that there is safe distance between us so I had to take some more photos of them . We do not cross paths with monkeys everyday so this was a bit scary, but exciting experience for us.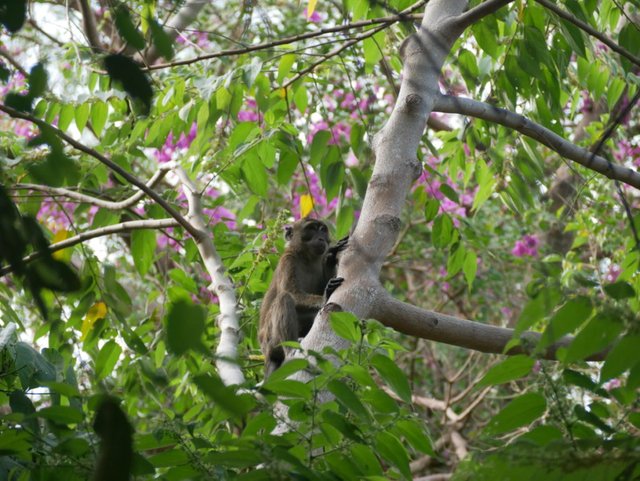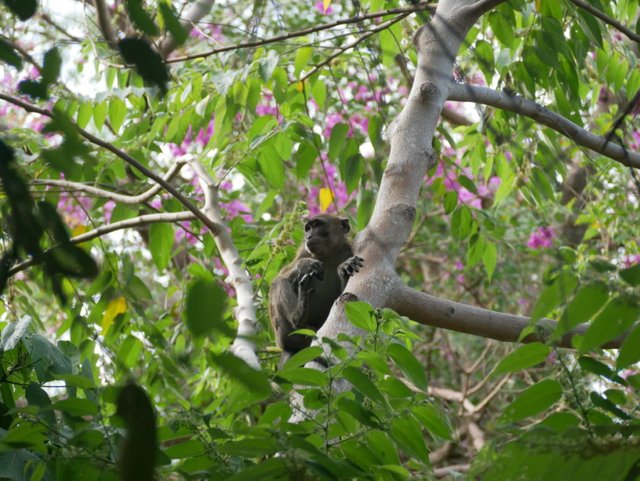 I think this is the alpha monkey as he is the only one that didn't budge. He just stood his ground while everyone was up the trees and far behind him.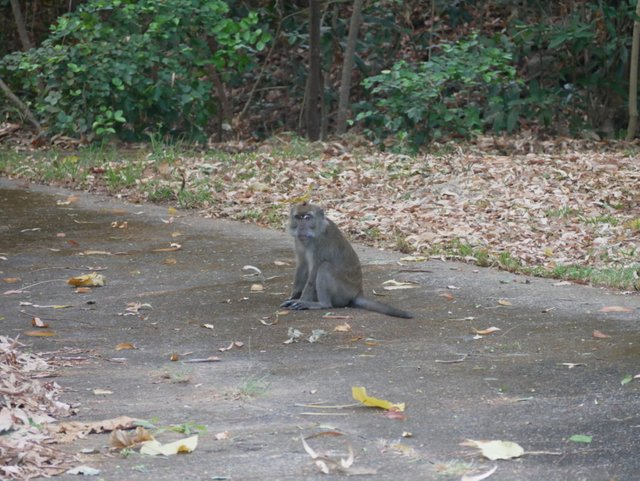 He gave me a stare as I took a photo of him. I wouldn't want to mess with this monkey.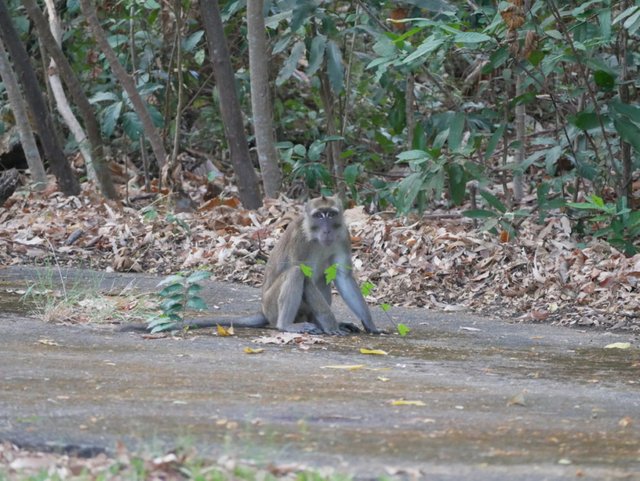 We walked slowly and quietly. Suddenly my son made some monkey sounds which made my wife very angry. My wife scolded him, "Stop calling them as they might come from the trees and attack us!" I was laughing at the background as my son replied, "I'm just trying to communicate with them."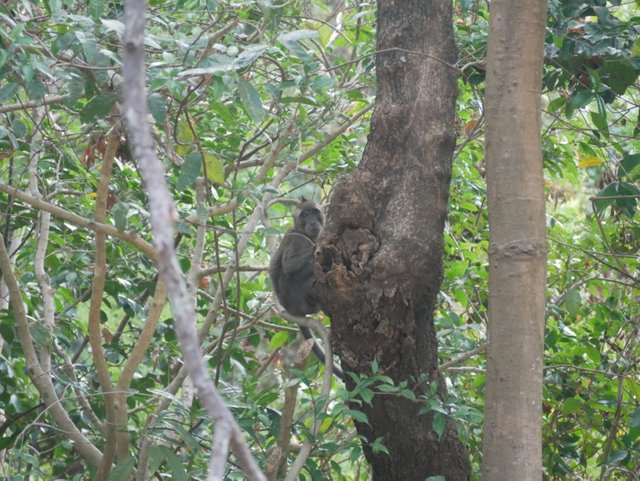 Well they didn't come down and attack us and we were almost outside of their territory.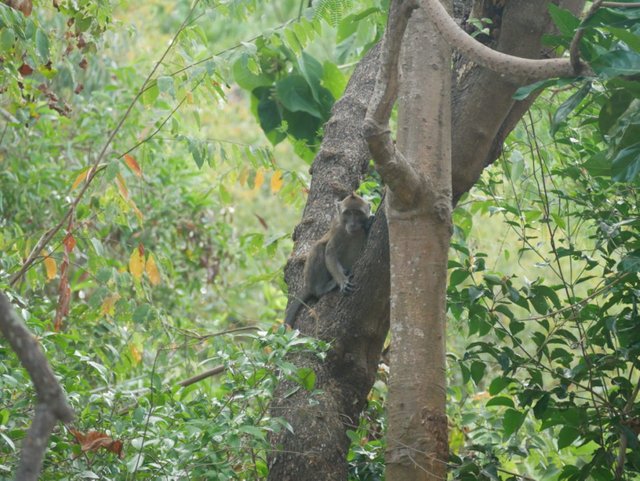 I am not an expert with wildlife, but I guess if you just leave them alone they won't bother you. They were actually a peaceful group. My son wanted to give them some junk food, but I strongly told him not to. I think it is not a good idea to feed wild animals it could make them dependent on humans. They would start thinking that all humans has food with them. Then that could be the start of a gang of aggressive monkeys. If you couldn't give them anything, I guess that's when the aggression starts. Let me know what you think.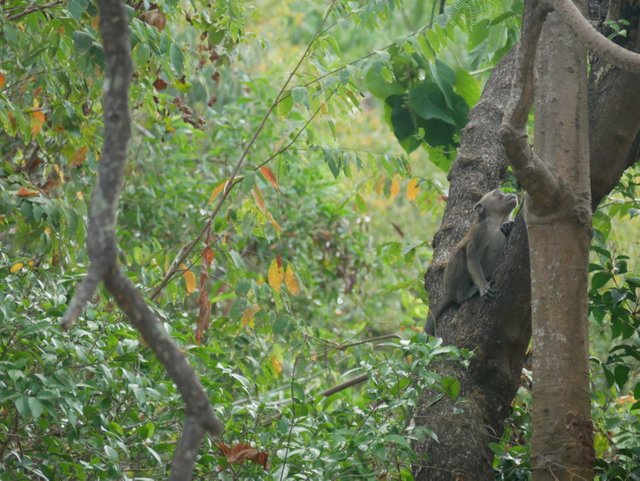 From south beach, this is where we encountered the group of monkeys. If ever you visit the island be sure to take note of this area and I am sure you won't miss them. What could have taken 9 minutes took us maybe around 20 minutes. Given that the hike is uphill and held up by the gang of monkeys. I would say it was time well spent.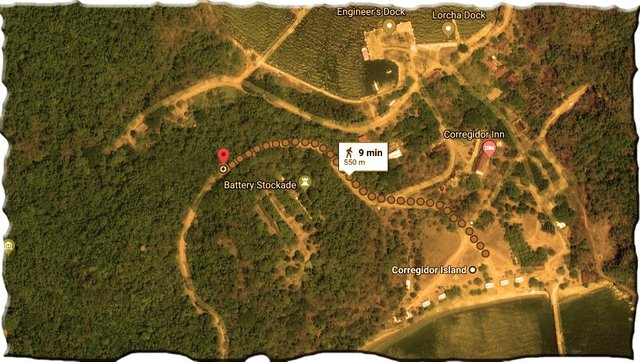 After our encounter, we continued on with our exploration of the island. The road ahead is still very long and as I checked the map for our next stop is the ruins of Middle Side Barracks. Bombed by the Japanese during WW2 and site that should not be missed.
I hope you enjoyed the second episode of our travel and please do check us out again for another exciting part of our adventure on the Island of Corrigedor. Until then have a very #beautifulsunday and #sublimesunday .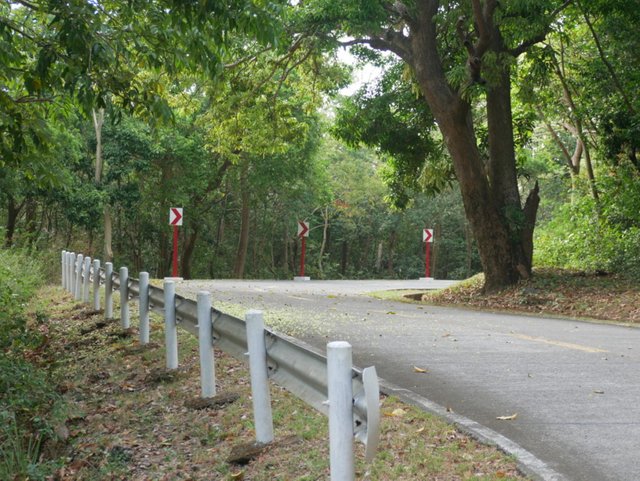 Visit and follow @steemitbloggers AKA #powerhousecreatives. A community that is exceptional, talented and engaging.
Discovering exceptional content in the community follow @curie and vote as witness
To have a glimpse of awesome content from the Philippines check out @bayanihan
Follow @surpassinggoogle to witness an extraordinary person in this platform and vote for @steemgigs as witness
All photos are original and taken with
Lumix GX85 12-32 mm kit lens
and Olympus 40-150 mm





---
Posted from my blog with SteemPress : http://watersnake101.steemblogs.club/2019/06/30/exploring-the-island-of-corregidor-beautiful-sunday/
---