Strong winds mean Kite Surfing!
Winds at 60km speeds are good for one thing! Kite Surfing!
15 photos here to show you what the guys get up to here at the beach in the Western Cape Province of South Africa. With the sand whipped up by the wind and stinging my face, salt in my hair and our little dog Troy cringing in my wife's arms, I took some shots about the antics of the kite surfers.
Have a look at some seaside fun!
Some beautiful scenery here and you can see the kites!
Seagull shaking his head at the mad guys with their kites!
Look how the wind lifts that kite!
I have never done this, but it looks like high speed fun!
Guy at the left is airborne!
What a great action shot!
Another guy running along the shallow breakers!
A one arm ski as arms must be getting lame hanging on!
A lift to dodge the breaking wave!
Hey look ma, I am flying!
Yeeks! Is that a shark down there?
This must be so great to do in the winds!
Another gull coming in to have a look!
Our palm trees hair being whipped about to show you the strength of the wind!
And That's All Folks!
Since the early times mankind has used the energies of nature to aid them on the seas. Think here of sailing ships before motors were discovered. The wind today forms a great ally in developing electricity via wind bladed towers and other uses. But then again, the wind can also be an absolute destroyer with cyclones and such and mankind can never control it absolutely.
But as you saw here, the wind can also be a friend in one's sporting activities!
We hope that you have enjoyed the summer activities here and thank you for visiting a post by @papilloncharity

(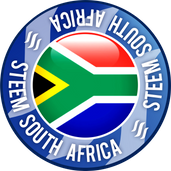 )
Connecting the people of #STEEM across South Africa. #steemsa

Team South Africa banner designed by @bearone