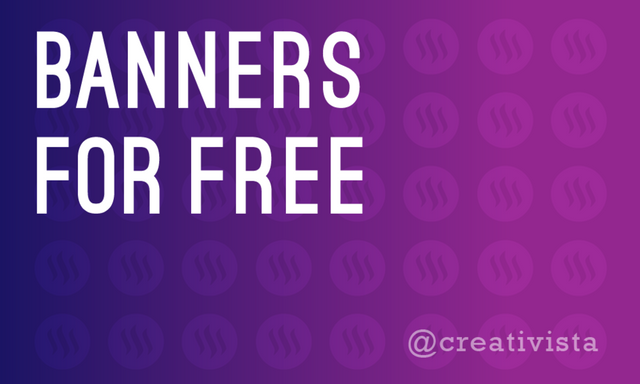 Today I thought it was due time to give back. This thought has been haunting me for quite a while tbh. What can I give back to you guys to make your journey on Steemit smoother? I'm sorry it's nothing new I just did some banners/footers for you :)
Maybe you can help me brainstorm something that would be more useful for your blog ;)
What do you need design-wise to make your Steemit journey a lot better? And leave it in the comments so I can create it.
Giving Back
Since I joined Steemit I've made a lot of open-source contributions and they usually only benefit one person or a small team of developers. I don't think there is anything wrong with that, but I think I could do so much more, and help a lot more people.
One of the things I really enjoy is helping people succeed on this platform. I've always regarded design as a high contributor to society. Everything in our world has been designed by a creative mind. That means purposely thought, planned and created out of their own volition to either promote, educate, inform, function better and beautify everything we come in contact daily. Design can do all of these things at the same time and it's one of the reasons I've been in this field for so long.
Ok, enough with the writing where are my banners?
Ok, ok, here you go:







Great, how can I get one of these?
All banners are ready for use and are lossless .pngs 1000px wide by 138px high. You can right click on any of them Save as image and then add to the bottom of your post.
What if I don't like any of these?
No problem at all, your girl @creativista has you covered. I made a quick search for banners and found a few of them up for grabs. There are lots more, of course, you just need to keep searching into the depths of Steemit.
I even found a tutorial on how to make your own which comes in first on the list:
https://steemit.com/steem-help/@aburmeseabroad/steemit-banner-how-to-customize-and-create-the-banner-using-canva-steemit-newbie-tips-4-2017817t10503436z
https://steemit.com/animations/@frankk/free-animated-banners
https://steemit.com/creativity/@runicar/free-banners-for-everyone-steemcreations-giveaway
https://steemit.com/steem/@fabiyamada/another-footer-for-your-posts-static-and-animated
And if you are not into computers that much, maybe you can drawn your own footer. @shinyforest explains it through her step-by-step process: https://steemit.com/art/@shinyforest/original-artwork-step-by-step-my-first-custom-footer-for-steemit
This work is a modest way to say thank you to all my followers, and it's my first attempt to be of service to you.
Thank you to all the people who have been commenting, following, upvoting and resteeming my content. I am truly grateful to be part of this community. My hats off to all you fellow steemians.
That's it for today. I hope you enjoyed this and it's useful for you. Don't forget to tell me what kind of design I could share for you.
Until we meet next time
If you want to know when I post follow me on:
Twitter https://twitter.com/Creativista_

For the occasional pic of my work and lettering projects go to:
Instagram http://instagram.com/creativista_