Hely Orsini, a story, an album, a song
I started writing this article today with the idea of making it part of the challenge #BandsAboutBands because I'm going to talk about one of the best voices I've heard in my life and that is part of the legion of musicians in Steemit . But it could have been perfectly part of some challenge named #FamilyAboutFamily. Yes, because my today's post, besides referring to the singer, is about my sister. And when I say "sister" I do not say it as a "brotherhood" term, but textual, I say sister because she is the daughter of my mother and my father.
But that link could make it seem that it is a purely family preference. So keep reading and you will realize that Hely Orsini (@helyorsini) deserves much more than this review.
---
Versión en español disponible aquí.
Deutsch Version zur verfügung hier!
---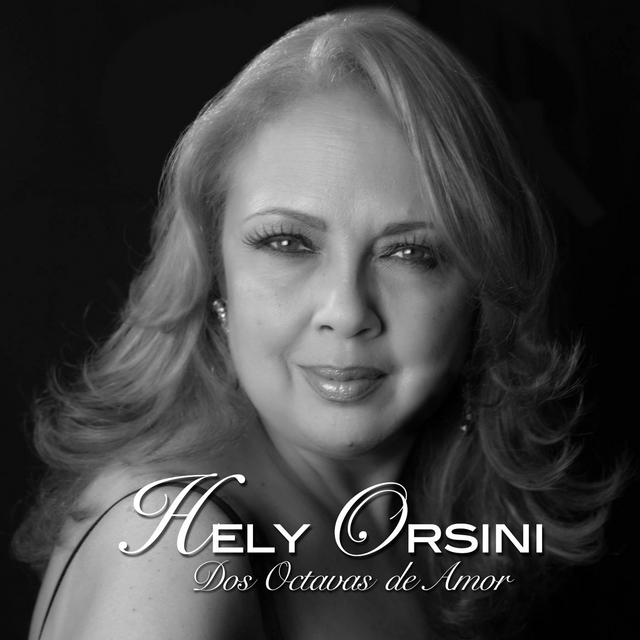 A Story
For those who already know me, it will not be news to know that she comes from a family of artists, with a father who was a theater director, teacher and playwright and her mother an extraordinary actress, who had his beginnings as a radio singer, when in radio was sung live with the orchestras. The music was always present in that house where on Sundays they woke up with a Turntable at full volume with the most varied music, that could go from the cannon shots of the 1812 Overture of Tchaikovsky to the sweet melodies in the voice of our soprano Morella Muñoz.
And began as a child to receive cuatro classes, from the hands of some of the greatest exponents of that Venezuelan musical instrument, as it was Freddy Reyna.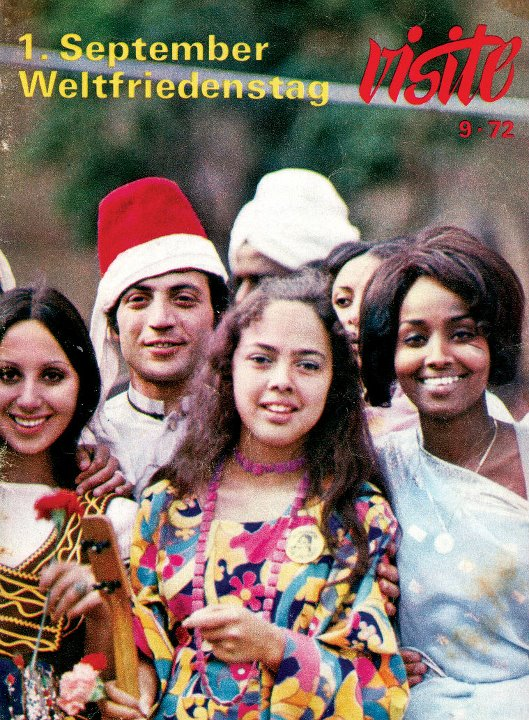 Cover of a German magazine
But it was after arriving in Germany that she began to venture into singing with immediate success, participating in countless musical events and forming part of groups that marked an era in what was part of the German Democratic Republic. She participated in numerous festivals and clubs and her fresh image of almost a girl became popular throughout the country, where on more than one occasion she was on the cover of magazines. One of the groups that most marked her was the "Ensemble Solidarität" which was a group that brought together various singing and dance groups from all over the world, achieving a close connection with music from the 5 continents.
A stay of several years in the former Soviet Union served to continue developing her musical history and her participation in different musical groups, where she made deep contact with the music of the entire American continent, which was the music she used to play.
Then came a brief return to Venezuela and a new trip took her to live in Mexico, where she recorded her first album as a soloist, with a sample of everything she had lived before, an album that compiled Venezuelan songs, tunes from Germany, Finland, South Africa, Tanzania and several Latin American countries.
For that moment Hely became one of the most recognized voices in that country, along with stars such as Guadalupe Pineda, Tania Libertad and Eugenia León.
In 1982 she returned to Venezuela and became part of the group Los Cañoneros, in which she is still the singer and with which she sets a precedent in the rescue of the typical music of the city of Caracas, with a project that has been a must reference in Venezuelan music.
But beyond, apart from Los Cañoneros, Hely has been constantly in other projects, as a chorister, as a soloist, as part of other projects. A constant and extensive activity that includes a number of years in nightclubs in Caracas, where she became one of the favorite voices of the people of Caracas.

An album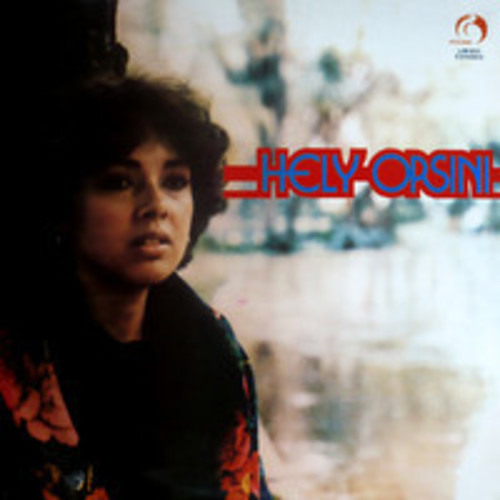 Her first album, published in Mexico
After her first album made in Mexico, Hely captured his voice in the entire discography of Los Cañoneros, as well as in a couple of group projects, but she has done different solo productions, such as
Hely Orsini (Latin American and world music)
Hely Orsini, en las noches (Ballads and pop music)
Hely Orsini y sus Guataqueros (Venezuelan music)
Hely Orsini y sus Guataqueros, Vol. 2 (Venezuelan music)
La Orquesta Sinfonica De La Opera Y Angelo Pagliuca presentan a Hely Orsini (Latin American music)
2/8 de amor (Ballads and boleros)
And to this last one I want to refer.
The concept of the album emerged from herself as an illusion, because it was about bringing together some of the best pianists in the country and others from abroad. Task nothing simple. But that was facilitated by the prestige that for a long time had been gained with her voice in the musical environment of Venezuela and many other parts of the world.
But she also imagined what song each of them should play to achieve a perfect communion between tune, pianist and singer.
There were 13 selected tracks plus an old recording of a very dear Mexican friend, who for a project of years ago had made a demo with Hely's voice.
The album also has 3 special guests, singers: Luis Fernando Borjas, the well-known singer of the group Guaco, who accompanies Hely in the song "No existen límites". Also featuring Wladimir Lozano, one of the greatest bolero singers of the planet, in a masterful version of "Deseperanza". And the third guest is myself who sang with my sister in "Perdón".
The songs included with their authors and the respective pianists and guest musicians are the following:
Bésame mucho (Consuelo Velásquez) - Gerry Weil
Todos los ojos te miran (Pablo Milanés) - César Orozco
No existen límites (A. Manzanero) - Eddie Cisneros / Luis Fernando Borjas
Nuestro secreto (Félix Pasache) - Alberto Lazo - "El Negro" Diego Álvarez
Tú no sospechas (Marta Valdés) - Gerardo Lugo - Gustavo Carucí - J. Mendoza - "El Negro" D.
De quererte así "De T´Avoir Aimee" ( Charles Aznavour) - Otmaro Ruíz
Desesperanza (Maria Luisa Escobar) - Leandro García / Wladimir Lozano
Obsesión (Pedro Flores) - Lisandro Codecido - Chapis Lasca - "Pibo" Márquez
Me queda el consuelo (Aldemaro Romero) - Pedrito López
Dos que ya no cambian (Litto Nebbia y Eduardo Mignogna) - Litto Nebbia
Ay amor (I. Villa "Bola de Nieve") - Prisca Dávila
Perdón (Pedro Flores) - E. "Culebra" Iriarte / Ylich Orsini
Alma mía (María Grever) - Victor Mestas
Estoy en sus manos (Alvaro Serrano) - Luis Oliver (Bonus Track)
The production of this album was in charge of the musician (Latin Grammy nominee in several opportunities) Chapis Lasca, who is her son.

A song
I wanted to focus on one of the tracks on the album, which I think is a very interesting case. It's the tune "Bésame mucho", by Consuelo Velásquez, a song known worldwide and with lots of versions. For that reason is that considering to record it requires a very precise clarity to aspire to a good version and to be original. How to make a version that does not look like the thousands and thousands of versions that currently exist? What feeling and emotions should it convey?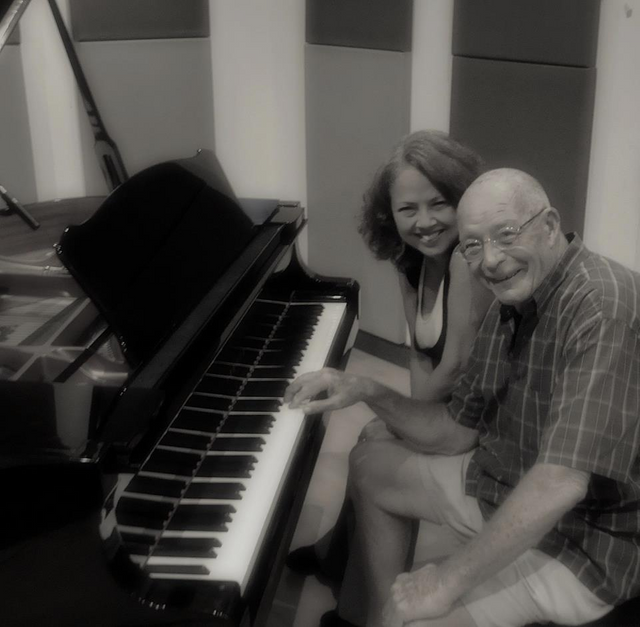 With the master Gerry Weil
To achieve her goal Hely thought of one of the most outstanding pianists in Venezuela, although of Austrian origin, Gerhard Weilheim, or rather Gerry Weil, as he is known by all. Gerry is an extraordinary jazz musician, but he has dabbled in and researched all Venezuelan and Latin American popular music, which has made him one of the men with the most vision in that field. And he was the one who found the ideal formula to differentiate this version from those that were recorded either by Latin musicians or not, since he knew how to give to it a dose of bolero, jazz, added to the tango style of Piazzola, with an academic air that could only come from his hands.
Hely's interpretation adds an air of mystery and despair, where she shows off the warmth of her voice and also transmits part of that fusion that the piano presents in the accompaniment and that she is capable of transmitting, thanks to her great experience with all those musical forms.
You can listen to this song in the following link

Conclusion
The trajectory, as well as the achievements of Hely Orsini have earned her a huge respect among musicians and singers, but she has not had the diffusion that she deserves. In my opinion her name should be with the greatest singers of our Latin America and even beyond our continent.
More music
Todos los ojos te miran
It is part of the disc 2/8 de amor. Song of the Cuban composer Pablo Milanés, with the Cuban-Venezuelan pianist César Orozco
---
Criollísima
This song is part of the disc La orquesta sinfónica de la Opera y Angelo Pagliuca presentan a Hely Orsini, a production that was also in charge of her son Chapis Lasca. It is a composition of Henry Martínez and Luis Laguna.
---
Un beso y una flor
Original song by José Luis Armenteros and Pablo Herrero, reggae version, live at a nightclub in Caracas.
---
The álbum 2/8 de amor is available at
Here you can follow Hely:
All photos used in this post were kindly given by Hely Orsini
---
This post is written as part of the Bands About Bands Community Initiative run by @ftlob
---
Comments are welcome!
---

Follow - Upvote - Resteem
---
Most recent and related post
---
* If this post is older than 6 days, you may go to the most recent and upvote it!