Hey There SteemVerse Friends,
@anomadsoul has a challenge to lead you up to the grand finale of the Avengers, the EndGame. It opens in cinemas in less than 2 weeks, and the idea is to get ready for it by watching all the Avengers movies in chronological order.
I am on movie No. 7, and as I was watching, I remember this is the one where the kids gave me a 101 on the Avengers. I didn't know which heroes belonged where, confused between Marvel and DC. But I am sure after this Movie Marathon, I will remember haha.
The Movies So Far: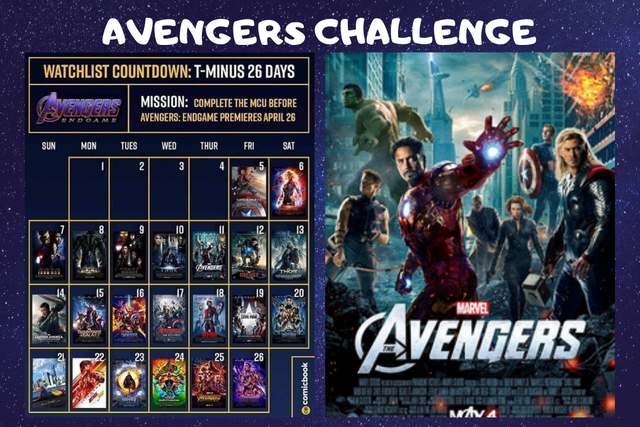 Avengers Assemble
In the last movie, Loki went rogue. And he continues his vengeance, landing on Earth and bringing aliens with him. Nick Fury assembles his Avengers which include Iron Man, Captain America, Black Widow, Thor, Hulk, Hawkeye (though he had been under Loki's spell for the most part).
The first scene with Black Widow, I wanted to be her hahaha. I love how cool and nonchalant she is. Anyways, there are fights between a Demi God and a Green Giant, the personality clashes between Captain America and Iron Man and we lose one character that's been there since Captain Marvel.
After saving the world from the Aliens and closing the wormhole that brought them here, the Avengers go back to their lives, amidst people having mixed sentiments of having so much power on the loose.
Some of my favourite lines:
Loki: An Ant has no quarrel with a boot
Iron Man: Shakespeare in the park? Doth mother know you weareth her drapes?
Captain America: There's only one God ma'am, and I'm sure He doesn't dress like that!
.
Here's the Trailer for your viewing pleasure

Video Source
Find out more about the challenge here.

Images & Videos are from my Photo Gallery unless stated

I Truly Appreciate Your Time Here :)

Till We Meet Again Over Text, Pics, Videos, Maybe Even Coffee ....




Live Life Loud & Steem On




❤️sh33la