DIY Trip to the Blue Mountains and Leura Town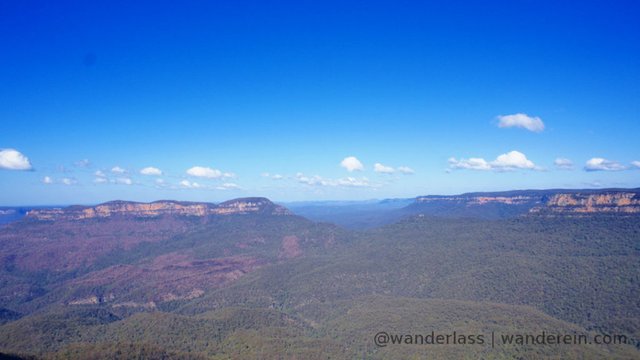 I have posted 2 vlogs about the Blue Mountains but I would also like to write a blog about it for people who like reading :) I have linked the videos below if you want to check it out.
I guess by now you've noticed my vlogging then blogging behavior. Although I just wish I can do it faster, I think I have posted the vlogs more than 2 weeks ago so this blog is a bit late.
Anyway, enough of my explanations and let's get on this travel post.
DIY versus Bus Tour
Several travel agencies offer a bus tour to the Blue Mountains and it would cost around AUD 100. You pay for the convenience and at the same time they have a side trip to a nearby Wildlife Park (which is out of the way if you're doing a DIY trip).
A week before this trip, I already paid a really expensive bus tour to the Snowy Mountains so another AUD 100 is no longer an option for me. And I learned that on a Sunday, Opal Card (train/ bus payment card) has a fare cap of AUD 2.70! Yes, you read that right. It doesn't matter how many times you tap your Opal Card on a Sunday, you will just pay this amount. Awesome!
So AUD 100 versus AUD 2.70, I already know which one I was going to take.
Getting There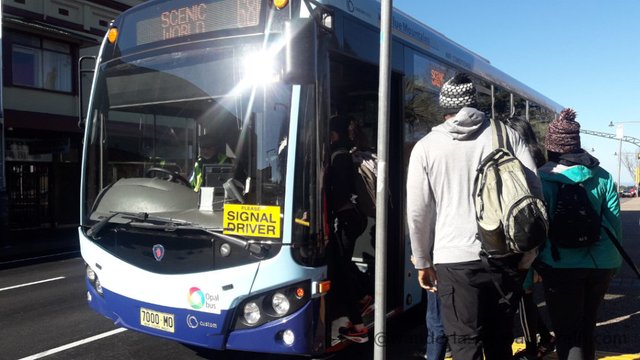 The train ride to the Blue Mountains takes about 2 hours from Sydney, specifically from the Strathfield Station. Before you take your trip, check on the train website your route as there has been on-going trackwork.
I went to Central Station, but I just found that they do not have any rides to Katoomba/ Blue Mountains line on that day because of train construction work. It was a great thing that they have "train replacement buses" which are free. So from Central Station, I took the bus to Strathfield station.
There's no fixed platform where the Blue Mountain/ Katoomba line is so you have to listen to the announcement or check the screens where the platform is. People start running when the train platform is announced because it doesn't wait for long. The scene really looked crazy! So you really have to be attentive, otherwise you have to wait for the next train.
You can either alight at Leura station and start your walk there (I wish I have done this), at Katoomba where the Echo Point and Information Centre is.
From Katoomba station, transfer to Bus 686. You should get off when you reach Echo Point. You will see the mountains (and tourists) now so you would know you're there.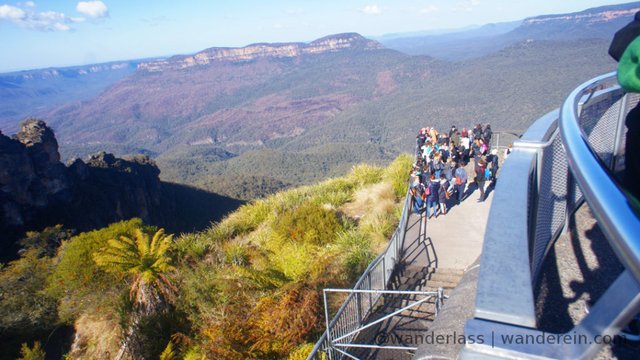 Echo Point and Three Sisters
This place is hard to miss even at the bus because most tourists go here. There is a viewing deck and a good place to take photos. But I got better photos at the cliff walk because there's just a lot of photobombers in this area.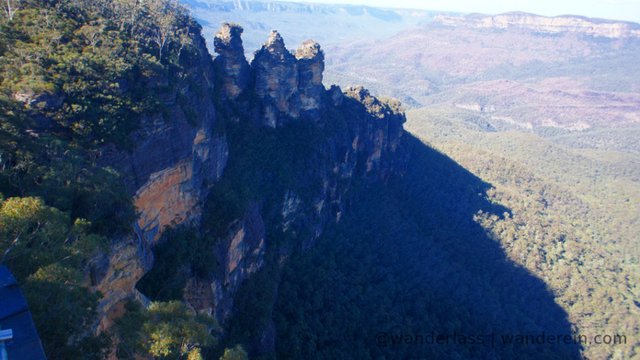 Three Sisters
Prince Henry Cliff Walk
This is the main path I took from Echo Point going to Katoomba Falls. I was alone in this path and there were occasional "walkers" that I see. It felt safe because the path is concrete for the most part and the cliff side either have railings or bushes. You wouldn't slide off at all.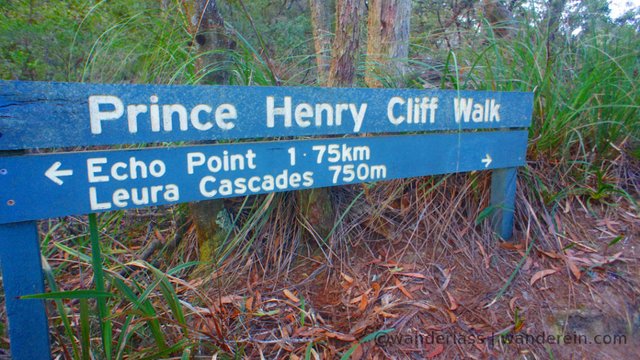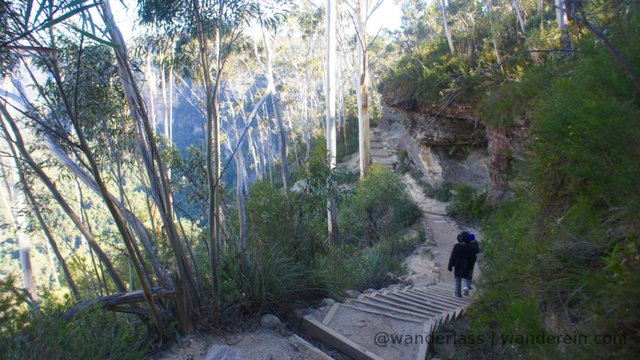 Easy and safe cliff walk
Katoomba Falls
After more than an hour, I finally reached the end of the cliff walk which is the Katoomba falls. It took me almost 2 hours but that includes some stop overs to enjoy the view and take photos or videos.
I heard there was a drought so I wasn't surprised to see a waterfalls with not much water. It was still a peaceful area to take a rest from the long walk and you can still hear the relaxing stream of water.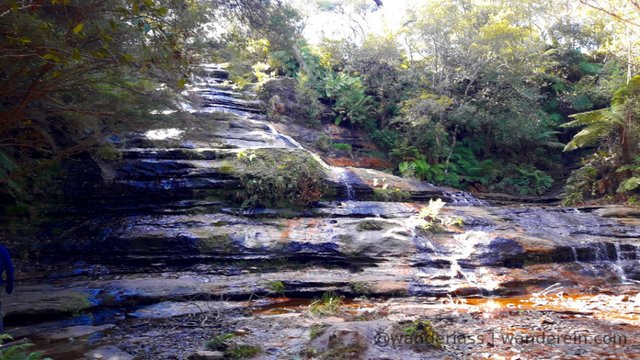 Echo Point to Leura
After I have regained some energy, I went back to Echo Point which just took me an hour because I no longer did any stop. Once you get back to Echo Point, look for the Information Centre. The start of the cliff walk is just beside the small building. It is also the Prince Henry cliff walk.
The path to Leura looks a lot different than the path to Katoomba. It felt more like a forest because not all areas are concrete and there were some bushy areas. Most parts have steel railings because it was really near the edge of the cliff.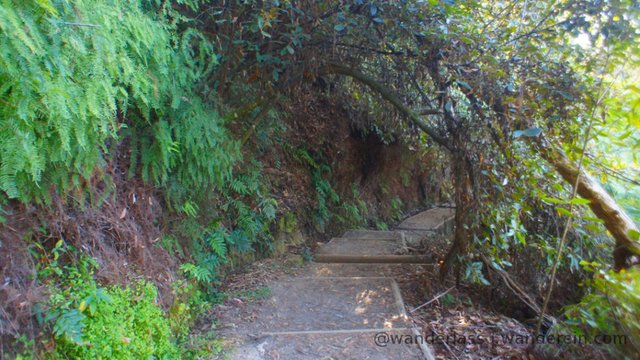 Compared to the previous path, you should take more caution in this walk. It is still an easy walk but you have to be mindful because there are big rocks on the way. I liked it in a way because it really felt like NATURE!
Kangaroo Burger at Solitary Restaurant
It was odd that the cliff walk wasn't one straight path. At one point, you will reach an end which isn't really the end of the walk. You just have to go up to the main road, walk a few minutes, then go back down to the cliff walk.
I didn't find the connecting walk right away because this quaint restaurant lured me. And they have Kangaroo burger!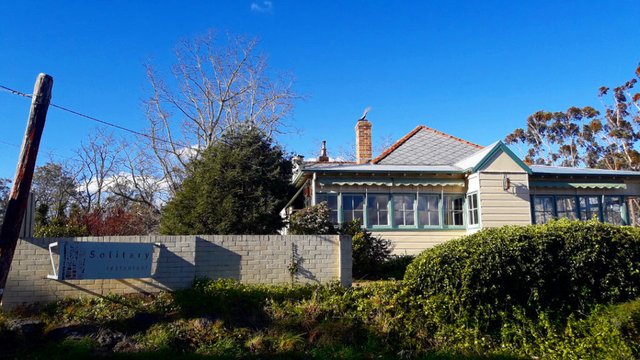 During my 3-hour (free) walking trip in Sydney, the tour guide recommended that we try Kangaroo meat. He's a local and he said they are fine to eat the Kangaroo. I wouldn't be stoned to death if I do by some Kangaroo activist. It is acceptable, at least for most.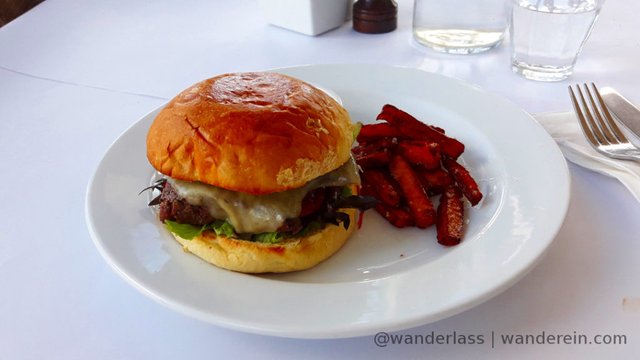 The Kangaroo burger was interesting. I think it's nearest to the texture and taste of beef. It has a harder texture though and you have to make an effort chewing (if that makes sense, lol I'm really trying hard here as English isn't my first language). It also has a strong and distinct after taste. I really couldn't give an exact descriptive word because it was my first time to taste such. The side sweet potato fries with beet dressing was awesome!
Some more Look Outs & Leura Cascades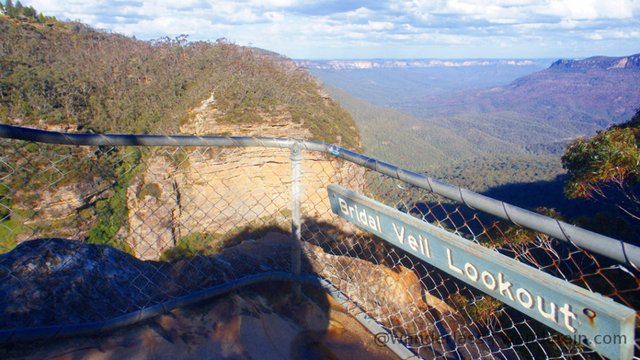 I like how they named the look outs like "Bridal Veil", "Honeymoon", and so on
By the time I got to the path, it was already 3pm so I had to walk faster. I wasn't sure how long it would take me to get to Leura town (that's where I'll take the train back to Sydney), it was also getting a bit darker.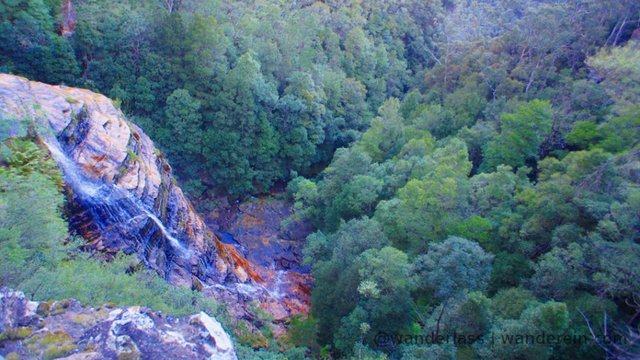 Luckily, I met 3 awesome ladies on the way. They wanted to go to Katoomba but it was already late so they decided to go back to Leura town. They were really nice and gave me a free ride to Leura town! You can still walk from the Leura cascades which will take another 30 minutes.
I have been walking since 10am with lunch break so a car ride was such a pleasure! Thank you to the ladies who took me in. :) I really love it when I meet strangers on the road who are just so helpful and friendly. I think this is one of the best things in solo traveling. People are more curious about you and in a good way :)
Leura Town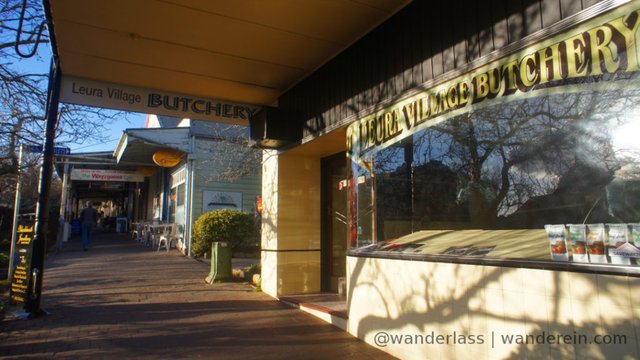 My colleague recommended that I check out Leura town because of the vintage shops. She also told me about the Candy Store which was like a kid's paradise!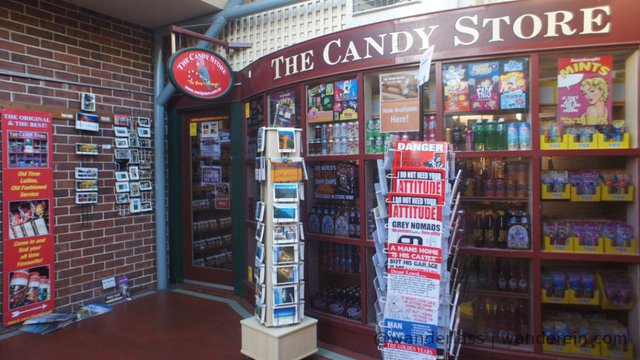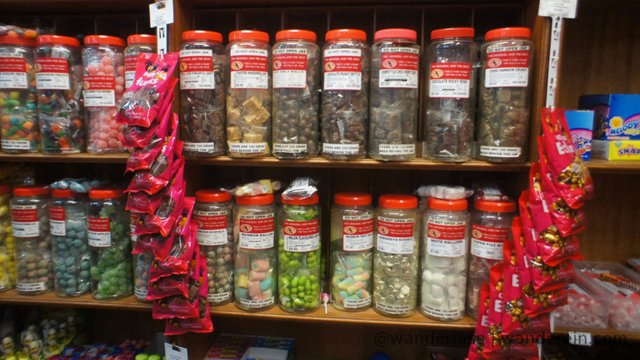 I walked around Leura for maybe 30 minutes before catching the train back to Sydney.
Lesson Learned from this trip...
INEFFICIENT ROUTE: Echo Point – Katoomba Falls – Echo Point – Leura
I realized that Echo Point is in between Leura and Katoomba, I wanna see both so I took a longer route and went back to Echo Point to get to Leura.
Wander Tip: Either start your cliff walk at Katoomba or Leura, not at Echo Point if you want to save time as Echo Point is in the middle of these 2 areas
---
Posted from my blog with SteemPress : https://wanderein.com/2018/10/03/diy-trip-to-the-blue-mountains/
---
[//]:# (!steemitworldmap -33.716220 lat 150.326695 long DIY Trip to the Blue Mountains & Leura (blog) d3scr)
Here are the links to the previous vlogs that I posted
Echo Point to Katoomba Falls