Australia Working Holiday Visa #2 Denmark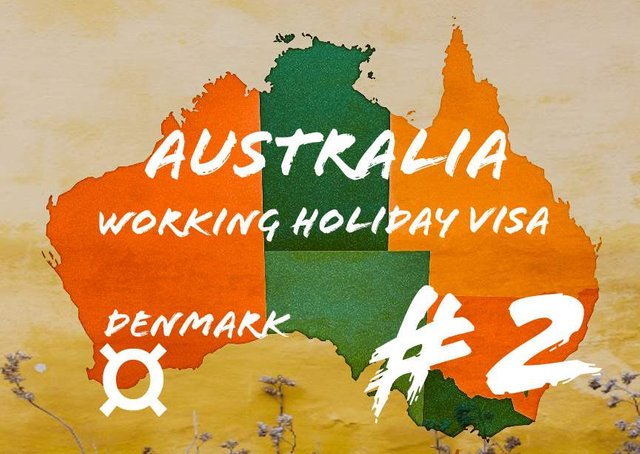 So we said goodbye to all our friends which we met in Perth and went to Denmark by bus. Denmark is a little town in the south of Western Australia. It was quite a long drive. The our host picked us up from Denmark and drove us to his organic blueberry farm, which was about a 20 minutes drive away.
At the farm he showed us his house where we could use the kitchen and the toilet and he showed us our shed, where the pickers lived in.
It was a simple shed with 3 rooms. One sleeping room for the guys, one sleeping room for the ladys and one living room...I felt like it had been a stall in the past :)
His farm was huge. For example his son had to drive with his motorcycle to find the cows. Furthermore he had a few chickens and two lovely dogs. Jessie and Oscar.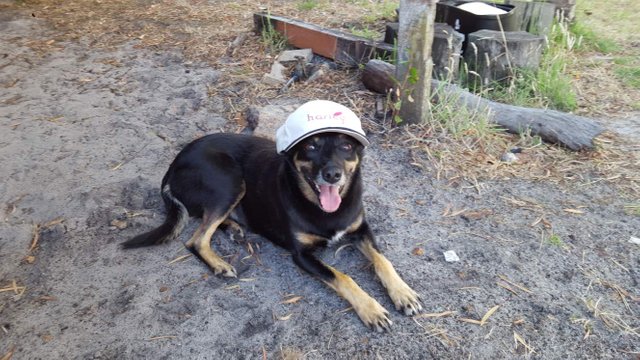 Jessie with a cap
After some time we met the pickers when they finished picking. We had three French people, 2 girls from Taiwan, one guy from Japan and one guy from South Korea. We had so many interesting topics that we talked a lot about.
So we arrived on the 30.12.2015 at the farm. On the next day we had to work the first time. We had to work 4 hours a day for food and accommodation. After that you could make extra money for your pocket. We didn't do the extra hours a lot because the beach was the better alternative, but later more. The 4 hours of daily work was separated in 2 hours picking and 2 hours packing. New year's eve we celebrated together in the shed with a few games, a nice dinner and a few beers.
The blueberry fields were covered with nets, to prevent that birds or other animals would eat everything.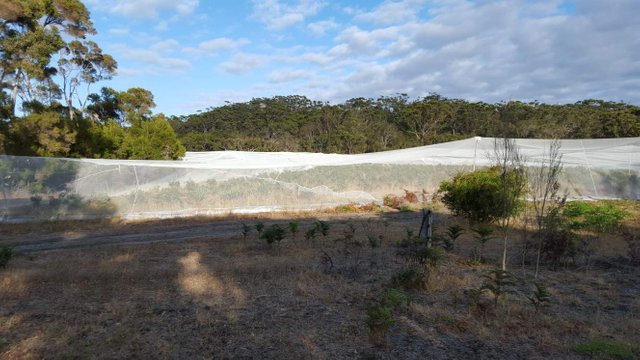 Field which is covered with a net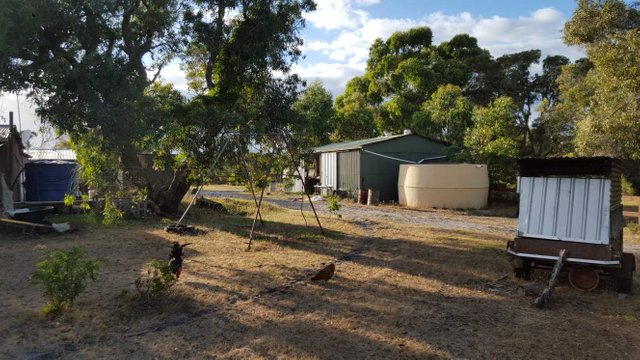 The shed in which the packing was done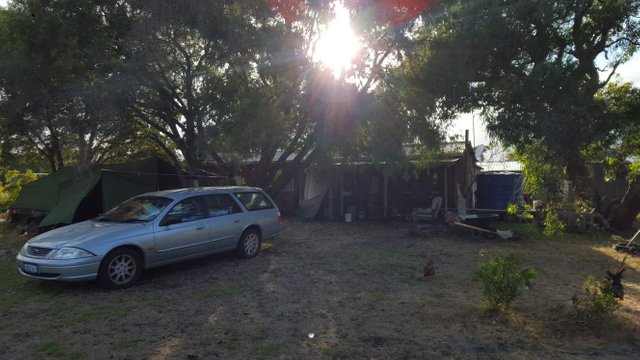 The shed we lived in
So usually we met in the morning at the fields plan and everyone chose where he would go picking. On this whiteboard we had to write down how much we picked every day. You had to pick at least 3 kg of blueberries in 2 hours. Otherwise you had to do extra hours to reach your 3 kg.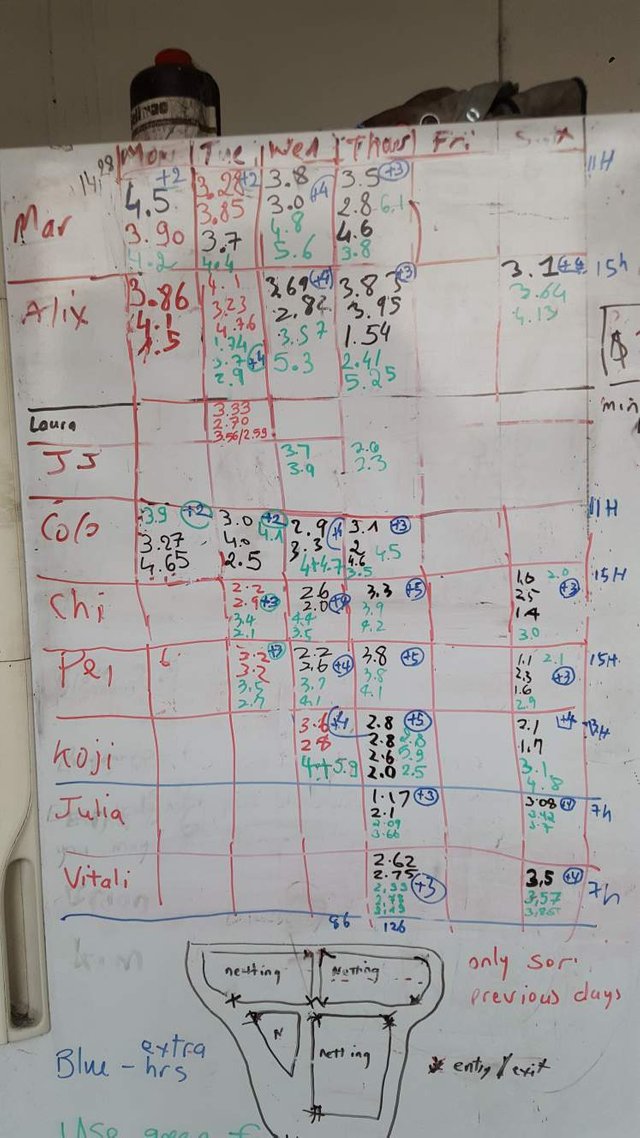 Now 3 kg does not seem to be much to pick. But the blueberries were not that big and the trees/bushes were still small because the fields were young. A lot were not ripe yet and you had to wait a few days to pick them. As you can see in the following photos.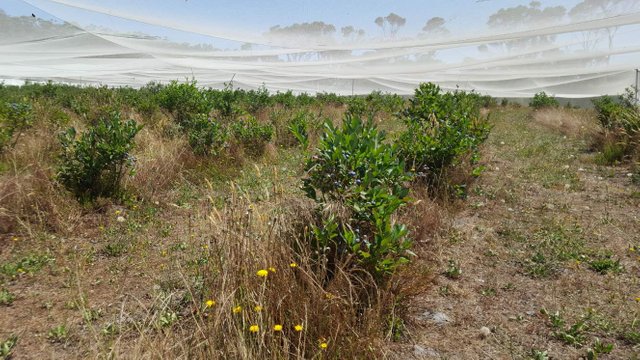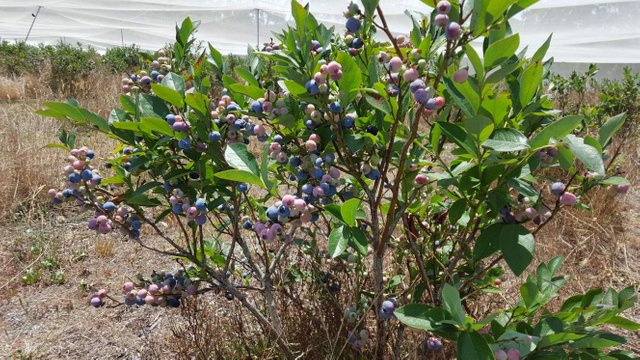 So we took our buckets and a little chair with us and sat in front of a bush and picked the ripe blueberries and when one bush was finished we moved to the next bush. And this was repeated bush by bush and line by line. We usually started picking fast and after a time when you knew you hhad enough so you started to get slower and talk more with the others or eat more blueberries. ;) I know times when it was end of season and there were just a few blueberries left and it was hard to get your 3 kg. It was a really hard decision to decide whether to eat this big ripe blueberry or to put it in the bucket because you need every gram :D
The packing was a lot more fun. We switched the music on and got the blueberries out of the ceiling chamber.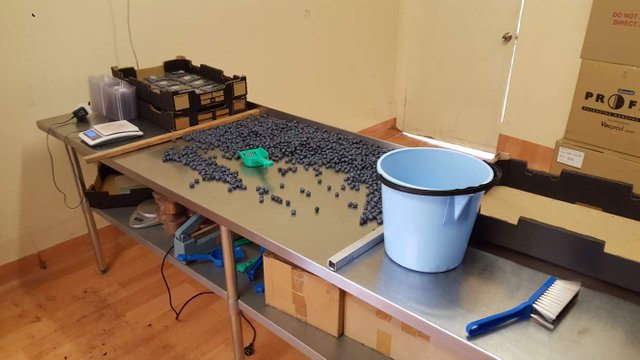 This is how it looked like. We put the blueberries on a clean table and sorted the bad ones out. Then we put them in these little plastic boxes, adjusted the weight and put them in the tray.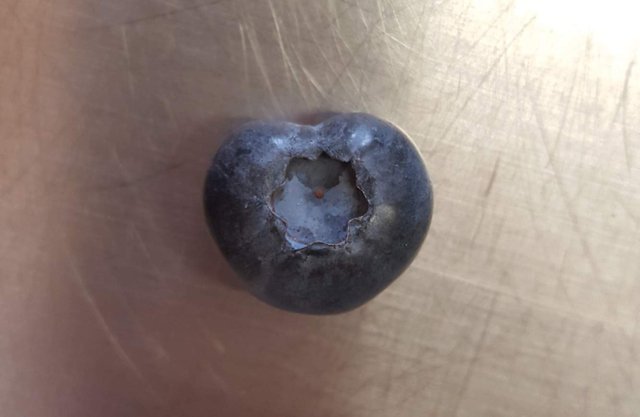 Here my wife found a heart shaped blueberry. She has kind of a talent to see in everything a heart shape.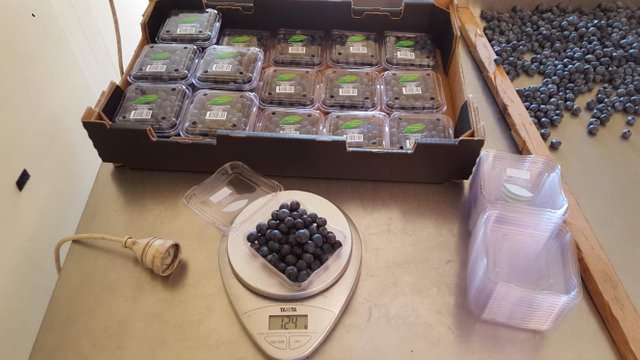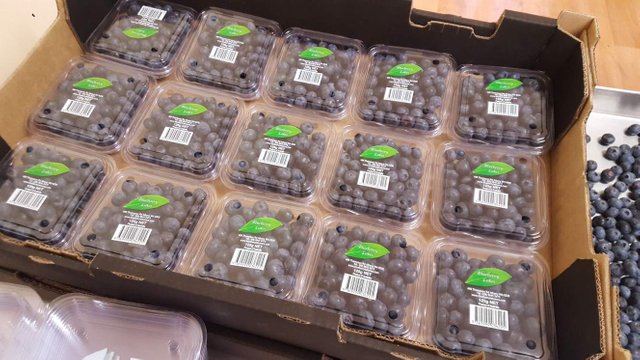 In one tray there fitted about three or four layer of these plastic boxes. When it was full it was brought in the cool chamber again. Now they were ready to be sold. On one day there was like a little farmers market in Denmark and some of us could go selling them instead of going picking.
In the following I will show you some of the insects or animals which we found on the field or on the farm.
Here are some cool spiders which names I don't know unfortunately. But they looked really badass.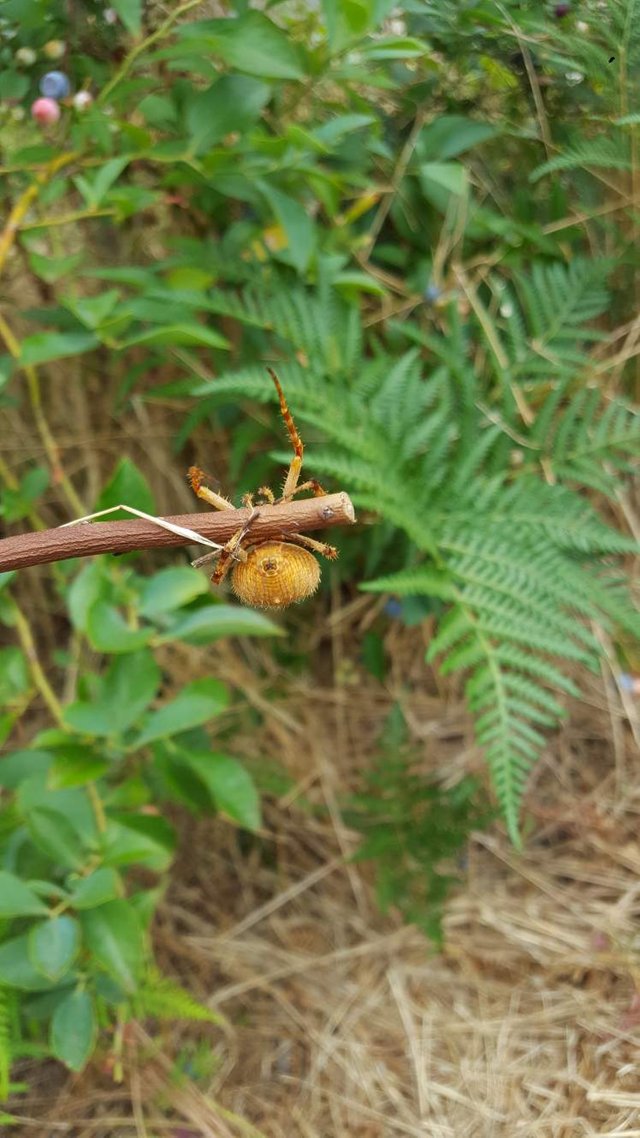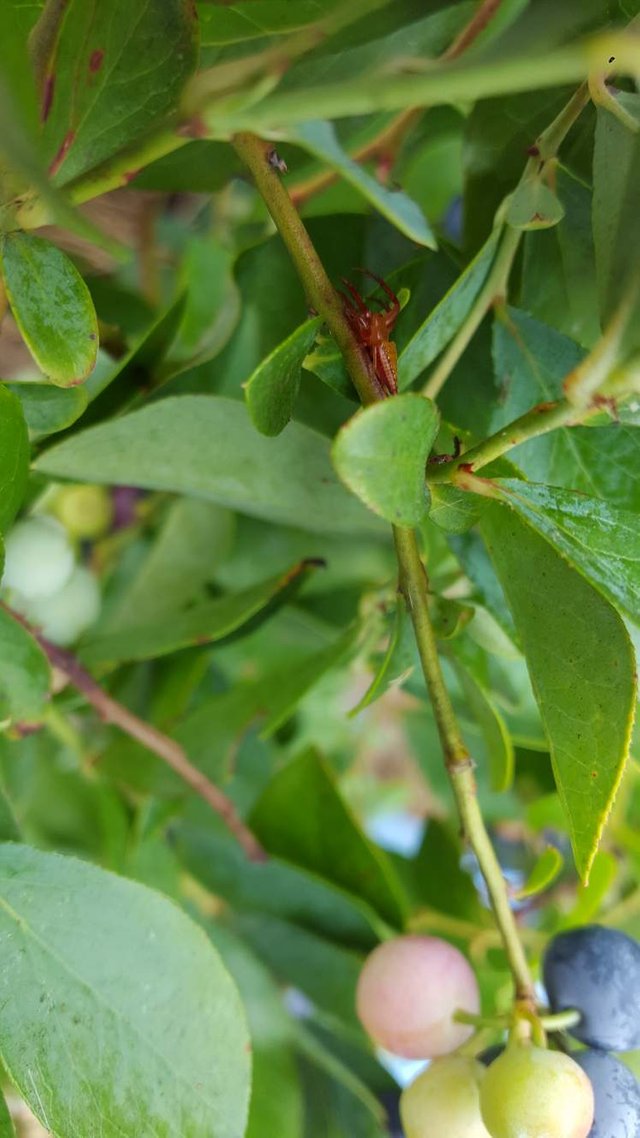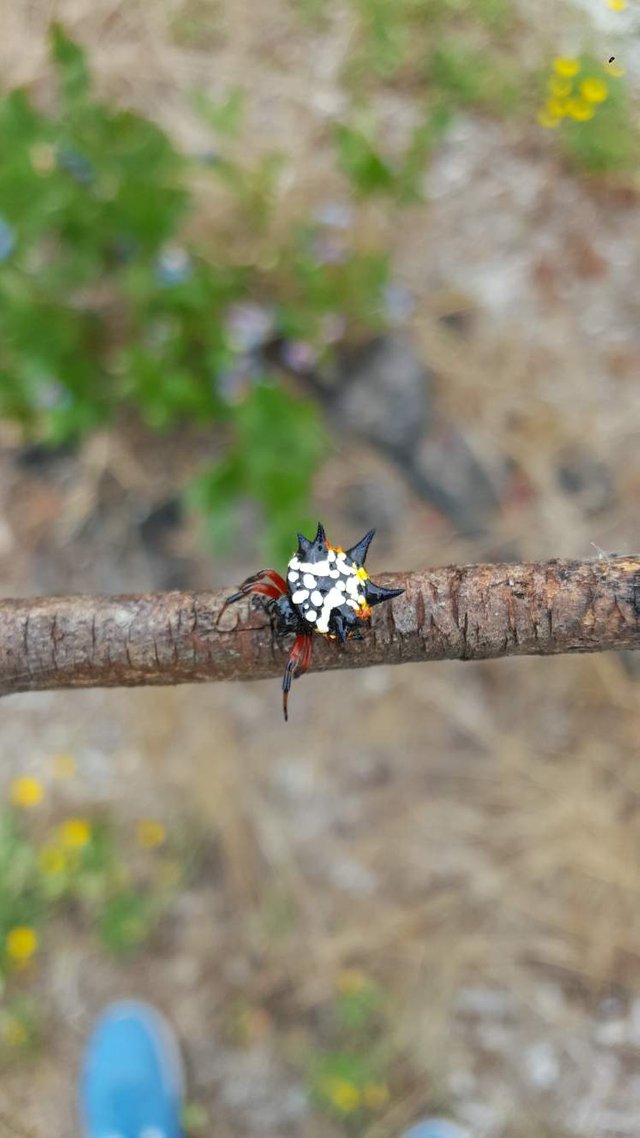 More insects...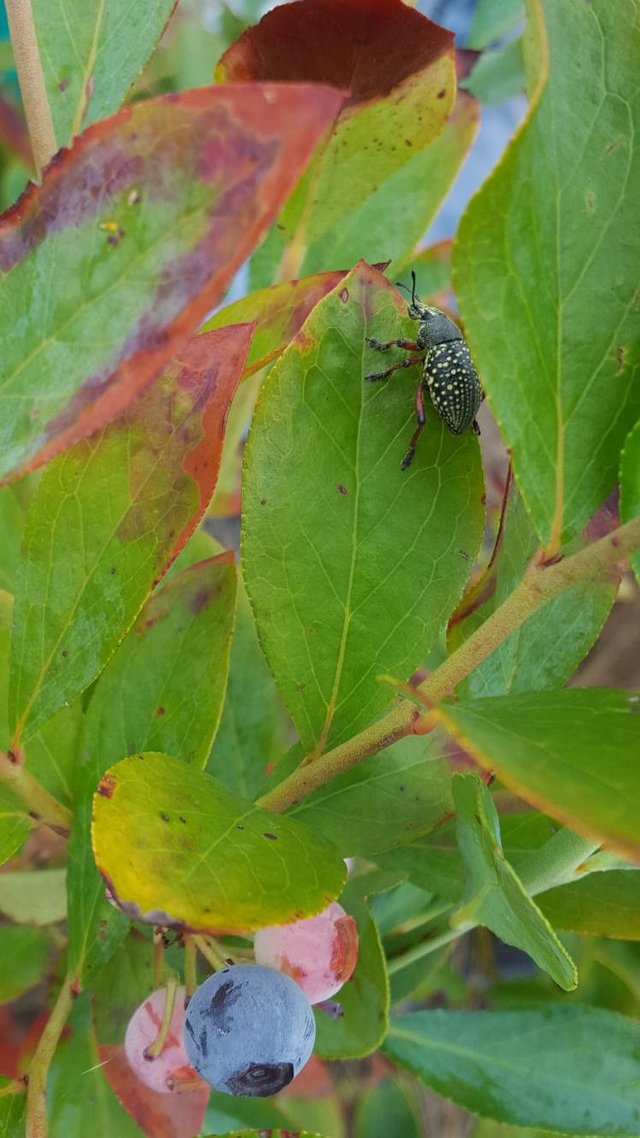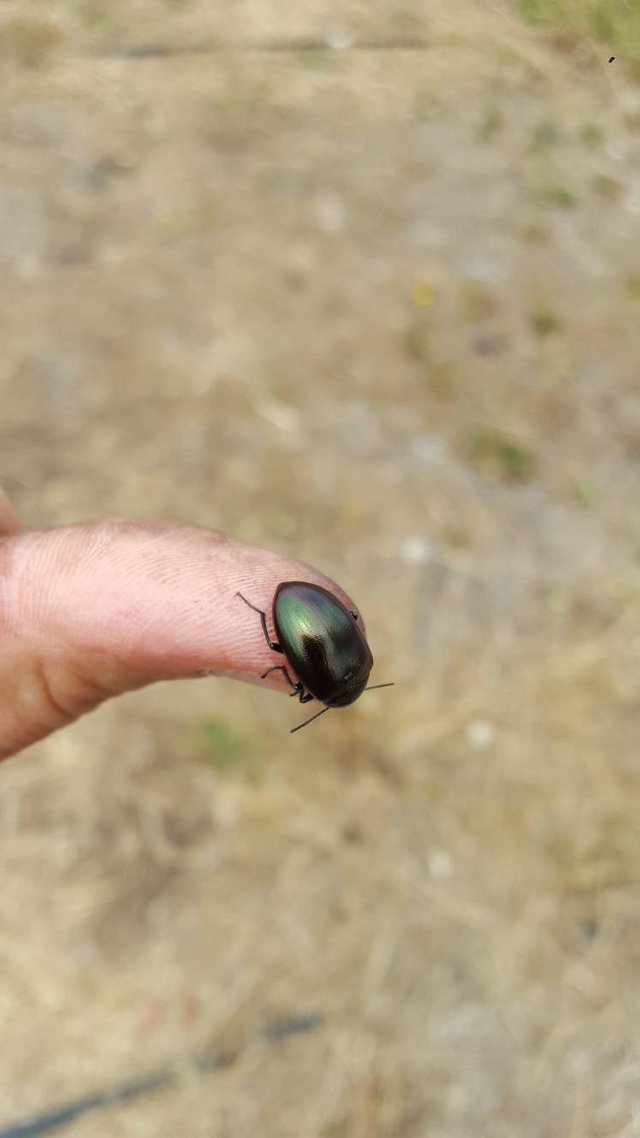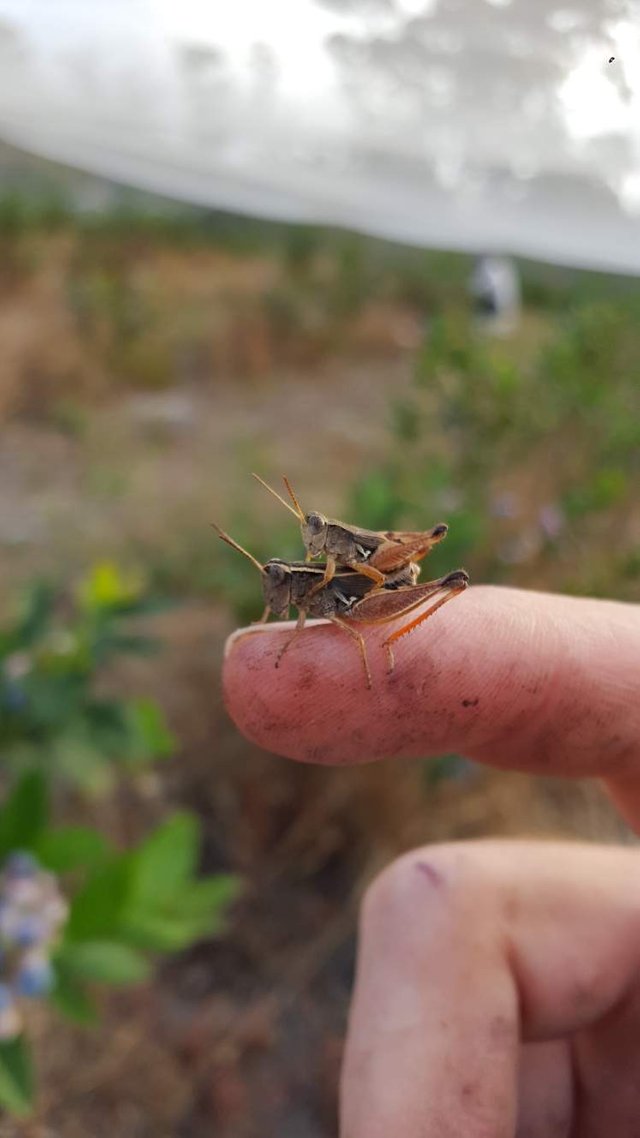 … and a little frog on a leaf :)
I noticed that the cows had the same route every day. Usually early in the morning they walked by the shed we slept in and woke us up.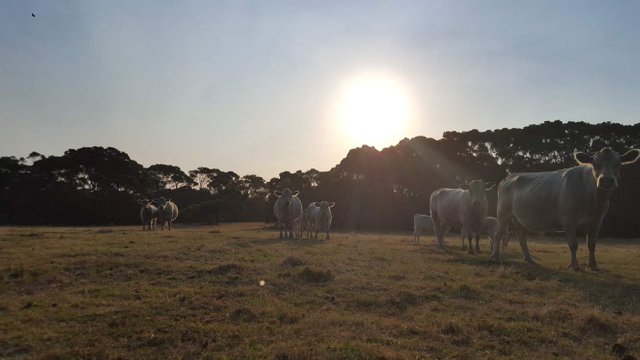 Activities in our free time. Lowlands Beach.
In contrast what was advertised in the job offering, we had really bad WiFi at this place and no connection for mobile data. There was a spot which the farmers son told us, where you had a little bit connection just to use messengers. It was like a 10 minutes walk from our shed.
So you had to spend your time with other stuff. We played a lot of dart and all kind of card games which we learned from the people there. Or we played with the dogs or just took a walk on the big farm.
But the best thing to do was to visit the Lowlands Beach. It's still in my opinion one of the best beaches in Australia. You had beautiful water, you had an amazing landscape to climb and experience everything. It was possible to go fishing there. I saw a stingray (R.I.P. Steve Irwin) and we saw dolphins there. One of the best things was that everytime we went there, usually there were just one or two other people.
Enjoy… :)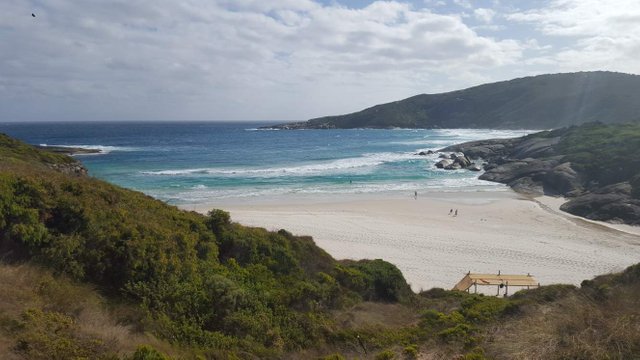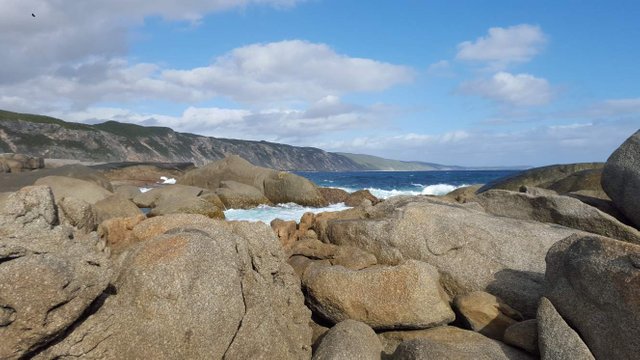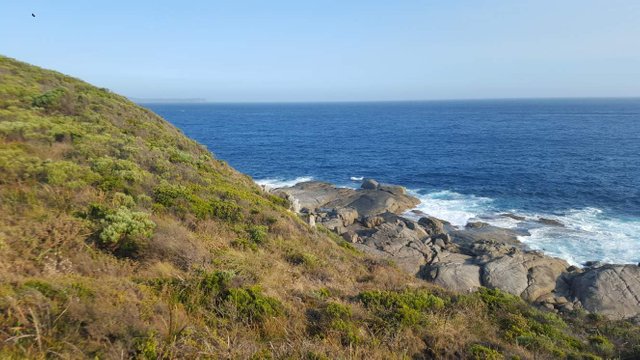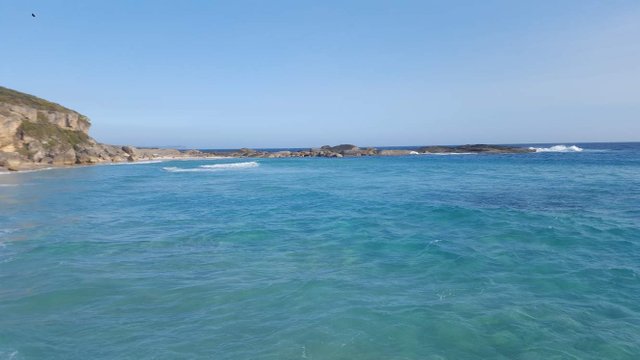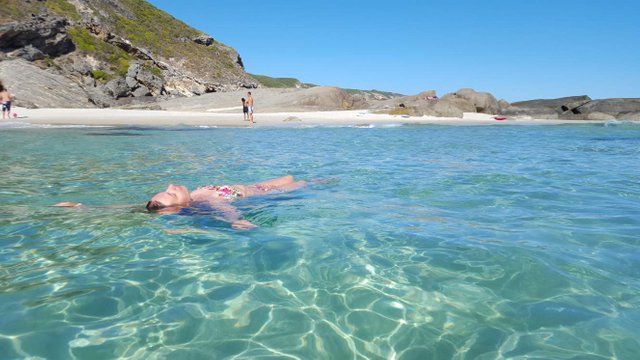 Look at that little plant which is growing out of a rock. Life finds it's way :)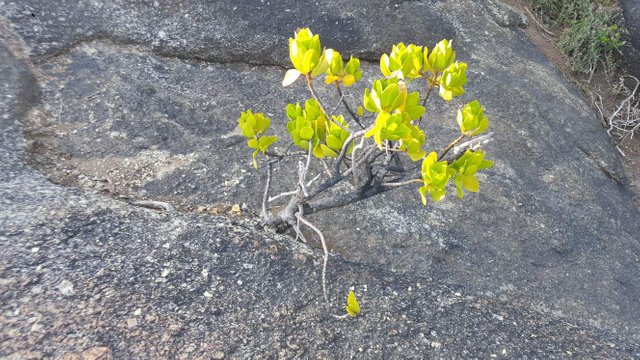 Last days. The fire.
On one of our last days there was a lightning storm. But I did not rain. Everything was really dry. So a fire started after a lightning strike.
We decided to go uphill to see where the fire is because you just heard the planes flying. The owners son showed us a way where you have a nice view. On the way there we found a rock which looked like a head of a gorilla.
I hope you can see it. The angle is not the best one. The gorilla is looking to the right.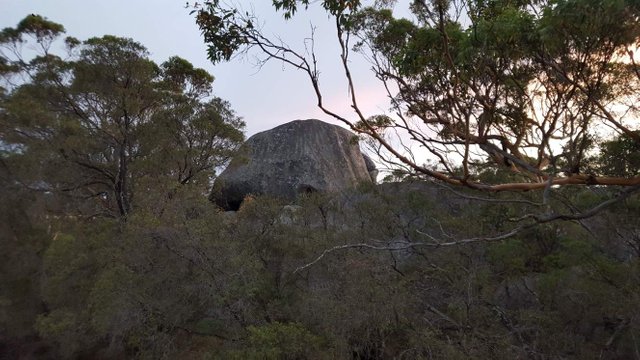 When we managed to get to this spot, we had an amazing view. We saw the fire, which the firefighters tried to extinguish with the help of planes which took water from the sea and then dropped it on the fire.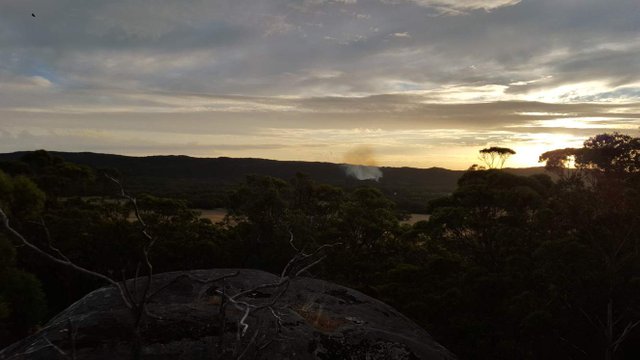 As an extra we got a really amazing sunset. In general the sunsets in Australia were stunning.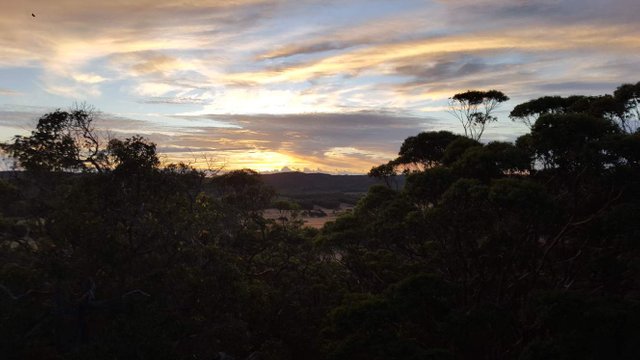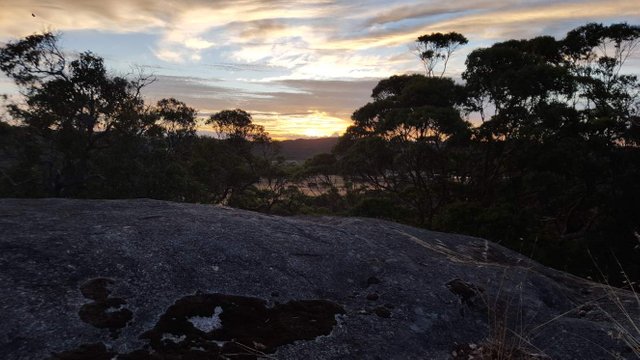 I hope you guys enjoyed this chapter. The next one will be about our stay in Albany and working in a hostel with the best pancakes of the world!
So stay tuned. ;)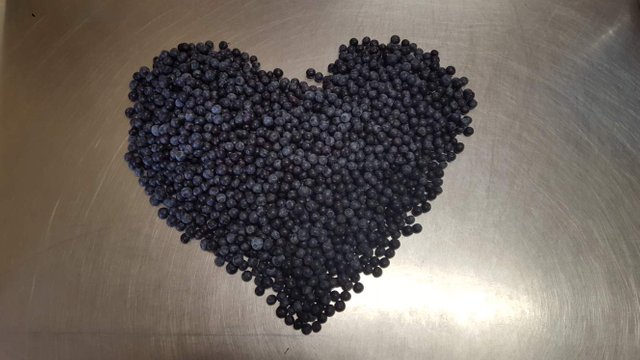 I would be happy if you could support me by using my referrals for following sites. It doesn't cost you anything but would help me a little.
Smartsteem
Generate passive income with vote selling or steem power delegation.
https://smartsteem.com?r=general.guy
Partiko
With this app you have access to the social network of steemit. In my opinion the best one on the market yet. Nice design and possibilities.
https://partiko.app/referral/general.guy
DrugWars
It's like a Browsergame which is running on a blockchain. You can build up your gang and in return you get rewarded with Steem.
https://drugwars.io/i/general.guy
Actifit
Get rewarded when you are active and reach the goals.
https://actifit.io/signup?referrer=general.guy
Much love,
general.guy
Posted using Partiko Android