AUDJPY - Jan 28th to 29th - BUY or SELL - What Do You Think??
Hi guys and gals,
I've been trading this pair since the beginning of January 2018 to make some cash and it's been a blast!!
I am trying to move with the rhythm of this pair like a Bolero dancer.
As I usually do, I first determine the current trade trajectory of the pair from the Daily chart which at the current time is bearish. So I keep in the back of my mind that many of the most powerful price surges will be bearish and therefore most of my trades in this pair over the next few days will be sell trades.
** However, when I look at the chart below I see possible strong buy opportunities over the next 12 to 24 hours when I zoom to the Hourly chart (H1)...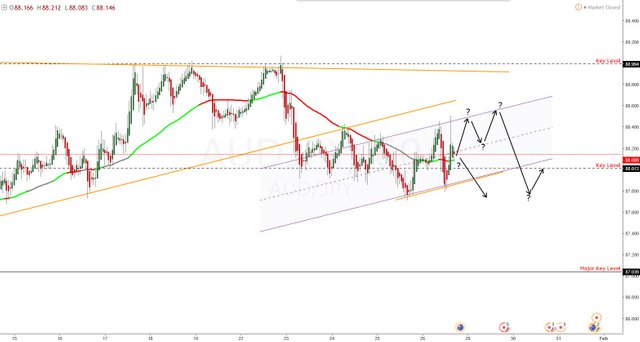 I use simple trend-line analysis in www.tradingview.com to determine the short term trajectory.
What do I see in this chart?
Two strong possibilities;
That the price tonight will possibly continue to travel within the bullish channel I see forming which will place the next price hit at 88.60 level between midnight and 2am EST.

Price could push below the 55 EMA to 87.90 level.
I am leaning more toward a bullish trade tonight since the last surge was from 87.80 to 88.50, then back to rest just above the green 55 exponential moving average line. Likely price will start the 3rd wave move to 88.60.
I do I expect that eventually there will soon be a breakout from the bullish channel as the overall bearish trend resumes on the Daily Chart
I like to keep my trading as simple as possible. I have personally found that too much technical and fundamental analysis can actually cloud judgement. Price action within trends and wave analysis to me are critical to Keeping It Simple. See you tomorrow!!
(These are my personal thoughts expressed on the Forex chart above and are not intended as advice to anyone).