Portrait of a brunette.
Hi everyone!
Today I want to share with you my new picture. This is a portrait of my good friend. She hinted that she wanted that I drew it and as you understand I did not have any chances. Before me there was one serious problem, there was no good portrait photo from which you can draw a good portrait and on which you will see all the details that are important for the portrait. I found the photo most suitable for such purposes and started to work. The photo with which I drew was also a problem, it was too dark, so I had very careful but peer at every little thing and draw more at random.
Всем привет!
Сегодня я хочу поделиться с вами моим новым рисунком.Это портрет моей хорошей знакомой.Она намекнула что хочет что бы я ее нарисовал и как вы понимаете у меня не было никаких шансов.передо мной возникла одна серьезная проблема,не было хорошей портретной фотографии с которой можна нарисовать хороший портрет и на котором будут видны все детали,важные для портрета.Я нашел фото наиболее подходящее для таких целей и приступил к работе.У фотографии с которой я рисовал была тоже проблема,она была слишком темная,поэтому мне пришлось очень тщательно всматриваться в каждую мелочь и рисовать больше наугад.
After we studied the picture, we need to start drawing the picture. I drew the outline of the head, while observing the proportions and making notes for the eyes, nose, ears and lips. I then drew a little bit of my eyes and hair, in order to see if a portrait on the photo, we made sure that it is similar and begin to draw out the contours of the face and hair.
После того как мы изучили фотографию,нужно приступить к построению рисунка.Я нарисовал контур головы,при этом соблюдая пропорции и делая пометки для глаз,носа,ушей и губ.Дальше я немножко прорисовал глаза и волосы,для того что бы увидеть похож ли портрет на фотографию, мы убедились что похож и начинаем прорисовывать контуры лица и волос.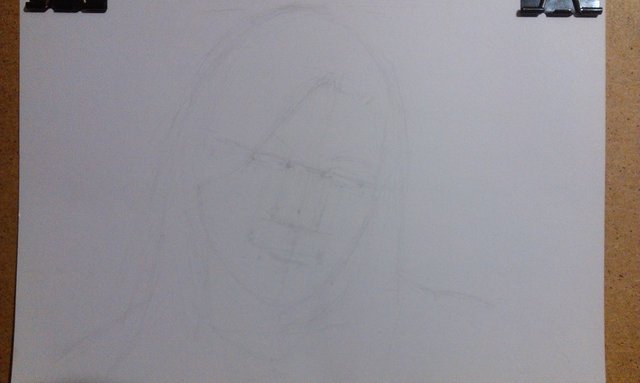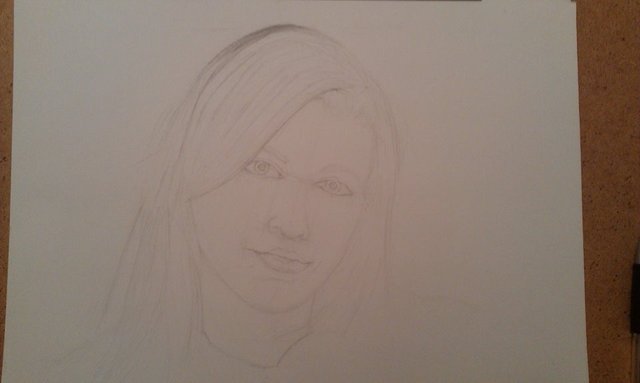 I start painting over from the upper left corner. In this case, it's the hair, I drew them and almost never returned to this area. Then came the turn of hair that fell on the shoulders and sweaters. We cut this zone and the left side is completely ready.
Я начинаю закрашивать с верхнего левого угла.В данном случае это волосы,я прорисовал их и больше почти не возвращался к данному участку.Затем наступил черед волос которые спадали на плечи и свитера.Штрихуем эту зону и левая сторона полностью готова.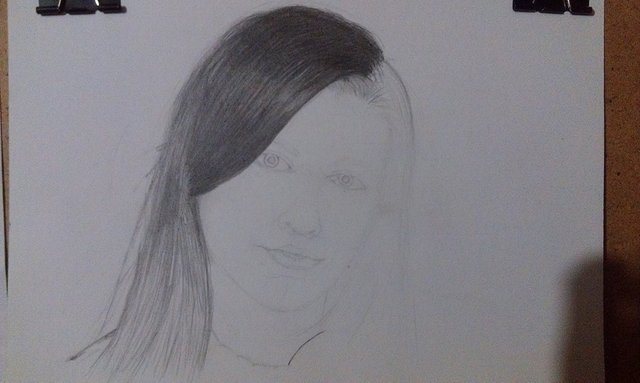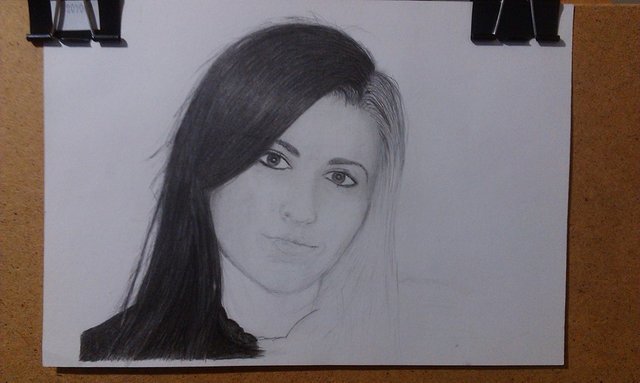 Next, we draw a face. We draw a forehead, a nose, we pay special attention to the eyes (eyelashes, pupils), well, actually the lips and then the chin. Now, nothing hinders us from shading the neck. Then, when the left side and the portrait center are ready, we proceed to the right side of the portrait . We need to draw hair and almost everything is ready. At the final stage, we pay attention to small things, eliminate minor defects and the portrait is ready.
Дальше мы рисуем лицо.Рисуем лоб,нос,особое внимание уделяем глазам(ресницам,зрачкам),ну и собственно губы и затем подбородок.теперь нам ничто не мешает заштриховать шею.затем когда левая сторона и центр портрета готовы мы приступаем к правой стороне портрета.Нам нужно прорисовать волосы и практически все готово.На завершающей стадии уделяем внимание мелочам,устраняем мелкие недостатки и портрет готов.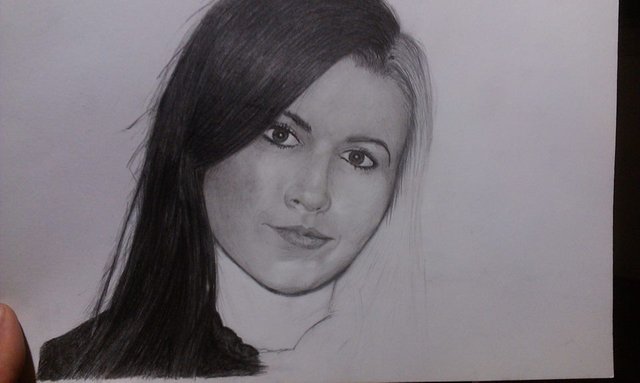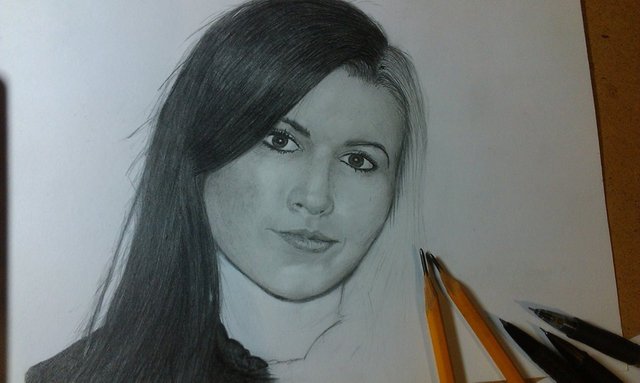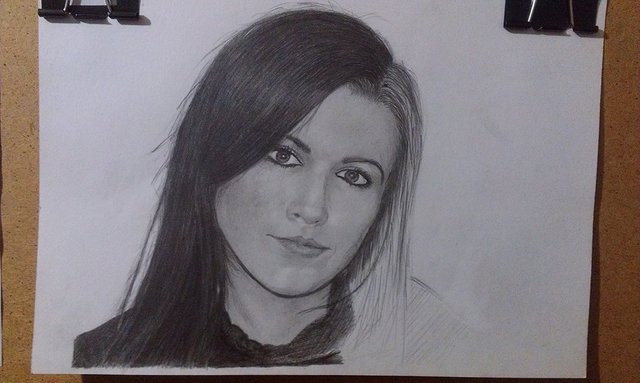 I drew this portrait somewhere about eight or ten o'clock. At that time I was still drawing poorly and was not so experienced. I used good thick paper and pencils of the company Koh-i-noor, and painted small details with mechanical pencils with a rod thickness of 0.5 and 0.7 .
Этот портрет я рисовал где-то около восьми или десяти часов.Я на тот момент еще плохо рисовал и был не так опытен.Я использовал хорошую плотную бумагу и карандаши фирмы Koh-i-noor,а мелкие детали рисовал механическими карандашами с толщиной стержня 0.5 и 0.7.