Artstorm Contest #16 Day 3 - Theme Today - Easter Eggs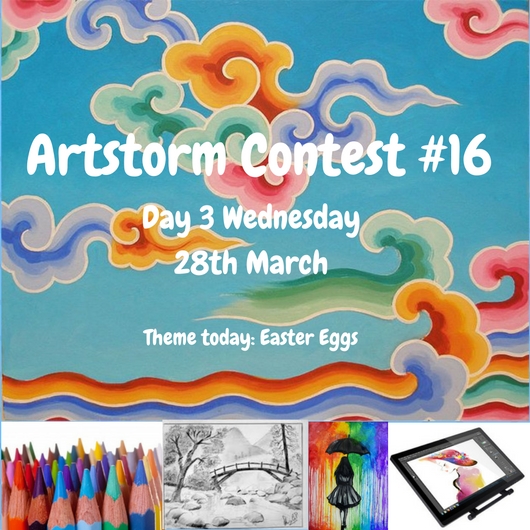 Hi, Fun Lovers!
Thank you to all who entered yesterday. Later today I will choose the winners and award their prizes.
Artstorm is a contest for challenging yourself and having fun!
Artstorm Contest #16 will run every day from 26th to 29th March (4 days altogether). If I can save enough for prizes, there will be a special Easter Theme for the next 4 days.
Each day I post a theme. Entrants should create a quick picture using the medium of their choice.
YOU HAVE 15 MINUTES TO CREATE IT. PLEASE USE THAT TIME.
The theme today is 'Easter Eggs'.
There are two categories for your entries:
Digital Art
Non-digital Art
YOUR ENTRY MUST BE YOUR OWN ORIGINAL WORK RELATING TO THE THEME. I CHECK THE SEARCH ENGINES FOR IMAGE COPYING.
You don't need to be an artist to enter and you don't need to enter every day.
You can enter once in each category. You don't need to enter both the categories.
Every day there is a prize of 0.250 SBD in each category paid the next day for the entry I like best and I think has followed the rules.
I need at least 3 entries for a theme to choose a daily winner in the category. If less than three people enter for a theme in one of the categories, the prize of 0.250 SBD won't be awarded that day.
This is what you need to do:
• Make a post for your entry with the title 'Entry for Artstorm Contest #16 - Easter Eggs'.
• State clearly which category you are entering, on your entry post.
• Make the first tag #artstorm.
• Leave a link to your post in the comments below. This is to help me find it.
• Upvote and resteem this post. This is a condition of entry. I ask all entrants to do this as it helps me afford to pay the prizes. If this is not done your entries will not be considered for the prize.
It is your responsibility to upvote and resteem my post.
I don't accept children's work as entries for the prizes in the Artstorm Contests but you are welcome to post them for us to see. Photography is also no longer accepted.
The entry closing time each day is 9:00 am UTC the following day
Why not try entering? It only takes a short while and you might win 0.250 SBD.
Here is a preview of the themes this week.
Do you like entering challenges that don't take long to complete? Check out @mariannewest's 'Five Minute Freewrite' daily post. Just follow the link to her blog.
Click here if you want to know how I choose winners.