"Film will only become an art when its materials are as inexpensive as pencil and paper."
While our boy Jean was discussing movie making, what he says here is about art itself. Money has a stifling power on creativity, it is a restriction on the efficiency of truth.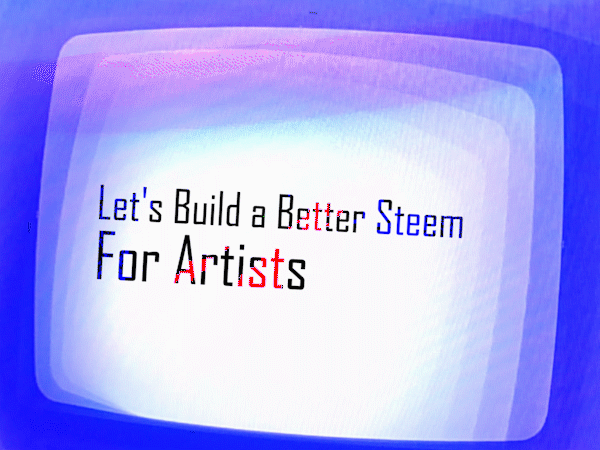 I'm laying the groundwork for an organization which exists to strengthen the chances for artists to live and create independently, under their own power. I'm looking to raise awarness of existing tools and incubate new tools that will help strengthen a diversity of cultural voices through art. Steem is a growing into a great tool for artists to make some extra income on their work, and build ownership in the platform they use. However I think it could be an even better tool, most of you probably do as well.
In general I am wondering, how can we improve steem to better fit the needs of artists? What is it missing? What would be a cool feature? Let's share the tools we all use that already exist, and dream about what else could be here to make this a viable platform.
Feel free to address any of the following prompts:
Posting:
Do you post your own Art on steem? Would you use it as a portfolio and send a link to folks interested in your work? What would steem need to become a primary social media platform for your art? Could it ever replace your personal website, what would that take?
Viewing:
What's your experience viewing art on steem? How is the content? Do you use any of the alternative steem browsers (like busy.org, dtube, etc) What are your favorite? Would you use steem if it didn't make you money, and why? What are your favorite art #tags?
Curating:
How does steem compare to tumblr, instagram, reddit or any of your favorite social media when it comes to curating (resteem)? What works well, what is difficult? Do you use any tools like steem-plus?
I'll start it off here, and add more questions if they come up.
This is an upvote funded discussion. Make a comment that builds on an idea, and i'll give you 80 cents. It's the best I can do right now, but I encourage everyone to upvote interesting comments. This is posted in #artnode a new tag to create a space for discussions like this one. I'll upvote good comments even if it's an old topic!