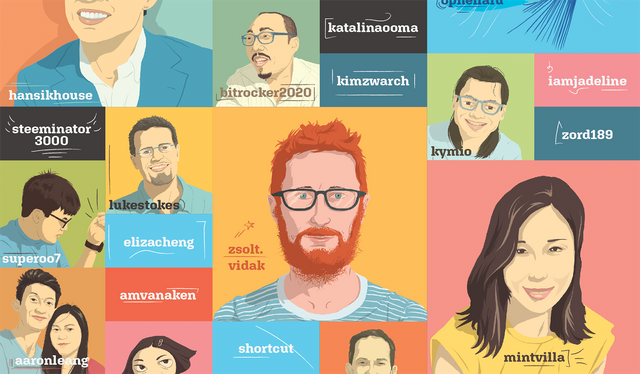 Thank You Donors!

Here is our final round of custom artwork made for donors and supporters of the exhibition. You can see all of these awesome faces via the exhibition event website, here.
Download Your Portraits! [right click + save]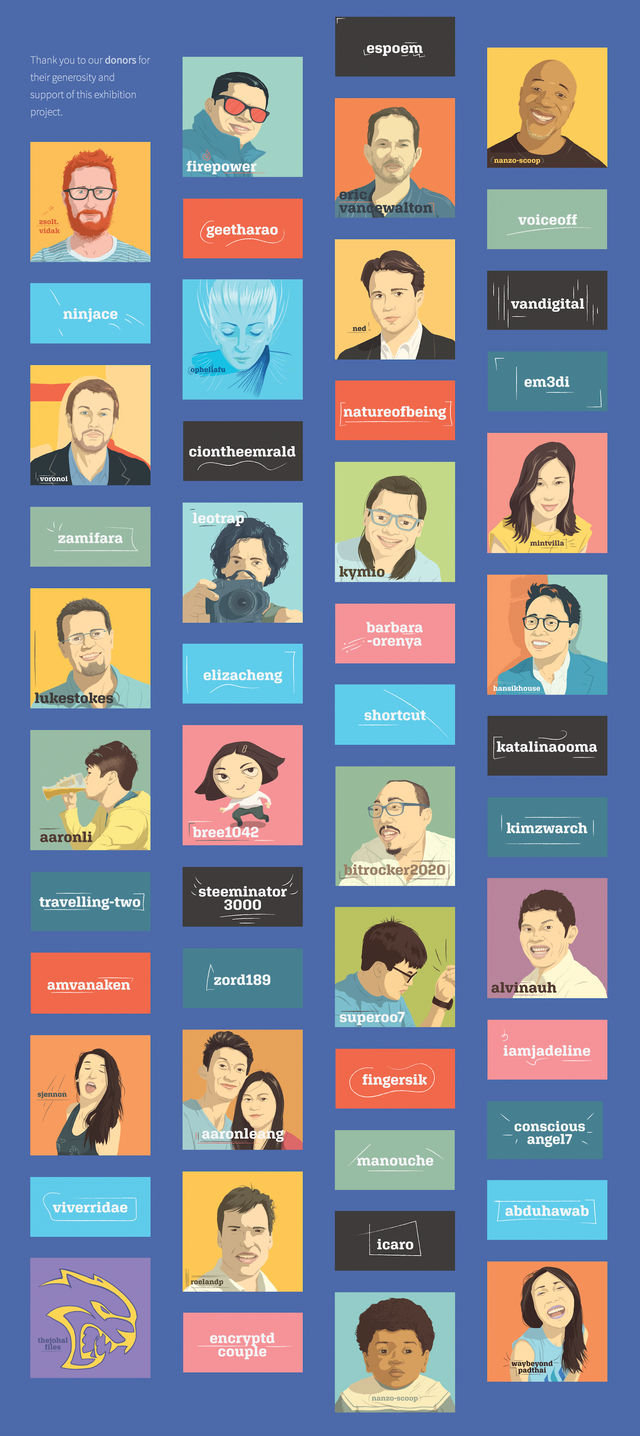 $5,000 USD Raised - Thank You Everyone!
The Donor Wall initiative raised a grand total of 1,745 SBD + 250 STEEM. With this fundraiser and in combination with our Fundition project, we raised $5,000 in liquid USD since the campaign began in June. That $5,000 USD covered the rental of the gallery space and the insurance we needed from July 20th - August 15th! Thank you to our donors for their generosity and support of this exhibition.
Lastly, a giant THANK YOU to @zsolt.vidak for his illustrative talent. Be sure to follow his page and support his work! Here is an epic list of supporters and contributors:
---
---
Click here for more on The Crypto Renaissance Exhibition
Our Fundition Page:
link here
---
Follow @exhibition to track our Steepshot Selfie Station

This account will be LIVE throughout the show. Visitors can log on and use the account as they please. Be sure to follow along and engage. 100% of the liquid rewards from the @exhibition account will go towards reducing the cost of The Crypto Renaissance. You can learn more about the show, here. The account will accrue Steem Power that will then be used for future events and Steem meetups around the globe. Learn more about the @exhibition account and this rotating initiative, here.
Thank you Fundition + Utopian
This show was a big team effort. Alongside the incredible support of Fundition and Utopian teams we owe a big thank you to our generous donors - @roelandp, @thejohalfiles, @hansikhouse, @voronoi, @opheliafu, @mintvilla, @nanzo-scoop, @ericvancewalton, @leotrap, @firepower, @sjennon, @lukestokes. @bitrocker2020, @aaronleang, @alvinauh, @kymio, @superoo7, @khimgoh, @bree1042, @waybeyondpadthai, @aaronli, @steeminator3000, @espoem, @natureofbeing, @travelling-two, @geetharao, @zamifara, @barbara-orenya, @katalinaooma, @kimzwarch, @iamjadeline, @zord189, @elizacheng, @viverridae, @shortcut, @ciontheemrald, @consciousangel7, @em3di, @vandigital, @voiceoff, @ninjace, @encryptdcouple, @amvanaken, @bulent1976, @abduhawab, @fingersik, @manouche and @icaro!
Special thanks to @aaronhong for the poster design!
---
Follow us on Twitter > Sndbox + The Creative Crypto + Facebook
---