Hello friends!
Today I have something bizarre for you :) A postcard from Shiny Forest with a close-up of a ghost hidden in some flowers.
Hard to say if this ghost is shy... Lurking curiously in the back, he can't decide if he wants to come out and play or not. Well, I say we give the ghost some more time and who knows, maybe we'll be even visiting that secret garden of his soon :)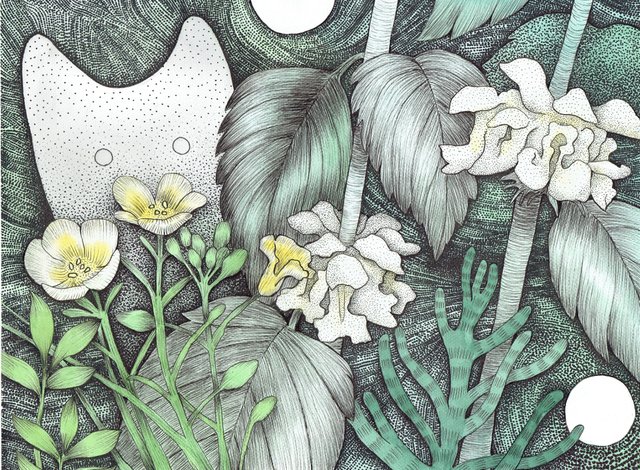 Watercolor, pen and ink on paper, 30 x 40 cm
I have to admit that I really enjoy mixing watercolor with pen! But it's not an easy marriage. My progression is slow and careful, I watch out for my every move, trying not to ruin the whole piece... I got used to modifying a blank space to my liking with my black and white works . But with colorful ones it's harder to decide what texture to choose, and very often the outcomes of my decisions are very unexpected. Basically I don't know what I'm doing ;) Hopefully you won't notice and greet my effort with a smile hah :)
Below I will be explaining myself how did this piece even happen 👌
---
TOOLS AND MATERIALS THAT I USED FOR THIS ART
---
Cold press, 300 g/m2 watercolor paper- unfortunately I cannot give you any more specific info about it, because I lost the block cover;
Sharp pencil;
White Nights watercolours;
Masking fluid;
A 241 pure squirrel Restaurohouse brush - big and flat;
A 24 Pure Squirrel Kolibri brush- medium size;
Pen;
0.1 and 0.3 markers.
---
STAGES OF ARTWORK
---
A delicate but thorough pencil sketch;

Wet-on-wet painting;

Wet-on-dry painting (adding more layers);

Outlining and getting rid of pencil marks;

Stippling and texturing;

Digital processing (resizing, cutting out the scan etc.).

​
---
PROGRESS STEP BY STEP
---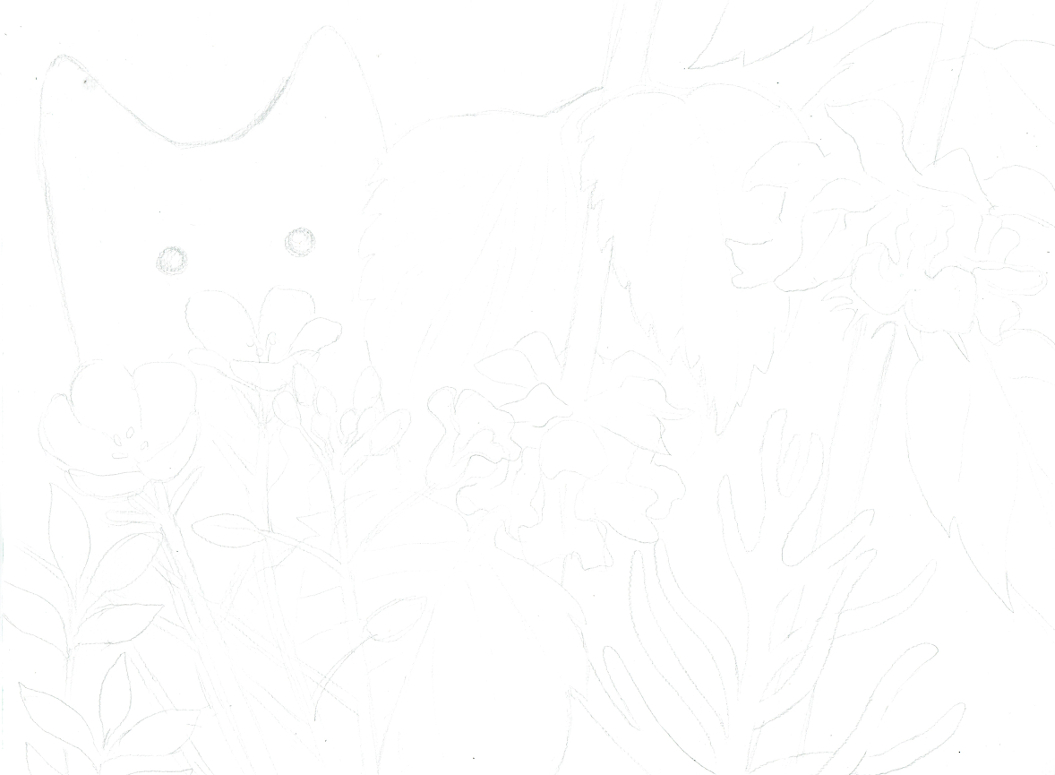 To begin with... First thing in my case is always a sketch ✎, and a quite accurate one, so I won't have any doubts as to where to put what colour when it comes to painting.
TIP 1: I use a sharp pencil and sketch delicately, so that the lines won't be very visible after I put some watercolor on. I've drawn with soft and dark pencils before, and they didn't go well with watercolor in my case. Besides, I wanted to give my art some distinct pen outlines, which was another reason to keep it clean.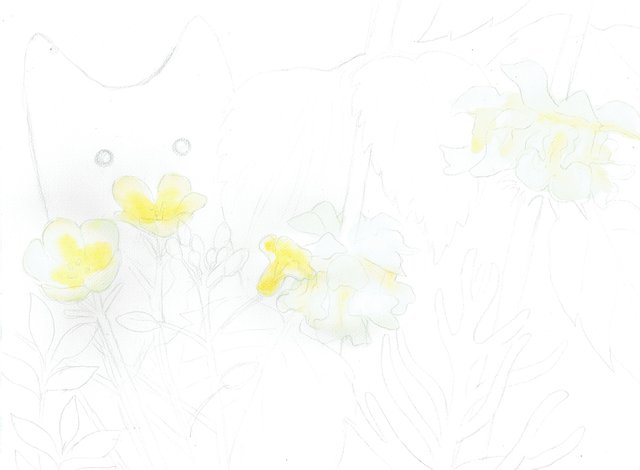 I knew I wanted to have big light-coloured spaces in my painting, which would contrast with the darker background. Some of them (balls of light) I left completely white, and some of them I painted with light yellow hues (flower blossoms). I waited for them to dry out (by using a hairdryer, hehe), before I moved on to the next step.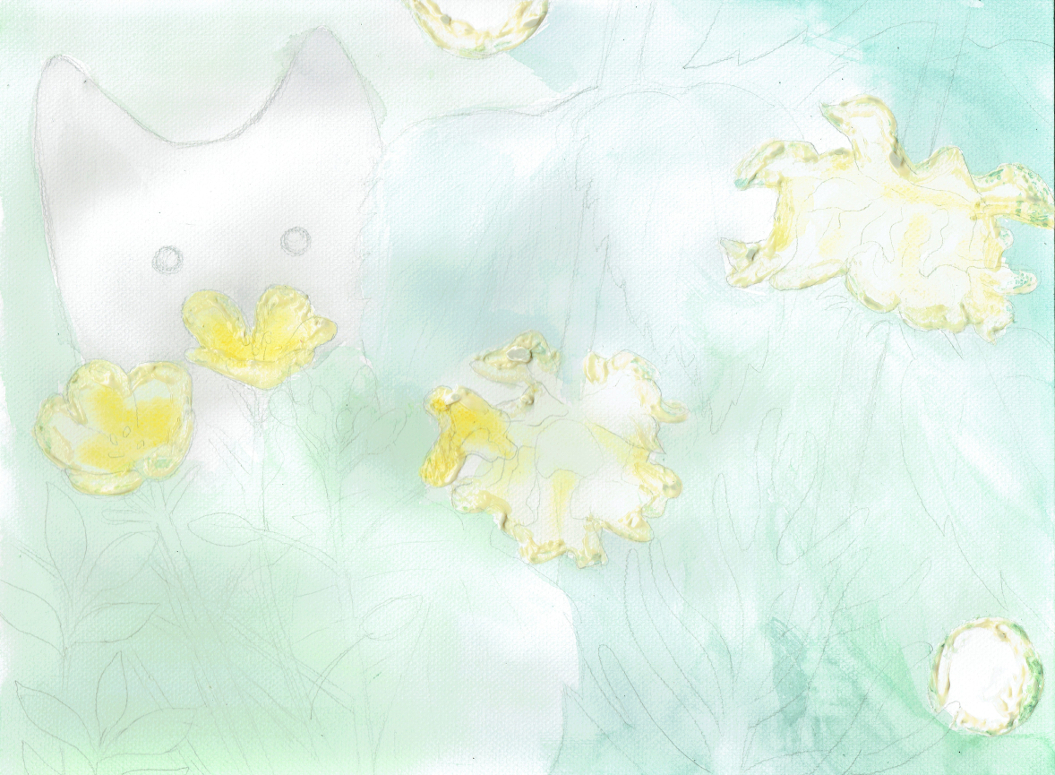 TIP 2: you can mask not only the white, but also the light colored parts of the drawing using masking fluid. In fact, you can mask even vividly colored parts of the drawing if you need them untouched by other colors :)
After the balls of light and flowers dried completely, I masked them with a masking fluid. As you can see above, it was a struggle. My masking fluid got really dense and formed some huge clots on the paper. I waited for the masking fluid to dry out and sprayed the paper with water ( I have a small cosmetic dispenser that I use for this purpose) and I put first layer of color with a big flat brush. I made several big global strokes with my brush. The colors are green, green mixed with yellow, emerald green and a a little bit of indigo mixed in. This stage is called wet-in wet watercolor (wet paint on wet background), and it results in diffused, diluted colors.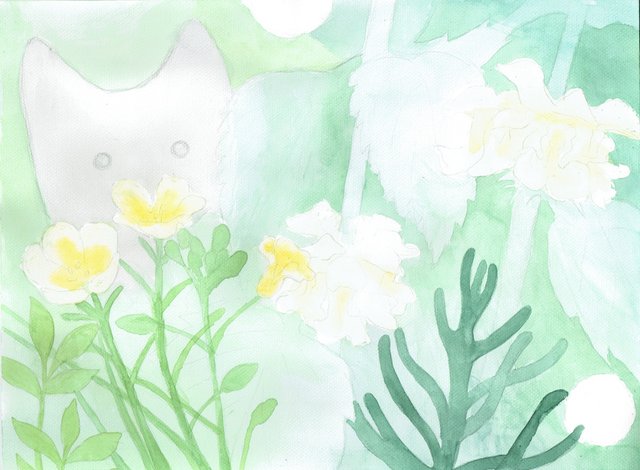 The very second that the painting has dried, I took off all of the masking fluid (fortunately this time it didn't cause me any troubles, like tearing of the paper etc.) and I put paint on the frontal plants (green on the left, and indigo mixed with emerald green on the right). This is called wet-on-dry painting. It gives sharp edges to your brush strokes and more vivid colors.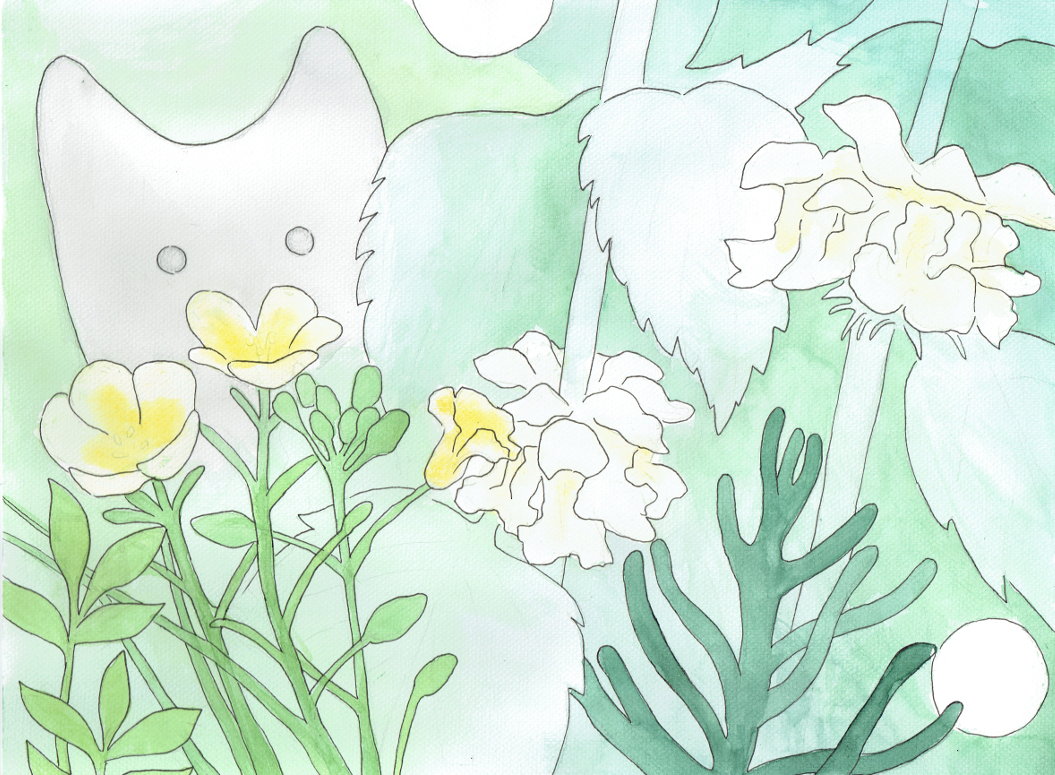 Once again I had to wait for the painting to dry :) And then I proceeded with a loose pen outline. This stage always shows me where I stand, meaning some general impression and hints where to start best.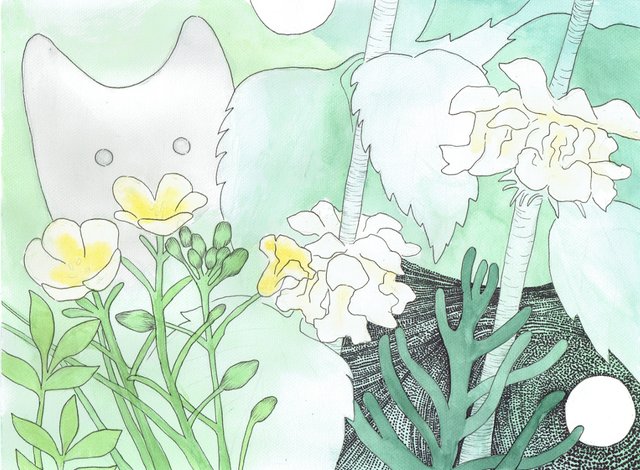 Usually I start with the background, to create depth and leave the frontal parts for the end. Apparently I'm going through my whirling stippling phase now, guys :) I really like how it looks.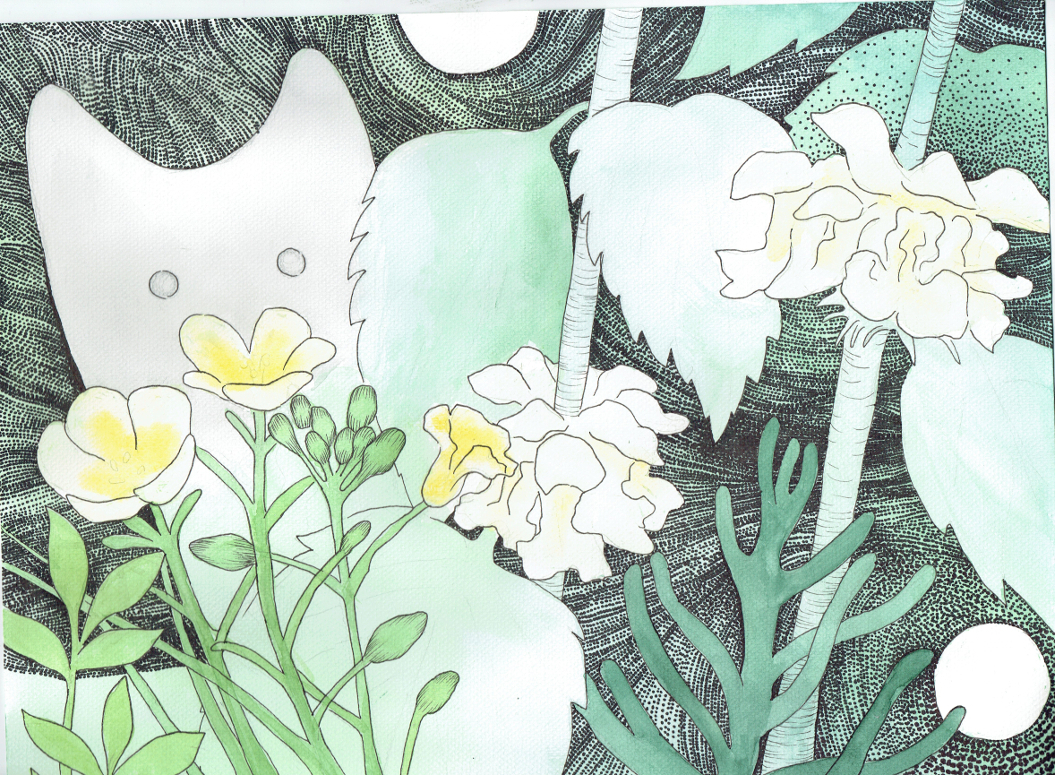 When I was sort of finished with the background, I went for the plants and the ghost. I wanted to try some new textures, so I gave the plant in the bottom these small lines. I think the impression is that it's flickering. I felt the urge to experiment more while working on this painting-drawing :)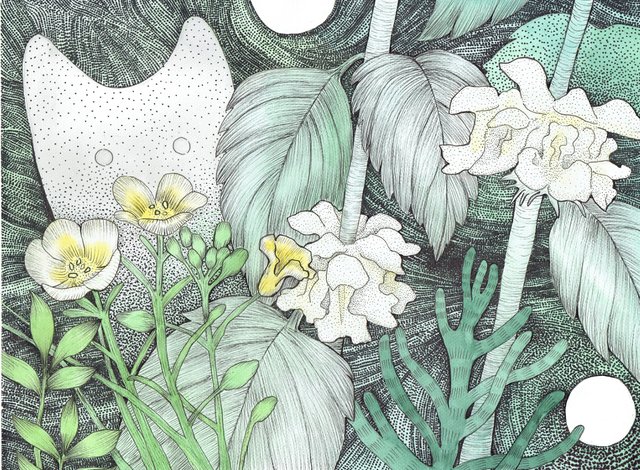 Yeah, so stippling (and inking in general) is in my case a very gradual, scrupulous and time-consuming process. But I never measure time I spend on an artwork, as I really like to work on the piece until I feel it's ready. And checking on time could stress me out , which could in turn make me rush with it... And I wouldn't like that to happen. So I was taking my time and adding more and more details, shading and textures, neverminding the time ;)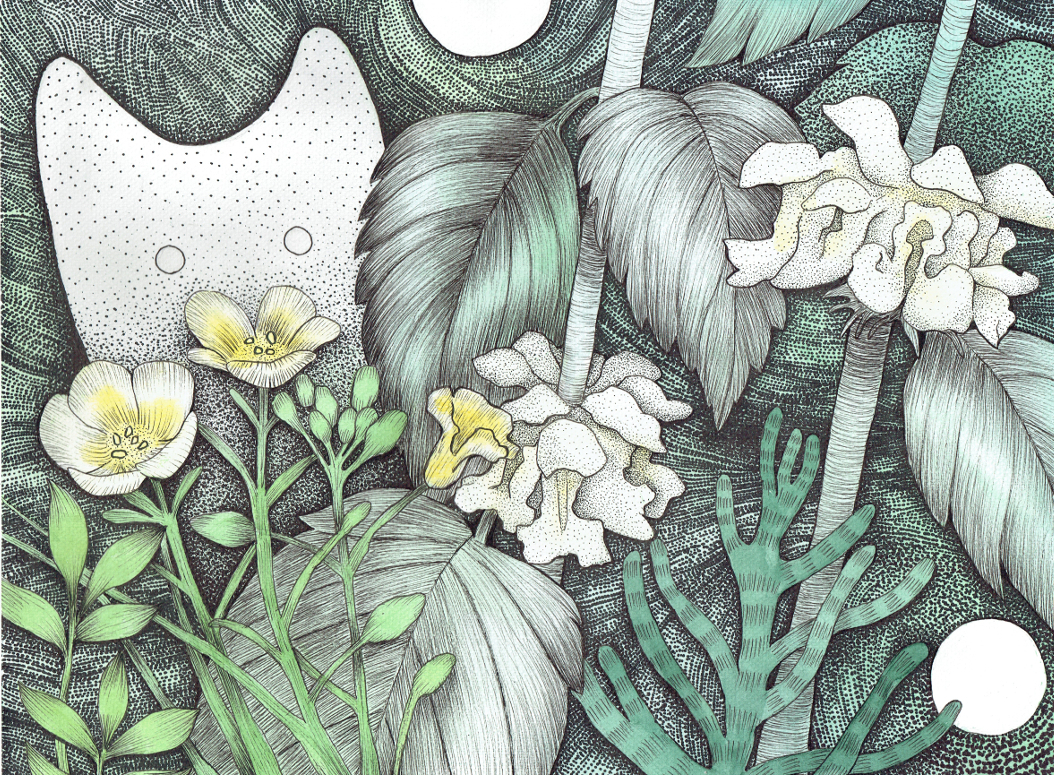 Now, when I got to this stage, I thought at first that I was finished. But after I saw the scan on my monitor I noticed one thing that could look better.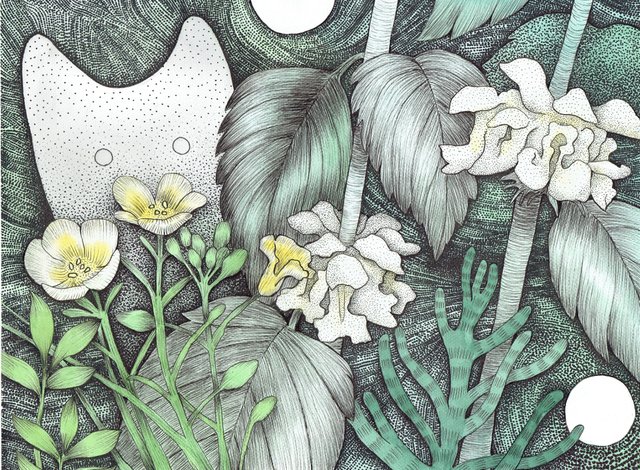 And so I revisited the leaf nearest to the ghost's head and added some more shading. This might've been a small change, but it made a huge difference for me. And then I was finished. The ghost says hi, guys! :)
TIP 3: If you want to better assess your art, you can try to photograph or scan it, and check it out on the computer monitor (works on smartphone ,too). This change of perspective helped me many times to spot problems or unfinished elements in my works.
---
THE PROGRESS OF ARTWORK IN A GIF
---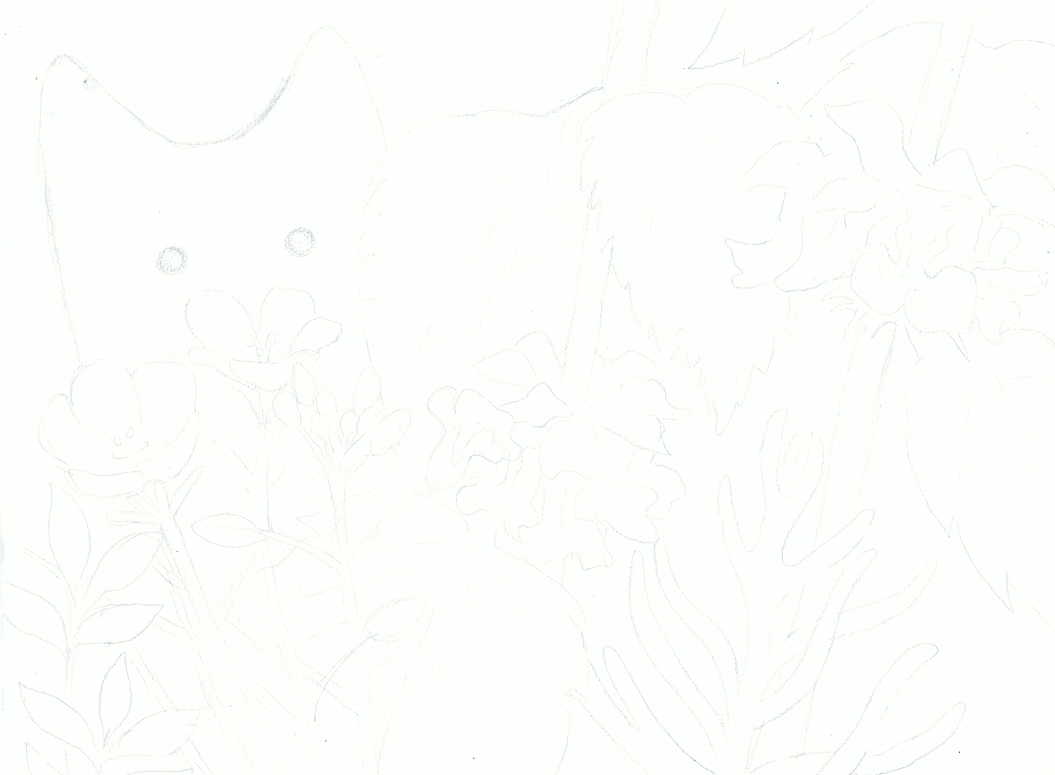 I wanted to show you the development of my artwork, so I've made a detailed GIF. Do you like this combination of painting and drawing? I'd love to know what you think!
If you'd like to see more of my forest ghosts, you can check out my other Steemit posts! :)
---
MY OTHER RECENT ARTWORK TUTORIALS:
---
❤ ❋ ✯ I hope you liked my tutorial, guys! ✯ ❋❤
I'm very happy you stepped by and took a look at my tutorial. How do you like this new experimental trend of mine, guys? I have some more new ideas and projects, which makes me very happy. Steemit is simply wonderful at giving me a boost of motivation to try new things and develop new skills. I hope that you can feel this way too :) And as always...

Love,
Klaudia