Hi all! ♡
It's been awhile since my last post checks calendar wow, exactly four months ago! I wasn't planning to take such a long break, but then again, why not! I think it's best for me to update my Steemit blog when I want to, so I can keep enjoying my time here.
Most of my friends probably know that I joined Steemit to improve myself and to meet nice people, and it is for those same reasons that I am here again. One of the cutest people I've met on Steemit is @thilah and today is her special day, so here is my post to celebrate Thilah's birthday! Woooo!
This is Baylen, the principal character of Thilah's online comic 『 I Kill ♥ I Don't Care 』. It's a funny and light hearted comic about a girl dating a serial killer. I asked Thilah's permission first before I made the fanart, thankfully she told me to go for it. So here it is!
Happy birthday, Thilah-chan! (˃ᆺ˂)ノ✧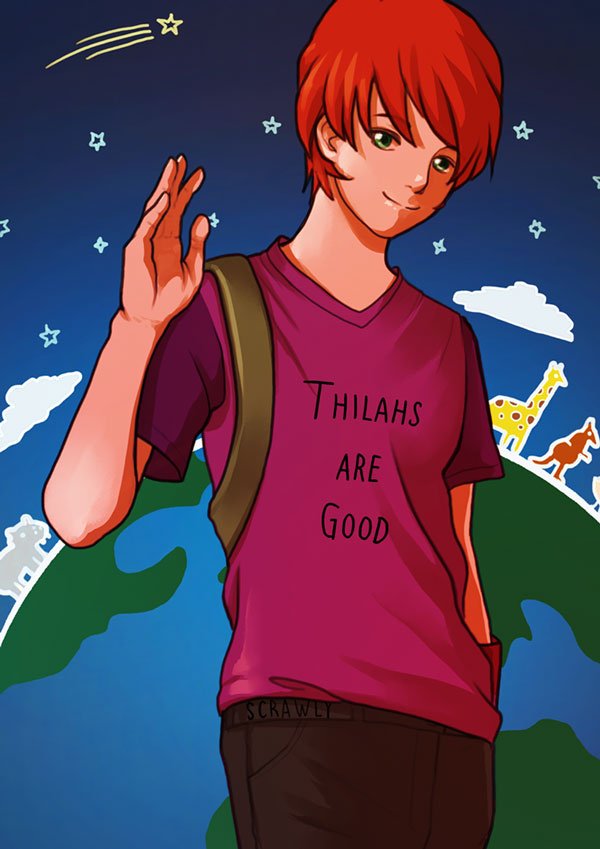 Baylen is copyrighted by @thilah. Fanart made by @scrawly.
All Rights Reserved
Some of my friends sent me many lovely messages during my hiatus, whether they were wondering where I was or they told me that they simply missed me. So sweeeetttt! ♡
You guys are so adorable and I'm lucky to have met you all, that includes you as well, asweetyo.
Status: New illustration

My Steemit Journey
I joined this website to share my art journey and to improve my skills. I'm also here to meet nice and chatty people, especially if they're passionate about art. Follow me if you want to be a part of my adventure, or say hi to me at various Steemit discord servers, I frequent most of them.
I am a curator for curie, c-squared, helpie, and a moderator in Steem Artists. If you are an artist, join us at Steem Artists discord channel here: https://discord.gg/ENN8KCb.
See you around ♪