Art and Creativity: Is Your Creative Style Your Own?
Maybe that sounds like an odd question to ask... most of us would say "of COURSE, my artistic style is my own!"
Today's question and exploration was inspired by a comment left by @alcy the other day on our post about authenticity. @alcy pointed out that many artists have certain models and mentors and examples they look up to, and it's easy to become a "follower" of someone else's style and methods... which are not authentically yours, no matter how good you may become.
What Inspired You to Start?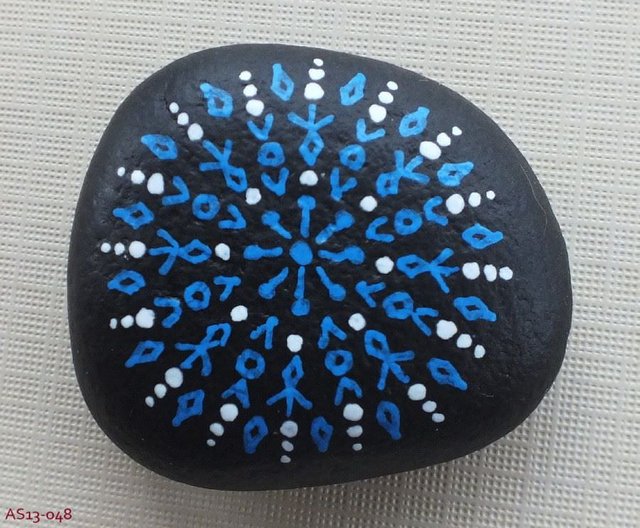 One of my earliest painted stones, from many years back
So this begs the question of what was the inspiration-- the "trigger," if you will-- that got you to the point of being "serious" about your art? And where did your ongoing influences come from-- art school, mentors, artists you looked up to and aspired to "be like?"
And when you think about those early days... is what you're doing "your own," or is the original model/inspiration still in your mind as you go along?
It may not be easy to make that distinction... and you may not want to. I will also add that I have met some artists who were extremely accomplished "copyists" in the general style of their original idols... and there is nothing "wrong" with that.
A Personal Example
Ultimately, I was inspired by graph paper.
No, really.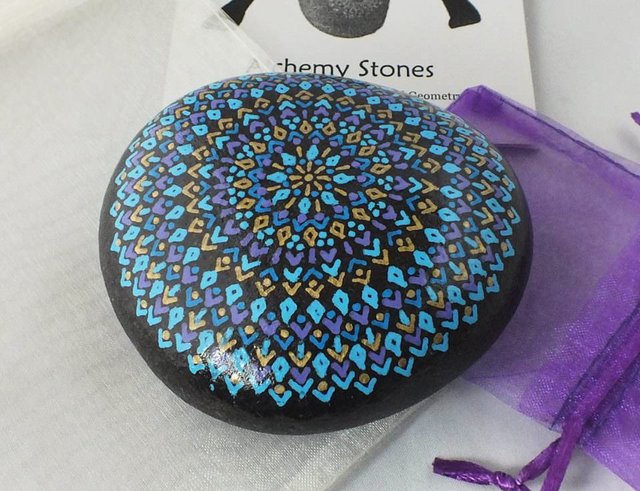 One of my painted stones, today
As a little kid, I was already aware that my stick drawings were more "blobby and stick-y" than my friends'. But at around age six or seven, I got my hands on some of my dad's architectural graph paper, and a whole world opened up... carefully coloring in each tiny square to create very colorful geometric patterns.
I was truly awful at any kind of drawing or painting in high school. The only other option-- abstract-- didn't really appeal to me. 
My second inspiration was a girl named Annette, who was in several of my classes. She was eternally drawing tiny intricate squiggles on every surface she could find... with these incredibly fine pointed black pens. It looked far more interesting to me than any of the art I failed so miserably at.
So-- at around age 15-- I got myself some very fine point black pens and started drawing the forerunners to the mandala type paintings I do today.
Very little has changed since then... medium, type of paint and such are different, but the original idea-- a fascination with the idea of geometric patterns and specifically the idea of drawing the illusion of curves using only dots and straight lines-- remains.
So... Is It Your Own?
Of course, there is probably no such thing as an original idea. Or at least that's what "they" say.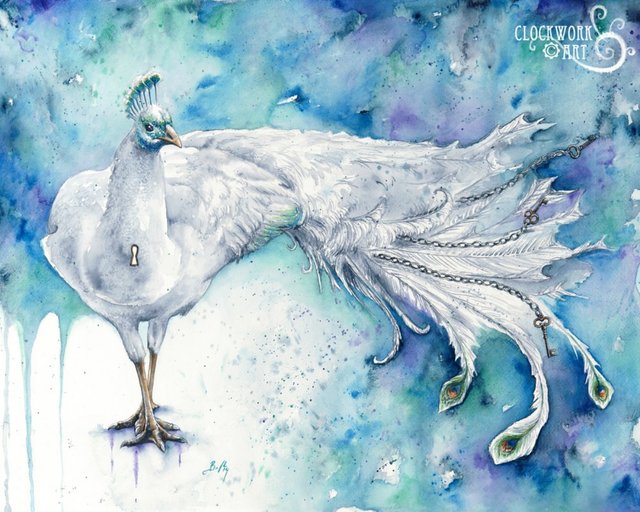 "Purity Unchained," print from watercolour painting by Braden Duncan
But let's put that aside for a bit... clearly, I didn't copy anyone, or mentor with anyone whose style is still hanging around. Annette was "an influence," but nothing I do looks even remotely like anything she did... 40 years ago.
Of course, I have no formal art schooling, nor did I mentor or apprentice with anyone... which is where we are more likely to pick up styles and habits that can end up dominating what we actually had in mind, in our inner mind's eye.
So think about it, for a moment-- consider your inspirations, visual, musical, poetic or whatever and check yourself to see if what you create is TRULY Yours.
Thank you for reading! Red Dragonfly is a proud member of the @sndbox creative initiative.

The Red Dragonfly is an independent alternative art gallery located in Port Townsend, WA; showcasing edgy and unique contemporary art & handmade crafts by local and worldwide artists. All images are our own, unless otherwise credited. Where applicable, artist images used with permission.