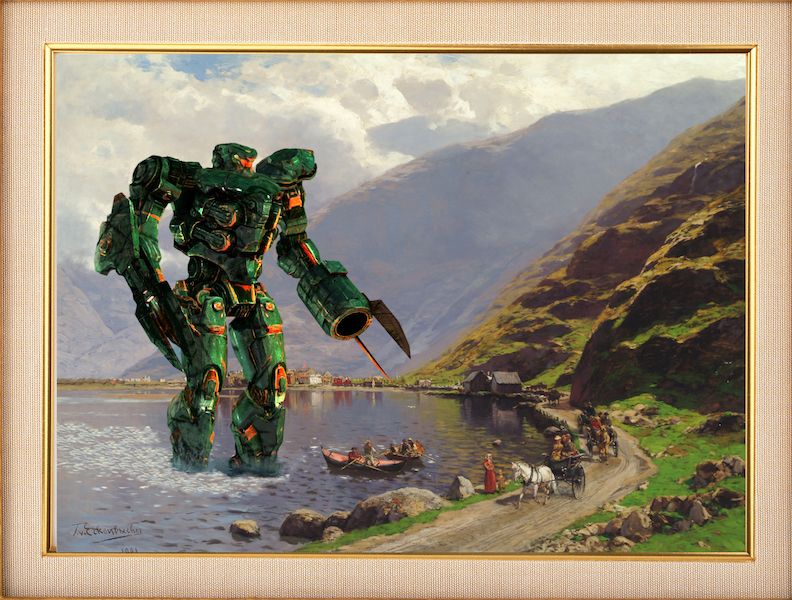 ---
In our second installment of Art Education with Sci-Art, is this is a rare painting which came out in the far Future's Past. After battles with the Kaiju of the south seas, the Jaeger known as Green Reefer came into the lake and washed itself down. This is a rare robot from the Danish Isles and has been used for many victory battles.
---
ORIGINAL PAINTING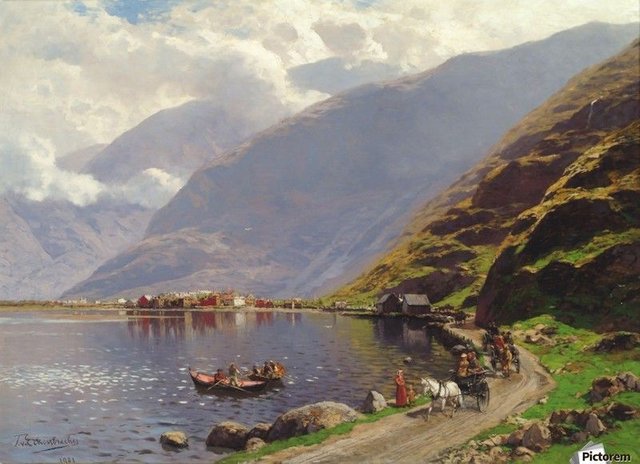 Utsikt over Laerdalsoren, i Sognefjorden
Karl Paul Themistokles Von Eckenbrecher - 1901
Karl Paul Themistocles von Eckenbrecher (sometimes spelled Themistokles) was a German landscape and marine artist active in the late 19th and early 20 centuries. Born to a German Father and Italian mother while they were traveling in Athens, he he was largely schooled by private tutors as they traveled and moved often. The family eventually moved to Dussseldorf, where Von Eckenbrecher was able to study with noted professor of landscape painting Oswald Achenbach. He became fascinated with sailing ships, which would eventually become a recurring theme in his paintings.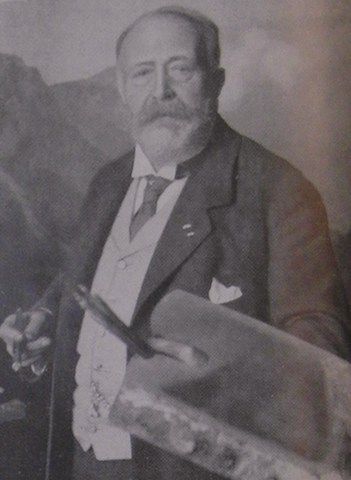 ---
---
You like SciFi short stories? We write an Original Comedy, Space Opera series on Steemit
Elron Ahura - Space Detective 2369 AD
You can read all 3 Chapters of The Synthetic Man
Part 1 - Part 2 - Part 3
You can read the first 2 Chapters of The Murder of Dr. Roboto
Part 1 - Part2
---
We also Produce Seminars, last year we hosted Graham Hancock - And this year we had Dr. Lawrence Blair. Both videos of the seminars will be released later this month.
Here Is Our Trailer For The Graham Hancock Seminar - The Mystery of Gunung Padang
Our website with info on our past guests and future projects dedicated to Science, Literature & Music.
BudoCon.com
Until next time, Eat a Taco and Steem On!!
---
---