IIT KGP En Plein Air Diary - Chapter IV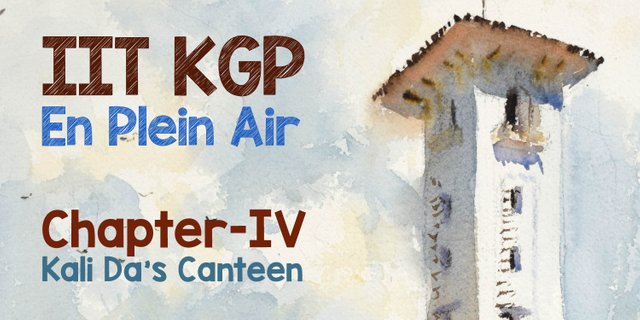 A long due wish fulfilled
26 July 2017, Day 4 of the shoot
The Canteen at Nehru Museum, popularly known as "Kali Da's", was not on my list of places to paint; because it never existed twenty years earlier. But when I happened to be there just five days earlier, I really did not have to think about it twice. I knew I had to paint this place.
Also read the Prologue , Chapter I , Chapter II and Chapter III of IITKGPEPA Diary!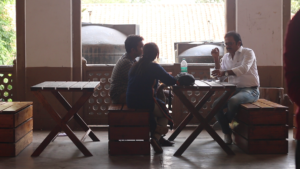 An ambience so cosy yet so mystical
Kali Da's is that kind of a place that transports you back in time. It slows you down completely. The canteen runs on the first floor of Nehru Museum on the rear side corridors. Big arched windows line the corridor, overlooking archaic tile roofed buildings cramped between centuries old banyan trees. The rays of the sun find it hard to penetrate the thick leafy canopy, but those that do - create a mystical ambience with the dappled light . And when it rains, it's a sight to behold! It makes you forget about your isolated physical existence as you feel completely one with nature. And with the pocket friendly offerings of tea, snacks and shikanji, it's a place that can inspire writers, poets, singers, dancers, and of course - painters.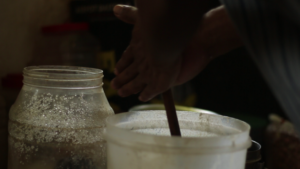 The famous Shikanji
I too was more than inspired when I went there five days earlier. In fact I was kind of desperate to paint this place. I did have a try on the first day of shoot in the afternoon. But the cloud cover had made the light too weak for shooting. The place from where I wanted to paint was middle of the alley that connects the front corridor to the rear corridors and the lack of light there did not make it easy to paint, let alone shoot.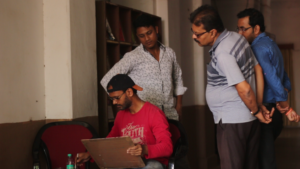 The light where I painted was just manageable
Today, however, there was enough light for me to paint – though still not good enough for the film crew. But I am sure they still did get some great shots. Moreover; today not being a weekend the canteen was open unlike the last time I wanted to paint here. And there was this subtle buzz around with people enjoying tea and conversations. It really helped to build a great mood for the painting along with the sense of solitude that still hung around in the air, irrespective of the people present.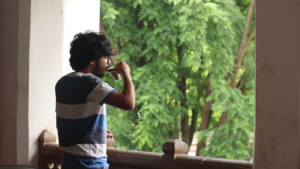 Difficult not to be inspired
The final work was satisfactory. I think I did manage to capture the reflective and introspective mood of the place. But that was not the reason why I felt so happy and full of joy today. Though I saw this place just five days before, it felt as if a long due wish to paint in this place has been fulfilled.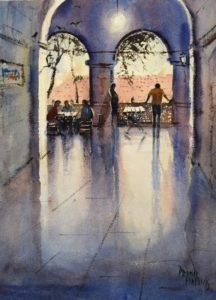 En Plein Air at Kali Da's
To be Continued