'Down The Farm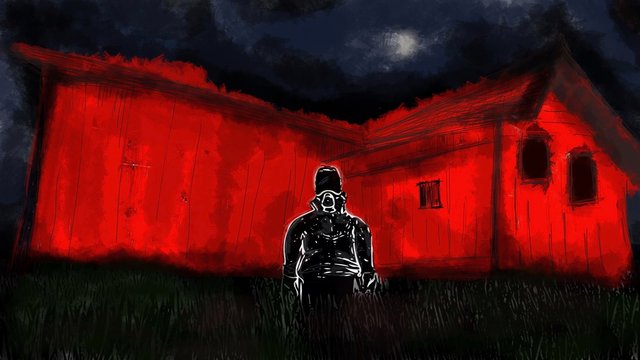 My favourite of this series. "Owning the Night"

This series of digital images entitled down the farm were created by myself and my husband. They are-screen shots my husband took of a character in a 3d environment he created. The shots are then given to me and I paint over them on my tablet. The final stage is to print all of these out then hand paint and draw over them. I haven't done that yet but I still think these are great pictures on their own and worthy of sharing and who knows I might get some great feed back.
The series is heavily influenced by Australian scenery with a dark undertone. Where I live empty paddocks and creepy old abandoned hay sheds are something you see every day. I was also influenced by documentary series about haunted houses in America, I watched a bunch of them on You- tube around the time we produced these images. I love the stories, costumes and the architecture. OH and a totally love the re-enactment actors in those documentaries they are so funny!
All the images picture a man out side a large red barn. I guess I think the character in the paintings is someone who might capture bad guys like kidnapers and murders and bring them back to his farm of torture where they will never be heard from again. What your interpretation is, is entirely up to you! I would love to hear other peoples interpretations in the comments. Even I interpret this image many different ways, I don't think an art piece has to have only one story. Our intention was to create a series with a dark and vengeful theme with a feeling of isolation. I chose screen shots with an open composition, where the world of the painting exists outside the borders of what the viewer sees. I think this makes the paintings more subversive for the viewer, they can use their imagination to fill in the gaps..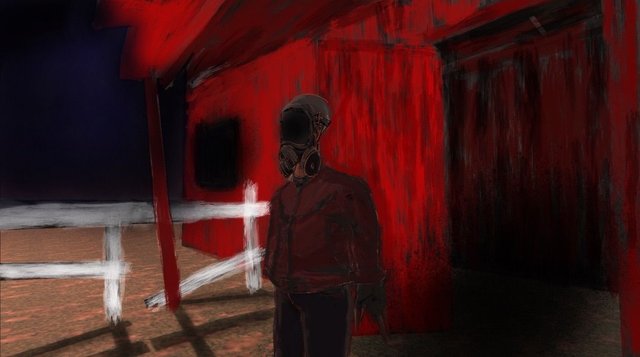 "Wooden Shadows"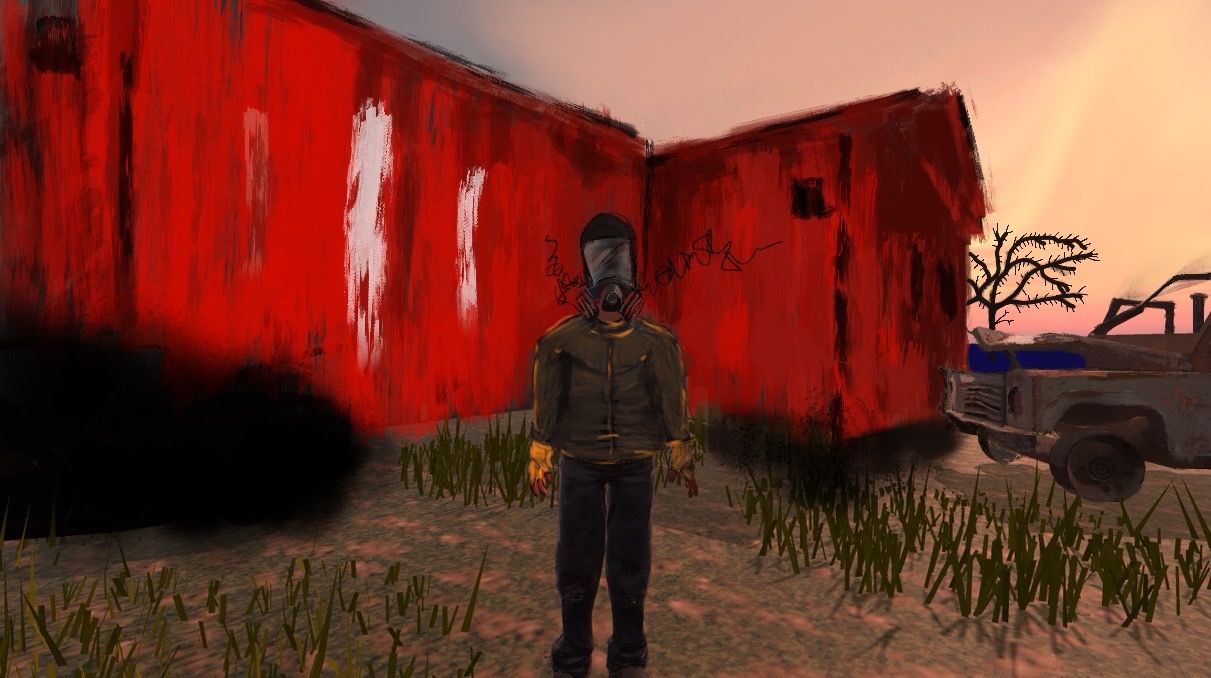 "Outside At Dusk"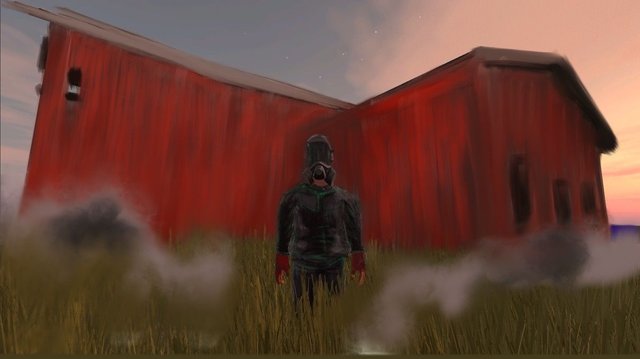 "Heavy Smoke"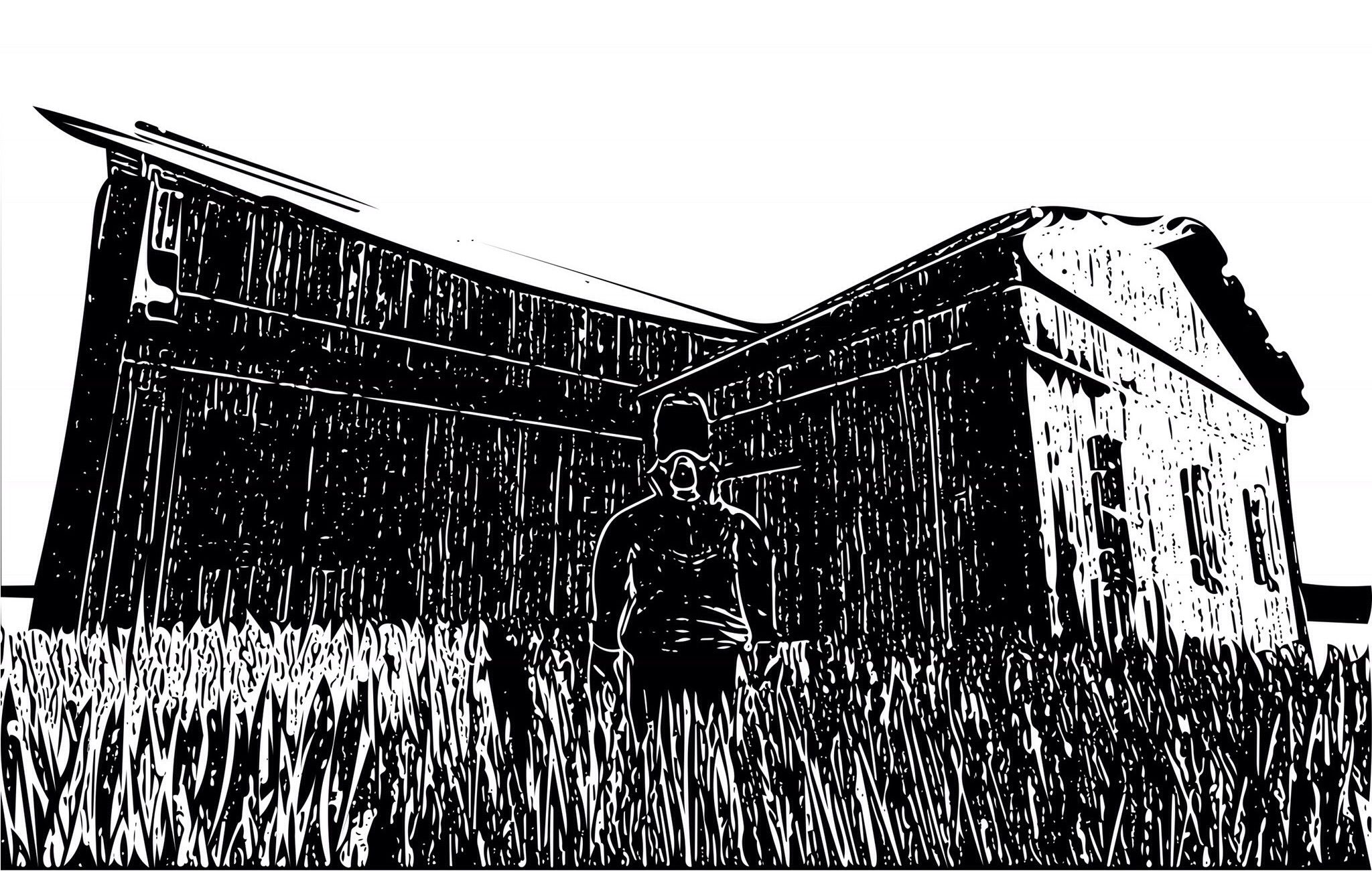 "Needle Grass"
I did a lot of versions of the one image because although I loved all the screen shots (theres about 5 in total) I really loved working with because of its versatility and composition. I wont be manipulating any other screen shots for this series digitally.My focus is now is printing them out and transforming them into tangible art works.

I am not going to get into this software in any detail at this stage I will try to at some point down the track.
Fuse(PC) -free software on Steem- this was used to create the 3d character model/easy to use and you really can create very customised models.
Mixamo(PC)- browser software where you can download animations for 3d characters. You can upload your 3d character model and view a preview of the animations you can even make some customisations to the animations before downloading.
Unity(PC)- Free software. Game development software designed to create both three-dimensional and two-dimensional video games and simulations.
Procreate(Ipad)- Digital painting softrware
Sketchclub(Ipad) Digital painting software
AdobeCapture(Iphone)-Vector creating, effects and other graphic art tools.
Theres more details about the software I use for digital painting in previous posts if your'e interested.

I really like this series. I am excited about the final stage of printing each piece out on paper then painting over them. I really hope you enjoyed looking at them and having a quick read. I hope that the 'Down The Farm" series makes you think up your own scary stories and interpretations. If you have any question about this series or anything else relating to my posts please ask in the comments below. A big thank you to all my fellow steemians who stop by for a quick look at what I am up to.
Until next time
Love each-other and Peace-out