Like a lot of people I often think I'd love to write a book but when I'm honest with myself I know I'm just not disciplined enough to actually sit down and write one (yet). So I decided I'll make one instead and send it to a friend who I know will write a book one day to keep her notes in.
@Merej99 this one is for you lady! As well as the liquid proceeds of this post which I will be sending your way to help you get to steemfest.
To speed things up I've cheated a little, I had a beautiful little book that was a bit worse for wear. Well it had been well read over its 138 years on this earth, pages had been torn, ears had been dogged, but the cover was in a fairly good condition so I decided to honour it's Victorian roots with a steam punk make over.
(
)
After gutting the book, I decoupaged the cover with scraps of antique papers, glued small piece of thick string to the spine then created the design using a chipboard frame , charms, beads, texture paste and several types of glue before adding a couple of coats of gesso to prime the cover for painting.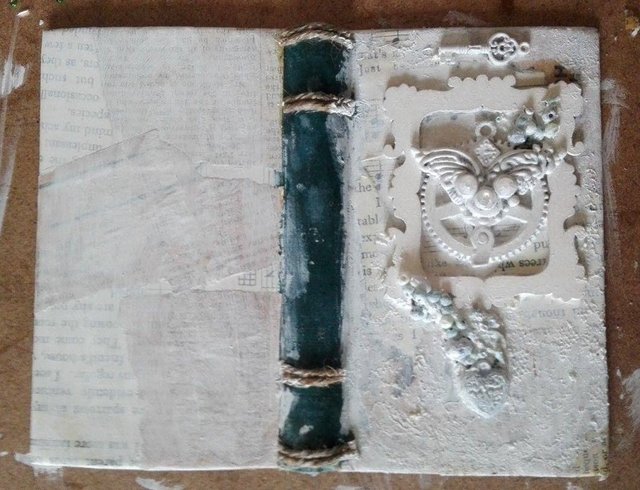 It was time to start adding colour, I know It looks pretty garish here but this was the first layer of acrylic and ink that will add depth and variation to the layers that follow.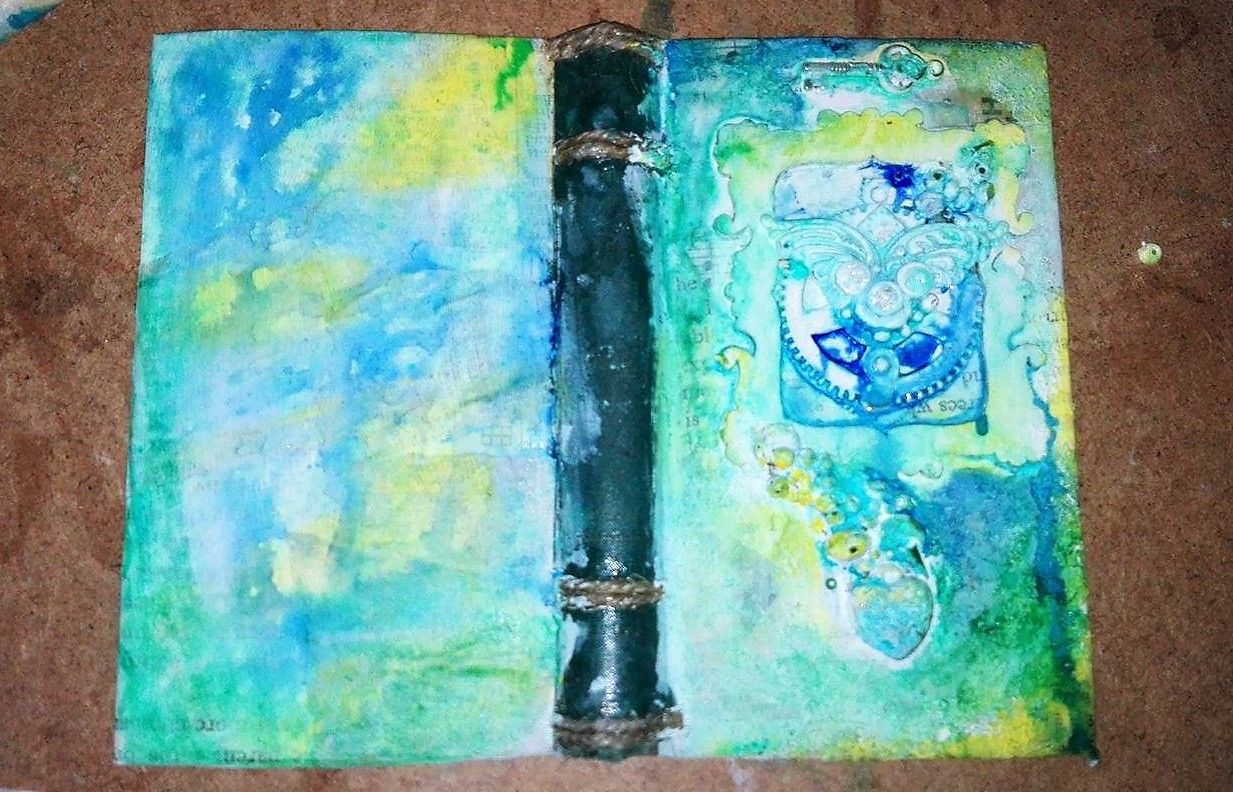 I kept Layering mostly using Inks and a Gold stone ink spray. At one point I started to panic it looked more like someone had glitter bombed some troll vomit than the from depths of the ocean patina I was aiming for.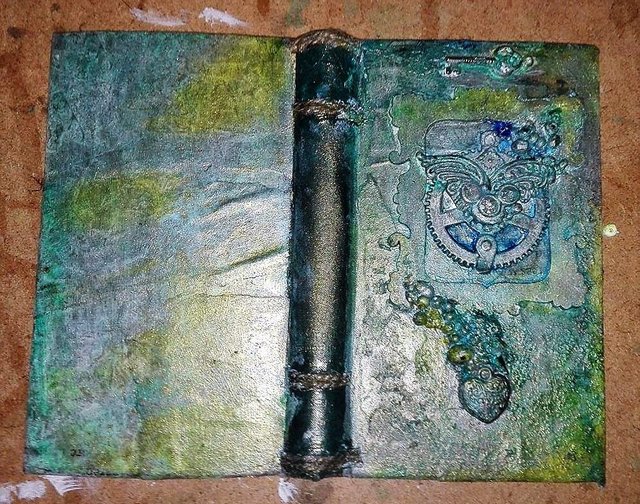 I didn't get pictures of the next few layers as my phone mysteriously vanished once the children got home from school.
Once I was happy with the cover I cut a piece of bronze faux leather from a tatty old handbag, darkened it with some brown paint and the gold stone ink spray. Then began gluing it to the spine, I quickly discovered I didn't have enough hands for this so grabbed some twine and another book to make it easier for myself.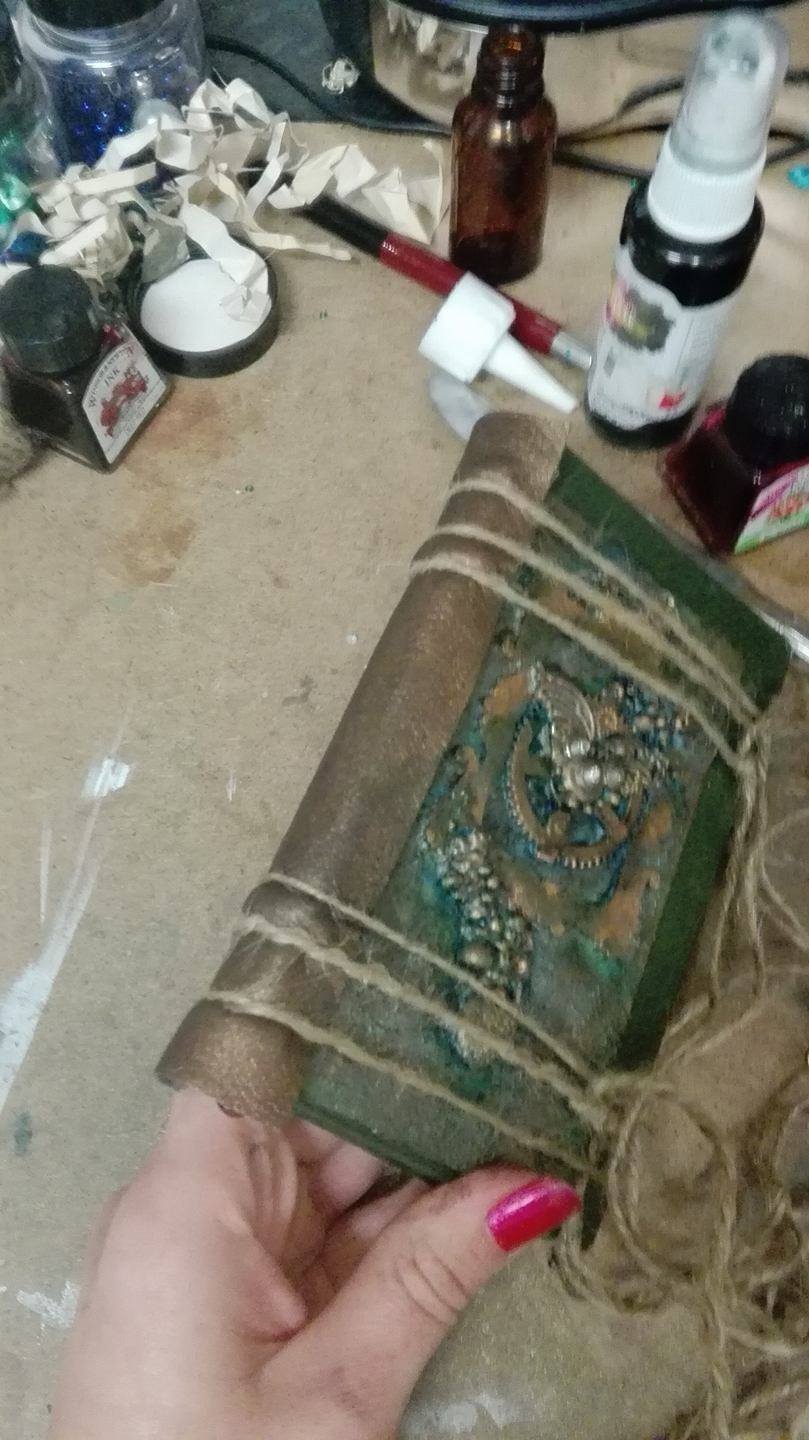 Ok I haven't worked with faux leather before so I'm not sure if I cut this piece wrong or if the pulling and tugging when gluing the piece down has distorted it some how. So tomorrows crafting session will be spent fixing or hiding those wonky edges, before i cover the inside and sew in the signatures.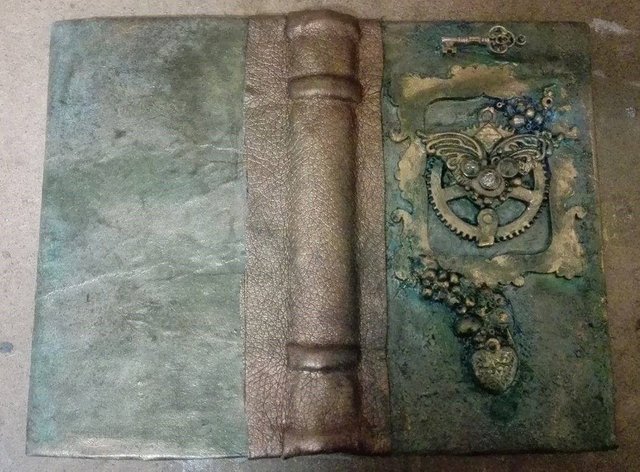 There is still quite a way to go to finish this project but a lot further to get @merej99 to steemfest, any sbd earned on this post will be passed to meredith so please upvote, resteem and pop over to show her the love on her posts.