Fantasy is a woman - a painting for ART EXPLOSION WEEK 53: Theme FANTASY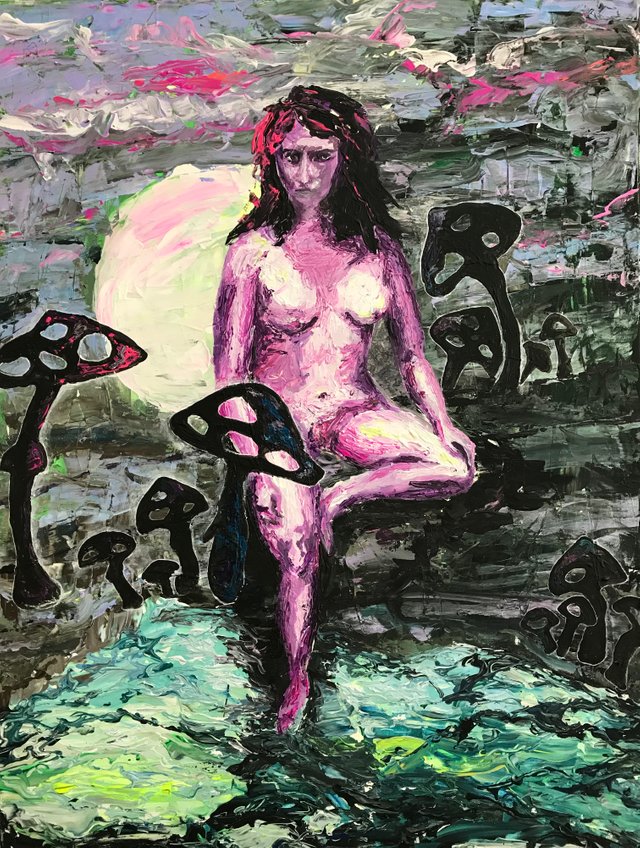 Remember Hua Sanchuan
Acrylic on canvas
60 x 80 cm
Fantasy is a woman on a paperback book of the 90ties. Fantasy is an elven maid hidden in a field of summer flowers. Fantasy is the rotten mushroom dripping with slime. Fantasy is daydreaming yourself into a novel. Fantasy is the fight against horror. Fantasy is the smell of adventure in a deep forest. Fantasy is hope.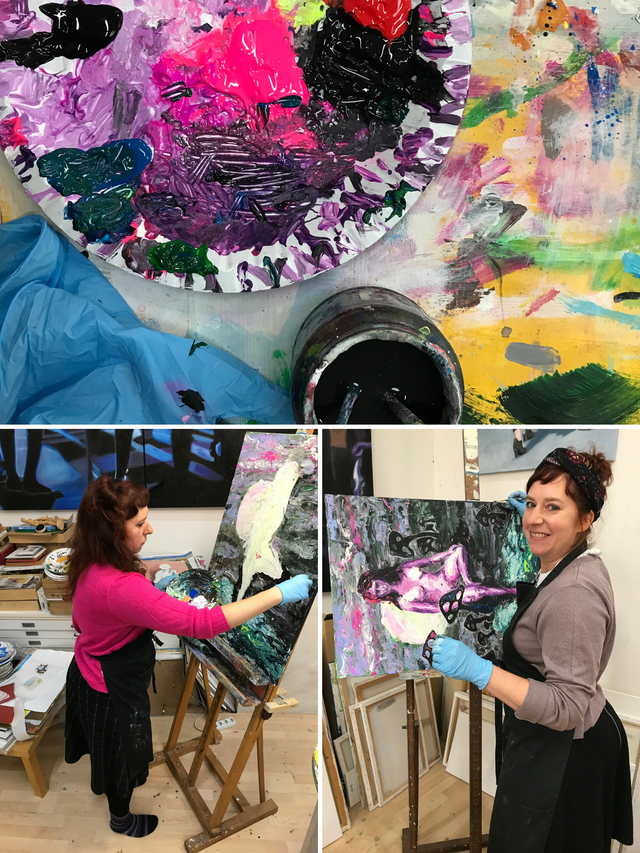 Backstory
Fantasy is no easy topic for me as it is saturated with thousands of images. I am an avid reader of fantasy novels… sometimes it seems I eat these books. And books come with cover images, which I find hard to blank out. My first ideas of this topic were so stereotypical. Ok the next few ideas were also stereotypical. And as I noticed all my ideas were – yes stereotypical, I decided to work with them. In the back of my memory was the famous ink and water color painting 'mountain ghost' from Hua Sanchaun and my solution was to blend my kitschy fantasy cover illustrations with his composition. To lend my interpretation a kind of poisonous quality I used mainly cold colors and used neon hues to set accents and highlights. The mountain ghost I transformed into a reproachful looking fairy who is now a ruler of dark and mysterious secret land. As Hua Sanchuan depicted wild animals which turned tame at the feet of the mountain ghost, I painted half eaten mushrooms which surround the female figure like guards. Forest and wildlife are no longer clearly visible in my interpretation but a billowing mass of abstract forms in the pond and misty background. And everything is illuminated by a sickly and bloated moon.

What I did
In started fast: no sketch, no preparatory drawing, but directly adding rough forms on the canvas. With a bigger pallet knife I formulated the pond and the sitting figure. The next step was to apply the basecoat for the background. For the first layer I used a mixture of green, brown and black hues which I blended with white. After all was dry, I applied the next layer of pastose hues of magenta, lilac and grey. Later I added highlights of neon yellow and pink.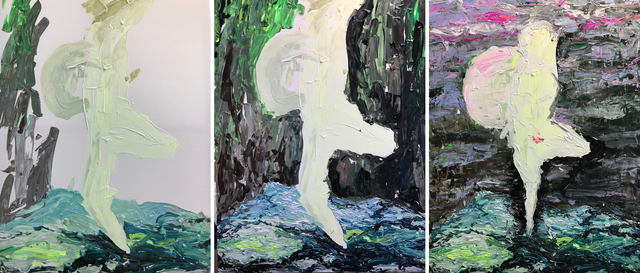 Now fast was over as I fleshed out the details, first of the water and then of the sitting female figure. To get a vivid and rough texture, I work in several layers. For the first layers I work with a soft brush to add volume to the woman's body. The next layer I applied with a wooden stick. I used thick and undiluted paint for this step, so the wood left a visible trace in the wet paint.
Now I proceeded with the mushrooms. I painted white outlines which later would appear as if the dark mushrooms are illuminated from the back and simultaneously to lend them a flat and artificial appearance. I then filled them with black paint and again used pastose paint to set some highlights in magenta, lilac and teal.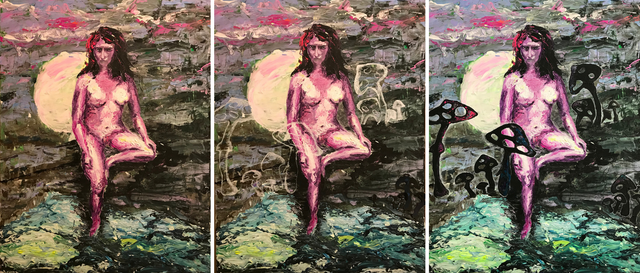 I hope you enjoyed reading about my painting adventure and if you have questions, feedback or simply want to know what fantasy novel I am currently reading, leave a comment. I am happy to hear from you <3