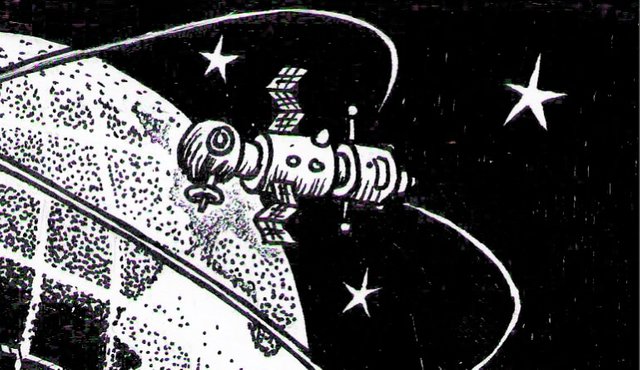 Greetings, my friends!
Today I brought you a new work that has been recently completed for a Vodka label, "Monitor's Tears". At first this was an illustration that I produced without clients' approval but once I have unveiled this, a number of kind friends and clientele really took to it and they have decided to publish this illustration as the branding! I am honoured and pleased.
I hope you will like this piece, as there are many details that have gone into this and I look forward to seeing your comments and feedback!
This is the sketch, and originally I called it "Tears" for we can see the plight of the character in the center of this illustration. She is closed in by various work and there are tears dropping from her eyes. The expression of her face is that of worry. Around her are many technology she cannot escape from! Signals and print-out papers dictate her world, she is typing anxiously.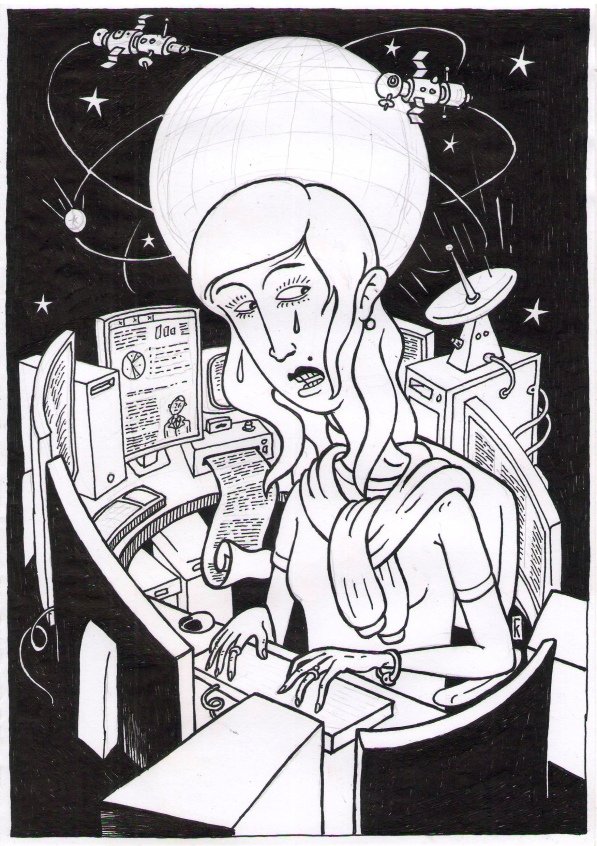 With this step, I applied ink and flat shading. I give form to parts of the picture that are to be blocked away so they are not to disturb the viewer's attention. This also makes the eye settles better on the center of the canvas, and assists the definition of the details.
We also have a natural framing because of the blackness that now surrounded the woman's space.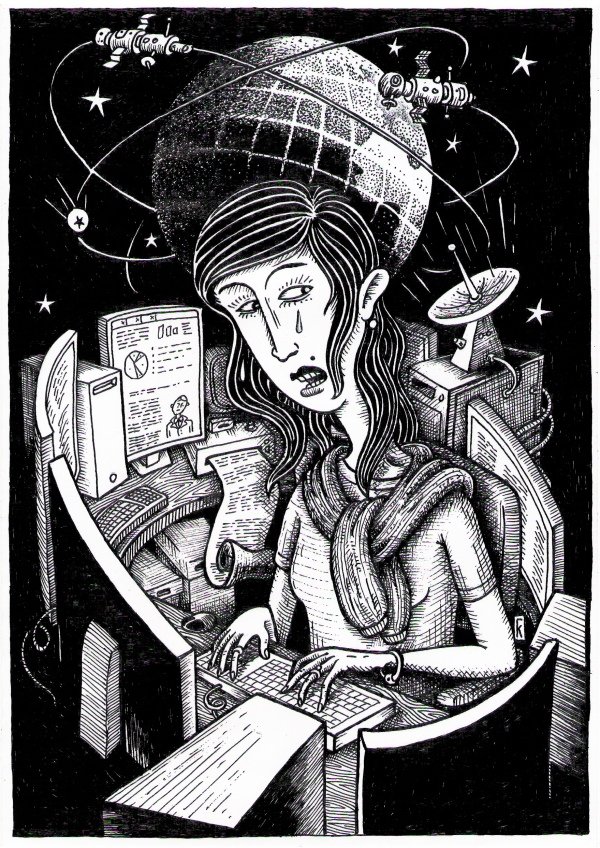 And now we have continuation of the works through application of line art and pointillism. There are lights coming out of the monitors, which circle her fully, so I leave the screens mostly clean of shading and I applied emphasis on the chair, desk, scarf and hair of the woman. This gives a finished and detailed look to the picture. The large planet at the back is filled with squared of gradations of dots, which create a spherical finish.
I present to you now, the view of this work done as an overview video, to establish a good appreciation of scale and details that I have put into this work.
Friends, thank you very much for your support, as always. As an artist, it sometimes is difficult to be a people person, but I am trying my best.