Illustration Captain America- Process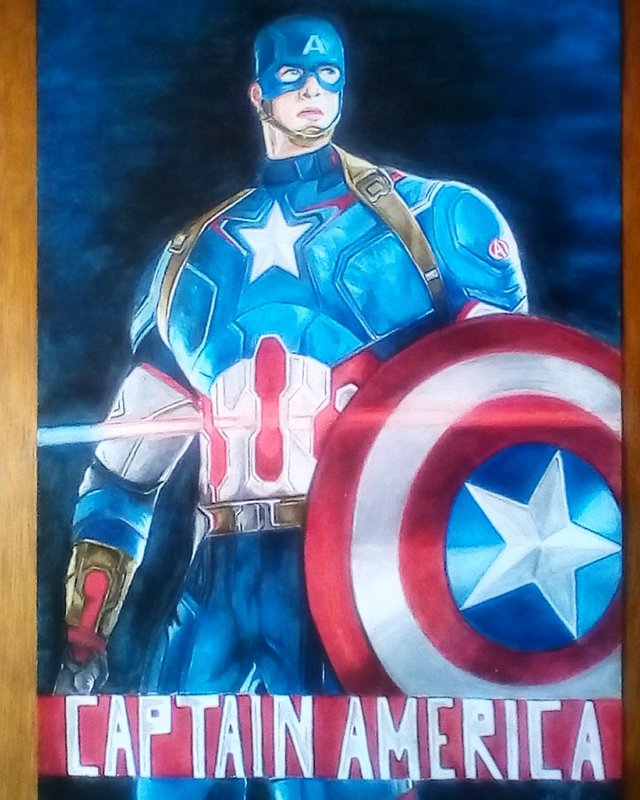 Hello, before starting to the process of realization of this illustration, I want to tell you the reason I made this drawing.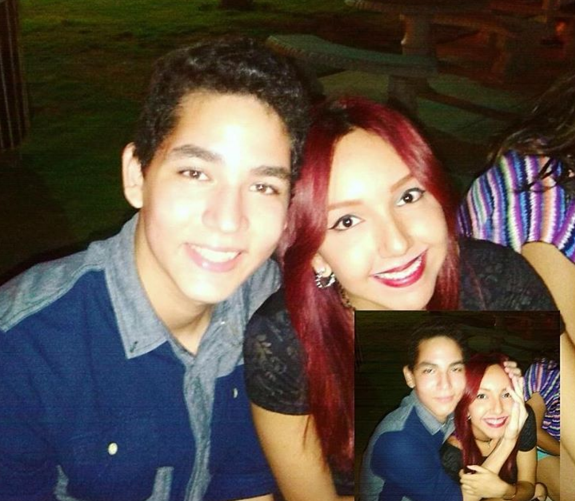 He is Pedro, my best friend since the 4th year of high school, we have about 5 years of friendship and since we met, it has been difficult for me to be present on his birthday and He falls on vacation and always traveled. This year the same thing happened but I knew that I was not going to be, I was preparing a surprise gift to compensate. I love giving them drawings to People that I care about seem to me because I think it has more value than buying something in a store. so I thought "What would you like?" We do not have many things in common but I found one that was the perfect idea. since we met, we went to the movies to all the movies that we had to do with superheroes, most of the Marvel universe, every time we went to see a new movie or we talked about the subject, he told me that he was a favorite superhero, it was Captain America, so do not hesitate Take that idea and start to express it as a poster that could stick in your room.

Process
| MATERIALS | |
| --- | --- |
| White card 1/4 of sheet | |
| Creyones Prismacolor | |
| swabs | |
| Baby oil | |
| Pastel oil | |

1
I did several sketches before I started, I was a little worried because I had too much time without coloring with the prismacolor and Take a little more time and take a picture but when it was looking for them, I did not find them. Practice a while doing the body so that the best It is possible that I started with the head and the uniform.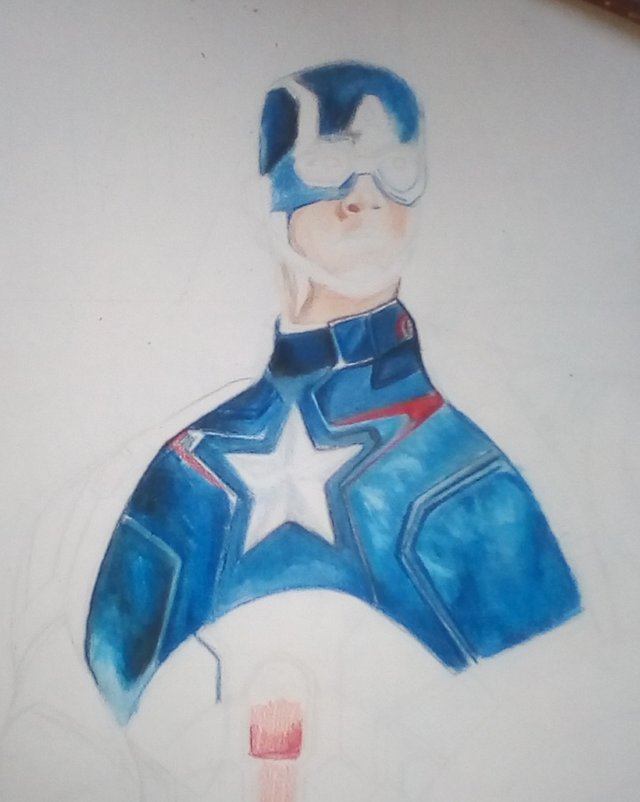 2
As the prismacolor are very creamy so to be able to blur better the color and so not spend them so much, with the help of a swab full of a little baby oil was blurring the color.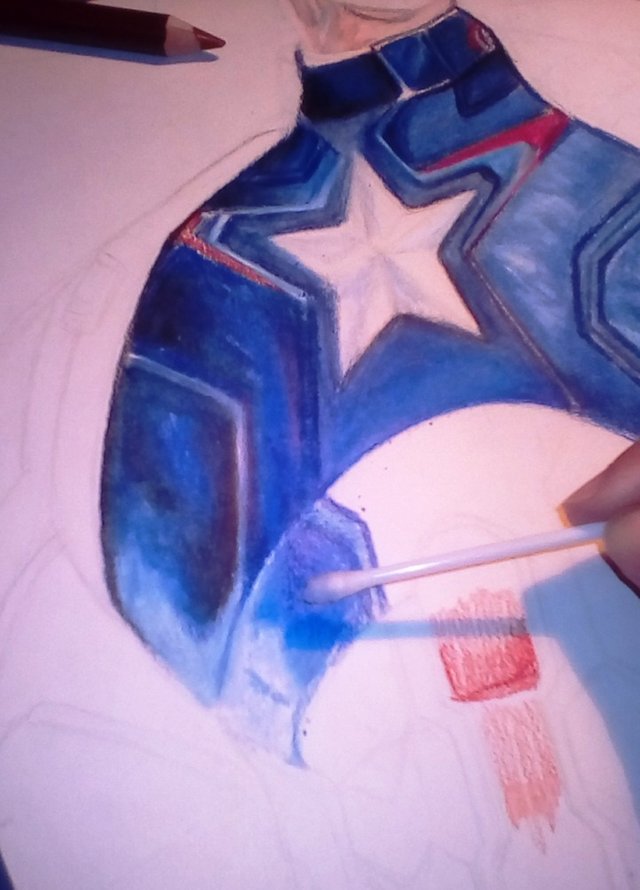 3
I was a color refill plus the uniform and color the face.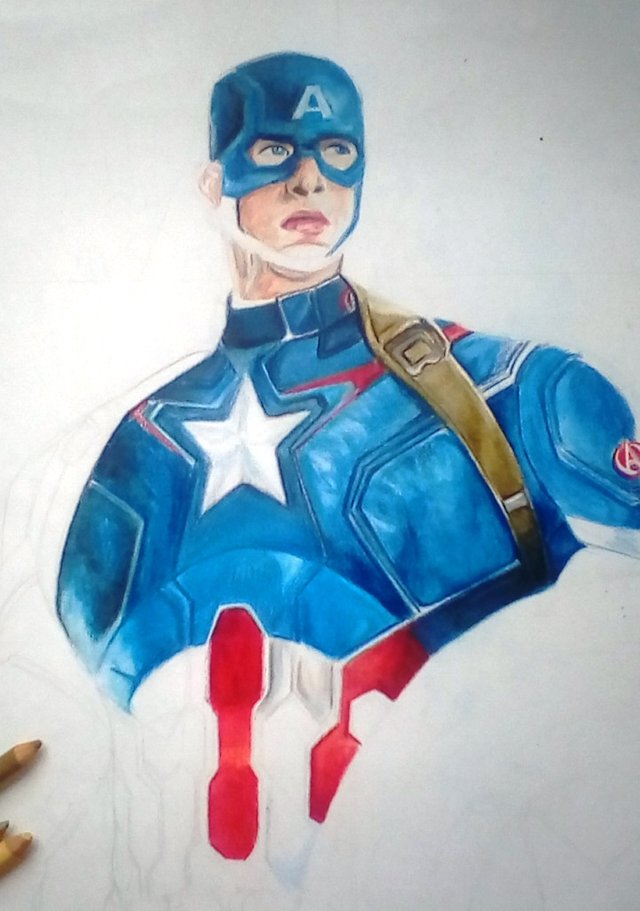 4 -5
(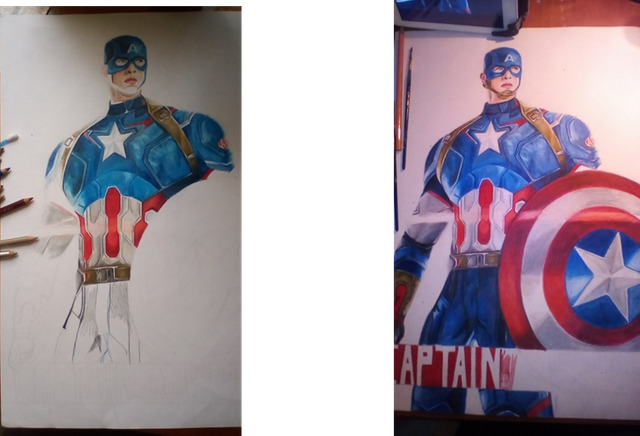 )
I wanted to leave the shield last because I felt that I was going to give a little head because it is a little big and I was running away but sooner or later I had to fill that part..
As 5th step color background of the letters below

6-7
With oil blue and black pastel paint the background, then blend it with a brush and baby oil.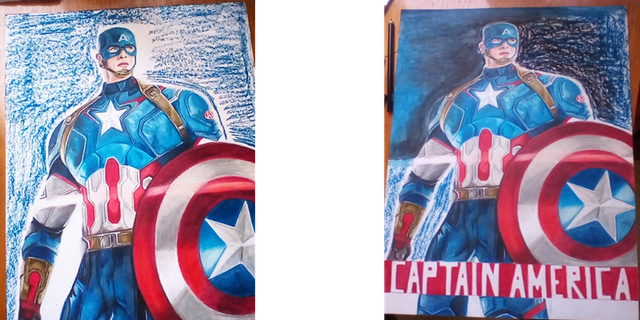 Finished

¡SURPRISE!

After returning from the trip I gave him the surprise and this was his reaction, it was very funny, is not it? I am glad that he liked it and I hope that it is also for you. Then we changed and went to the beach to continue celebrating.

Never play cards with him, cheat ;)

If you want to see my other illustrations you can follow me on instragram
@mishiarte