"Where Flows" - Looking at Abstract Expressionist Art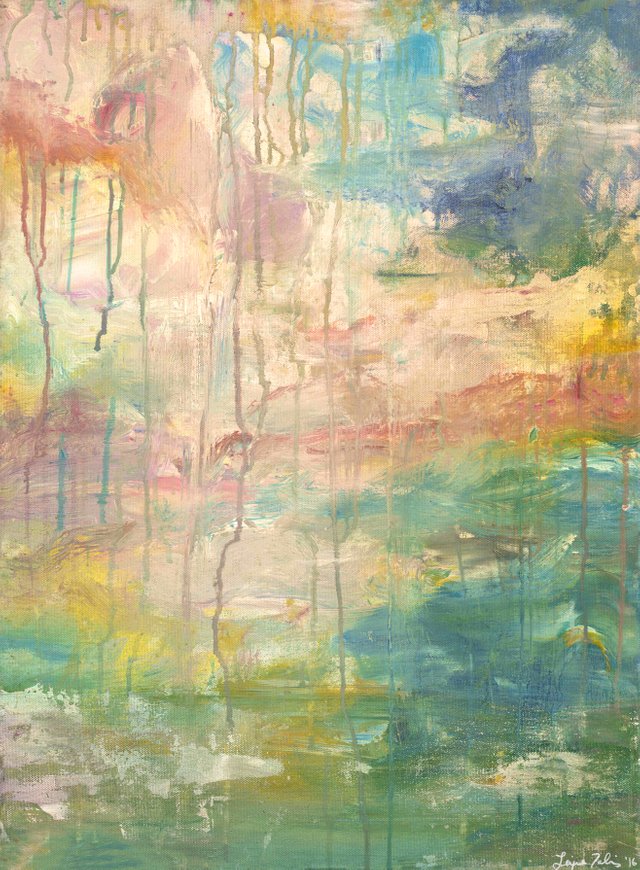 "Where Flows," Acrylic on canvas
What is Abstract Expressionism?
Imagine yourself at an art show or gallery, with hundreds of portraits, still-life paintings and otherwise objective realism. From a distance, they immediately fill the room with presence. "They're fantastic, aren't they?" Voices around you stir with excitement. As you come up to the pieces, the craftsmanship is certain. The way the skin was delicately rendered, the reflection on the glass platter, and the careful complexity on the flowers is breath-taking. You are captivated. "There is a distinct quality to this artwork," others around you say. You could get lost for hours in the details.
Then, a new painting catches your eye.
Paint splashes, splatters, drips, nonobjective brushwork, dry panels of one kind of color, and.. some ... questionable vague image or message. It's hard to tell what the artist is trying to convey. "Oh, anyone can do that," The man next to you sneers. "I don't get it," other people say flatly and then move on. But you feel some need to stay and look. You settle in, and start to get acquainted with the piece. First, nothing. But then you notice a gradient or a stroke or a piece of the image. It reminds you of a memory, a sunset, the forest, your significant other's face. You remember how something made you feel long ago. The drips suddenly feel pendulous, and the brushwork is mercurial. Suddenly there are things speaking to you through the surface of the canvas. A spiritual experience incurs...
After your reception with the work, it seems a little harder to leave. There is so much more to feel from it, so you decide to revisit another time. Perhaps the next time you converse with this piece it will offer you a different meaning. It feels as if you were re-gifted a piece of your life you gained perspective and appreciation for.
"Abstraction allows man to see with his mind what he cannot see physically with his eyes....Abstract art enables the artist to perceive beyond the tangible, to extract the infinite out of the finite. It is the emancipation of the mind. It is an exploration into unknown areas."
― Arshile Gorky
| | | | | |
| --- | --- | --- | --- | --- |
| "Untitled," Milton Resnick | | "Yellow Band," Mark Rothko | | "Milky Way," Alma Thomas |
The works of famous abstract expressionists: Milton Resnick, Mark Rothko, and Alma Thomas shown above.
Here are more famous abstract expressionists for those who would like a deeper look.

Abstract Expressionism (and impressionism) is/are a form of abstract painting in which artists use colors instead of object representations in their artworks. In their focus, artists commonly used soft brush strokes to build large areas. Their ultimate goal was to express wisdom, mental focus, and inner emotions. These themes can be seen throughout many famous works, such as the assemblage shown above. Being compared to more objective pieces, many abstract expressionists and impressionists were met with a heavy backlash for what their pieces weren't, instead of what they were. It is quite possible to enjoy these pieces just as they are, but when you ask yourself questions in front of some of these great works, (or even some of your own works!) you can capture a deeper appreciation for more than what meets the eye.
Sit, Let's Have a Deeper Look

When face-to-face with an abstract piece, there can be a lot of room for exploration, if you allow it! Finding something recognizable isn't the purpose of abstract art- but instead, the opportunity to have a direct emotional or spiritual connection with your experience with the piece. Here I have compiled a list from judyballance.com. These questions will help you get in touch with your inner artistic receptivity.
5 Questions to Ask Yourself When Viewing Abstract Art:
• Is there a distinct mood? To detect the mood of an abstract painting, look at the colors, shapes, lines, textures, but particularly the colors. For example, red could express passion, yellow is cheerful, blue would be peaceful. Horizontal shapes are peaceful, diagonal shapes show action and vertical shapes are statuesque. Let the art do the talking.
• Does it make you think about anything? Abstract art is a blending of art and logic that forces humans to enter and feel. Kazimir Malevich's monochrome painting "Black Square on White Field" comes to mind. When I look at the painting, I see the "white field" as something to grab onto before being sucked into the "black" infinity. My thoughts go whirling and speeding into a world that is different and a little scary.
• Does anything jump out at you? People often feel confusion when they don't see objects they can recognize. They are used to having the meaning of an artwork described for them with familiar things. Abstract art has a deep meaning without objects, the viewer just has to search for essence. Look at the work, relax, take your time and absorb. Let the meaning come out.
• How does it make you feel? A good abstract will capture you and pull you in, it will create a strong emotional response and you'll be forced to explore all its nuances. You don't have to know what it is about in order to feel deeply about it. Abstract art is meant to be felt.
• What did the artist say about the piece? Knowing the background of the artist, why and when they created the work can help in understanding what the piece means. But, don't read so much it takes away your appreciation of the art.
Abstract art is an experience that is meant to be felt, it gives you the power to savor your own meaning to an art piece. You may have multiple and confusing emotions and if you don't like one work, just go on until you find one that communicates with you.
The Abstract Movement in my own work:
As someone who came from a more portrait-oriented background, as touched on in my #introduceyourself article, I have taken a recent liking and kinship toward abstract-expressionism and similar works. At first, many of my attempts were to create a background to pair with a subject matter, but decidedly stayed untouched after it was finished. I found myself and others saying around me, "It's perfectly good! Don't touch it!" And so it remained.
Among my recent abstract pieces, I found myself giving way to the feeling and the spiritual process of merging colors onto a canvas, not being concerned with how they represented, but just with how they flowed. Creating a harmonious, soft, drippy environment in which your eyes cast the formations, and your soul recognizes things which were "never there."


See below for the experience and let me know what you envision.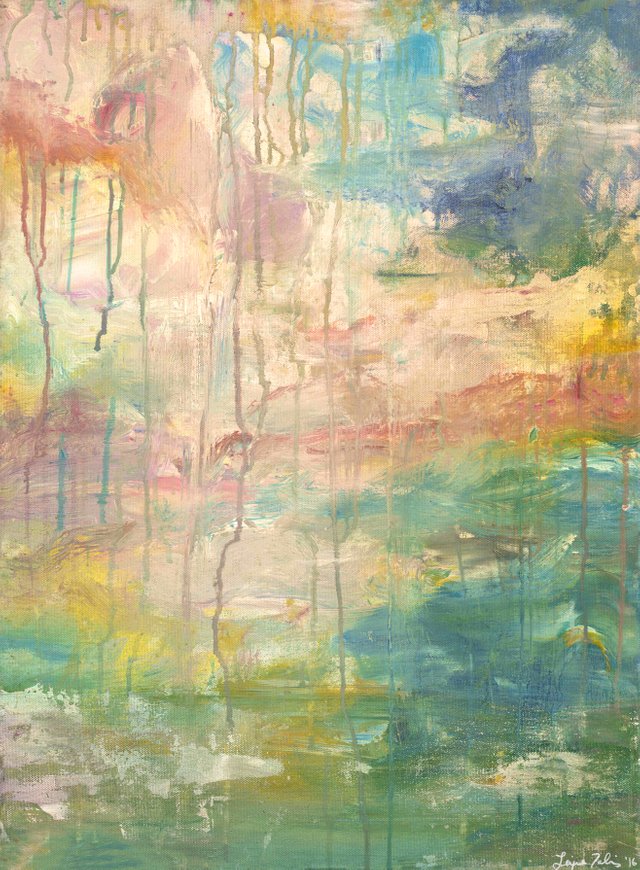 "Where Flows," Lexie Takis, Acrylic on canvas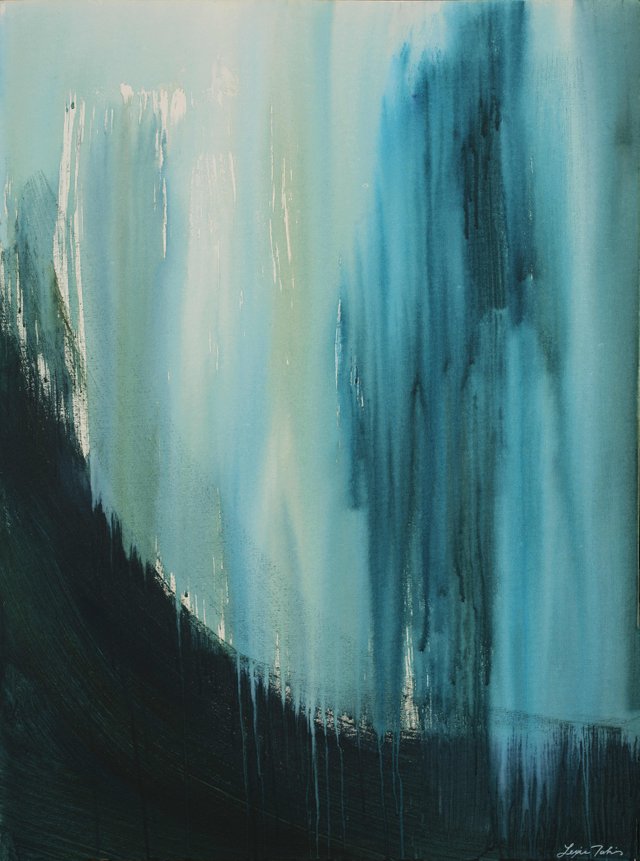 "Epiphoria," Lexie Takis, Acrylic on canvas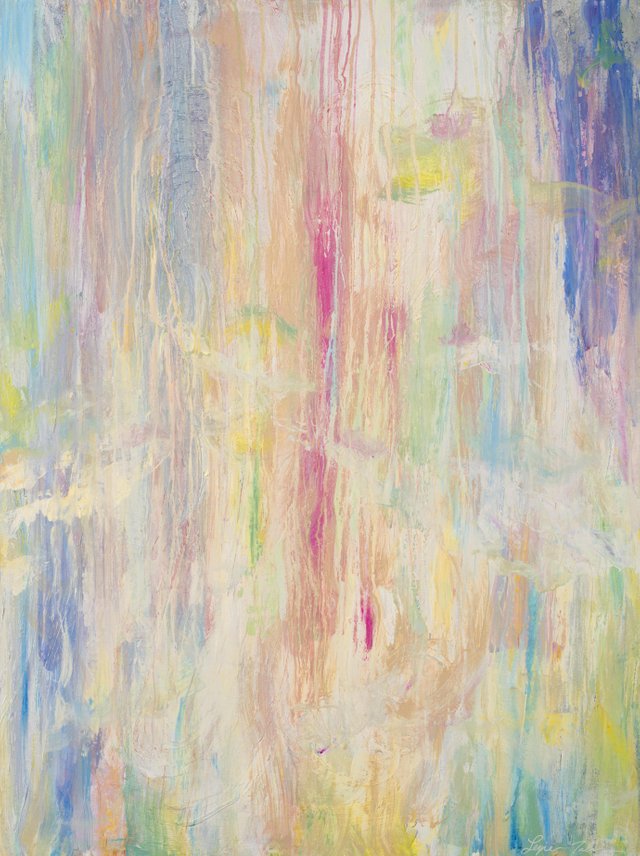 "Somewhere Flows," Lexie Takis, Acrylic on canvas
If you so wish, I would love to know what you see or explore in my pieces above. Comment, discuss and connect.

"...[nowadays] we are cluttered with images, and only abstract art can bring us to the threshold of the divine."
― Dominique De Menil, The Rothko Chapel
What do you see?
If you like this post, my art, or my vision, please give me a follow! If you would like to talk, comment or offer your input, I would love to hear it! (As long as it is constructive in one form or another :)
My
social media
is linked below.
Best Regards,
Lexie Takis