I'm Lexie Takis, a fine artist from Detroit, MI and this is my first Steemit post!
Hello Steemit!
My name is Lexie Takis, and I am an emerging artist from Detroit, Michigan. My wonderful and brilliant photographer friend @johndykstra introduced me to the budding creative community here on Steemit! With all your lovely faces I just couldn't wait to join and share my perspective and experiences with art.
A Little Bit About Myself:
When I was young, art was a pleasure for me to experience. I have always been attracted and drawn to the mystical, spiritual and the creative side of life. As an artist today, I find myself still choosing to be surrounded by idealism, I love to work with bright pastel hues, iridescent mediums and rainbow spectrums, with paint (and sometimes epoxy resin!) being my vessel of choice.
As someone who started off drawing all their life, I was too intimidated to begin painting, until I decided to face my fears on a whim in one of my art classes. That was only two years ago- since then, I've been making my living entirely off of my work! I love to share my ideas and my experiences as an independent artist with other creatives, and alongside my interest in cryptocurrency, Steemit looks like the perfect place to share these experiences.
For all you wonderful art enthusiasts, and for all those interested,
Let's take a quick trip around my gallery:
New Works from "Starlight", 2017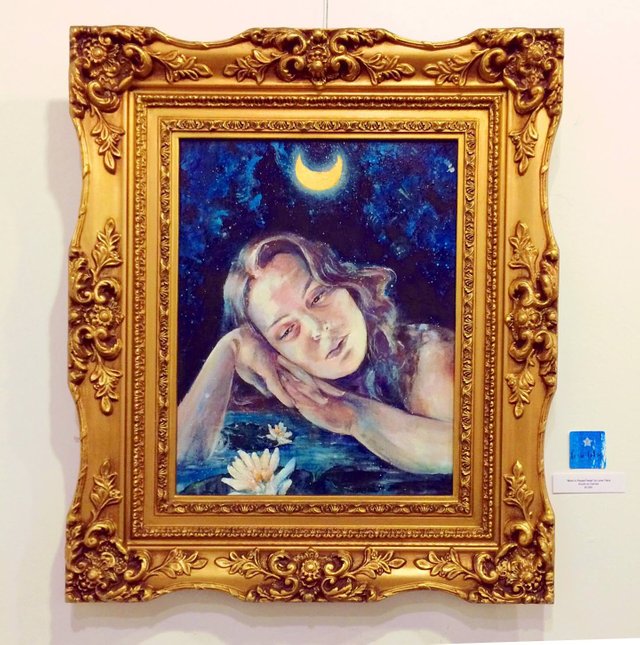 "Moon in Pisces,"
Acrylic on canvas
| | |
| --- | --- |
| "Where Flows," Acrylic on canvas | "Epiphoria," Acrylic on canvas |
Here is a taste of a few of my most recent works for our gallery show, "Starlight," shown in Mount Clemens, Michigan.
For the show I wanted to refine my usage of acrylic media, creating a smooth, oil-like rendering of skin tones and other textures. You can see this in my most recent portraits- for example, "Moon in Pisces" as shown above. Simultaneously for the showcase, I also I focused on letting my paint medium breathe, flow and resonate together, defining its own form ("Where Flows" & "Epiphoria" ). These impressionistic pieces were an exercise in simplicity and balance- and to compliment the other entries in the show.
Click on any of the images above to see other works from the show.
Watercolor, 2015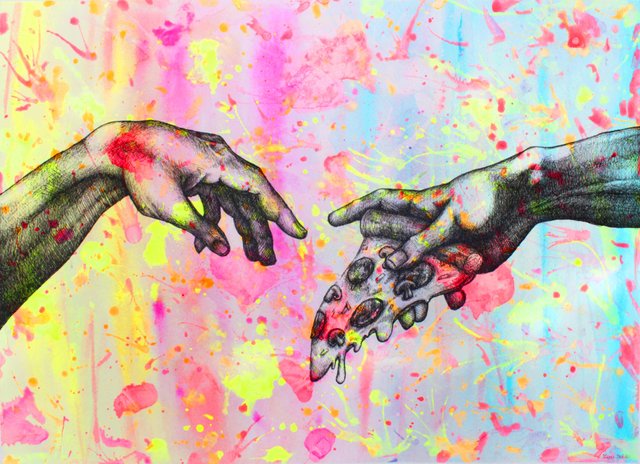 "Untitled," Watercolor and Ink on Paper
| | |
| --- | --- |
| "Decomposition," Watercolor on Paper | "Flower Face," Watercolor on Paper |
When I first began to explore the painting universe, using watercolor was a nice halfway-point between ink drawing (what I had been doing up 'till then) and painting. Most of my early watercolor techniques started as an outline from where I built up the color ("Decomposition" & "Flower Face") or started off as a color wash, which I later inked a sketch on top of ("Untitled (Pizza)").

It might show that this entry point to painting is what influenced my later acrylic work (And you wouldn't be wrong!). Most of the techniques used for texturing and laying watercolor can be seen in my current acrylic pieces today. Color washes, drips, pooling, and using water spray to lift up certain colors are all visible. Often times, I use acrylic in replacement now, dubbing it a "more-permanent-watercolor for use on canvas." My next photo series below, my "Astrology Sky Series" is a perfect example of this.


"Astrology Sky" Series, 2017
This series, which started out as a small exercise, expanded into the set you see before you today. Influenced by the presence and sensual design of Art Nouveau (Ex: "Cancer Sky" & "Capricorn Sky"), and the more current popular influence of illustrative techniques (Ex: "Leo Sky" & "Gemini Sky"), these elements presented themselves distinctly in my work.

Each of these Astrological pieces have their own story, symbols, and meaning behind the composition of the completed work. I would love to tell you all the imagery, why I created it, and what it means to me, but we will save that story for another day.
If you all are interested, each month (or half-way through each month, as the astrological calendar goes) I will showcase the current zodiac sign, explain a bit about the process of the piece and give you all a little taste of the energies that come with it! Let me know if this is something you would be interested in!

In the meantime, I would love to hear what you all think of my work. Feel free to follow me if you want to see more of my art! I'm looking forward to sharing new work, discussing old work, and writing my thoughts about art, energy and astrology right here on Steemit! :)
Website
■
Instagram
■
Facebook
■
Tumblr
■
Patreon