Inktober Day 10 // Rusalka
Pro Tip: Don't trust good-looking people trying to lure you into the water
I think a lot of cultures have some sort of lore regarding creatures lurking in the water, waiting to draw unsuspecting victims into the murky depths. I think of a lot of people are familiar with the Siren from Greek mythology, a malicious version of a mermaid who uses their enchanting voice to hypnotize sailors to crash their ships into craggy rocks.
One creature from mythology that has always interested me is the Rusalka. Known in Slavic folklore, the Rusalki take the guise of beautiful young women who dwell in bodies of water and tempt men who wander by. As with all folklore, the stories and details vary. The Rusalki aren't always depicted as malevolent; but the version of the fairytale I'm most intrigued by is where they lure men into the water, entangle them in their long hair, and submerge them till they succumb to their fate.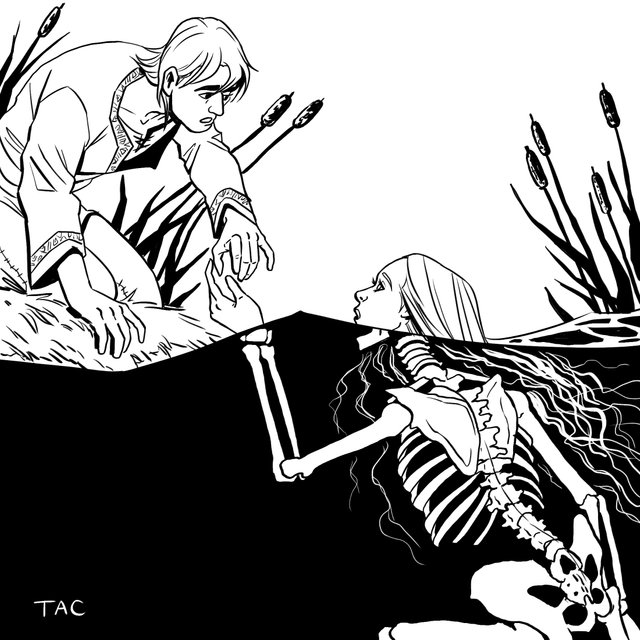 I had wanted to depict the rusalka for a while now so when I saw that the Drawlloween theme for today was "lagoon" I jumped at the chance to draw my take on the Slavic legend.
I think this may be my favorite Inktober doodle that I've drawn this month. I was a little concerned with rendering the water since I've never been particularly strong at illustrating water, but I'm really happy with how it all came out.
Since Steemit has such a diverse community and I know I have followers from all around the world, I'd love to hear if anyone grew up hearing about Rusalka. Or if you come from a different cultural background, if you have a similar version. Or or if you just have any cool folklore/mythological creatures you feel like telling me about, I'm super into that stuff so, please, do tell.
Previous Drawings
Day 1
Day 2
Day 3
Day 4
Day 5 & 8
Day 9

---
If you'd like to keep up with more of my work you can check me out at the following:
Instagram: @la.fumettista
Tumblr: http://la-fumettista.tumblr.com/tagged/art
Twitter: @TheresaChiechi
Website: https://www.theresachiechi.com/