Hi guys:) 
Today I'd love to share with you artworks and my thoughts about them created by my one more powerful inspirer Nicolas Weis. You can find more of his art on this site, while I'll show only a few for acquaintance and review.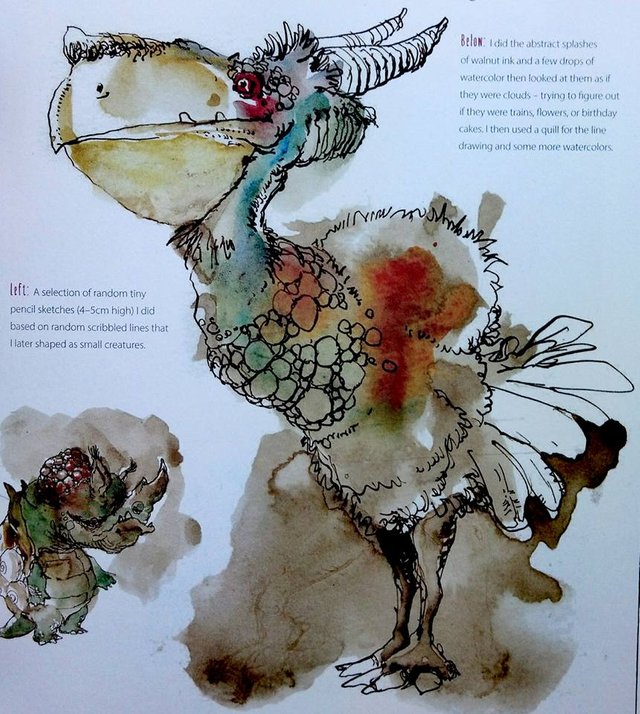 Art by Nicolas Weis
Most of his artworks are great example of the technique when you first put colorful splashes, and then seek for the objects in shapes. There are two ways: you can do it on purpose, or randomly, with no idea what will come out at a final drawing. Such practice is really useful for all who have troubles with entertaining with white paper (not steemit white paper:) I mean the situation when when an artist pulls out a new paper with nothing on it and feels confused), and also for those who have troubles with drawing from imagination. It's like a workout for your creative muscles. 
Really similar with this technique is the one where you don't even have to draw, when you explore clouds, or tree branches shapes and think about how do they look like. We all did it as kids, and there's no reason to stop doing it as adults.
By the way I can't avoid telling you about this example of putting splashes of purpose and then adding shapes by @opheliafu. Check out, Ophelia shows step-by-step there, and it will be more clear what I'm talking about.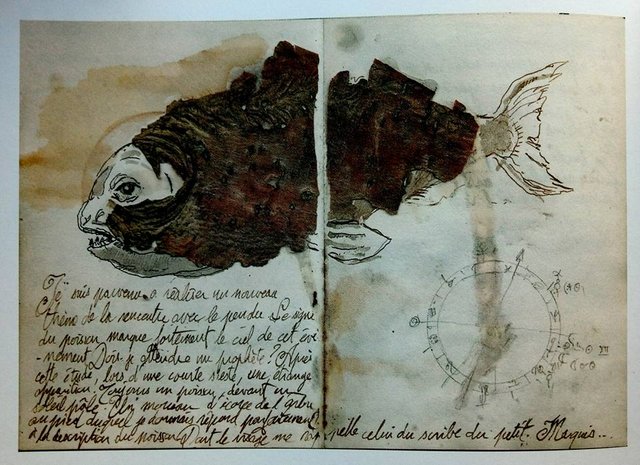 Art by Nicolas Weis
Not only colorful splashes can help you relax and seek for the shapes in colors. A cup of coffee can be a really good idea for this too! Check out the top left corner. Do you see the imprint of the cup bottom? Sometimes messy paper is the way to shut u your inner critic. I don't mean that you always have to spoil it first to go on working, but if you feel nervous in front of the white - try it. More then that - sometimes really interesting solutions come to mind, and the "spoiled" parts become a part of an art.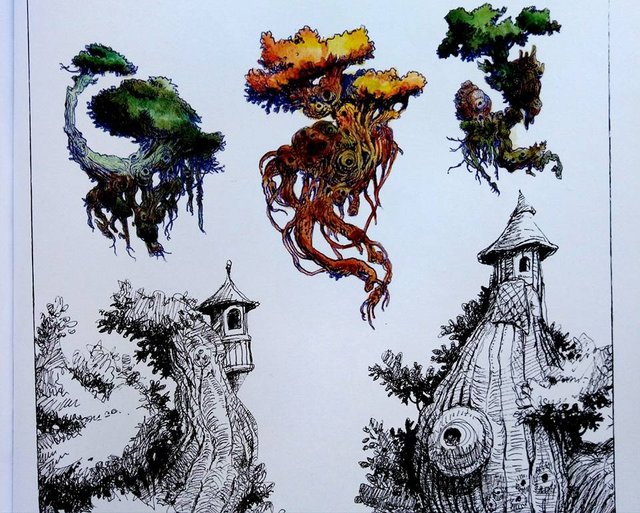 Art by Nicolas Weis
If you're here with me long enough you probably know that I have to put a lot of effort to make myself draw flowers, but thees are my passion. Different shapes, different stories, and awesome variety of spices! To see how other artists do it is awesome as well, I always can catch some ideas for my future projects.
To end this post I'd love to share with you my artistic mantra. I found it in other artist's diary, and loved so much that it stays with me and I practice it every time when I feel confused, especially about the fact that I can spoil my mediums and nothing good will come out (pronouns it loudly before facing the white paper:)
"This is my paper. I bought it and I'm free to do with it whatever I wish. He who doesn't agree must go and buy his own paper, and do whatever he wishes" 
Simple:) But it works:)
 As usual, thank you for reading, voting and commenting. And as usual the one who comments with nice post(art)/good post(art)/keep up the great work will be burned on inquisition fire. 
Love, Inber