I got steemit more and BETTER mainstream press!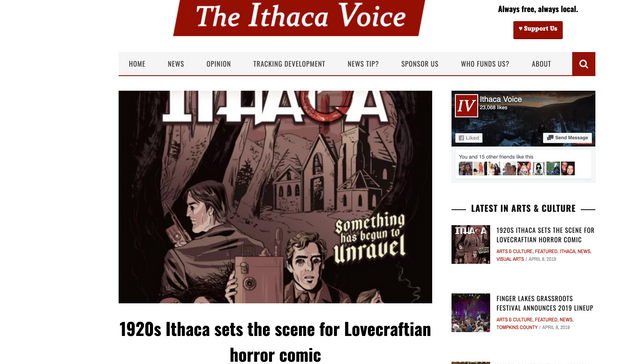 We got another article in a mainstream news outlet, and this time we got top billing!
https://ithacavoice.com/2019/04/1920s-ithaca-sets-the-scene-for-lovecraftian-horror-comic/?fbclid=IwAR1Uc3GvX4zAfHc2svwNgvEuf7y_6SZgMNghzZy4U0EmPdVsa2xOaYamuo0
You can check out the piece for yourselves, and I really think this one will drum up more interest in Ithaqa and Steemit than the last one. Ithaca Voice has a large readership, and getting our own dedicated article is really nice. Better than having to scroll past a bunch of stories about murder and dog poo!
https://www.hobokengirl.com/news-hoboken-jersey-city-march-31-2019/
You can read all of "Ithaqa" Issue 1 here on steemit!
https://steemit.com/art/@drwatson/full-issue-1-of-ithaqa-comic
If you have any friends or family who might be interested in a Lovecraftian horror comic, please send them to our website to sign up for some free pages! https://www.ithaqacomic.com/contact-us/
Additionally, If you're new to this comic I strongly recommend you check out our instagram, as I'm currently uploading pages every day.
Instagram: https://www.instagram.com/ithaqacomic/
Theresa Chiechi's (The Artist @la-fumettista) website is here: http://www.theresachiechi.com/
Lucas Gattoni's (The Letterer/Logo Designer) website is here: http://bit.ly/LG_Lettering
Sign up to buy the comic on our website: https://www.ithaqacomic.com/
FB: https://www.facebook.com/pg/IthaqaComic/about/?ref=page_internal
Twitter: @IthaqaComic