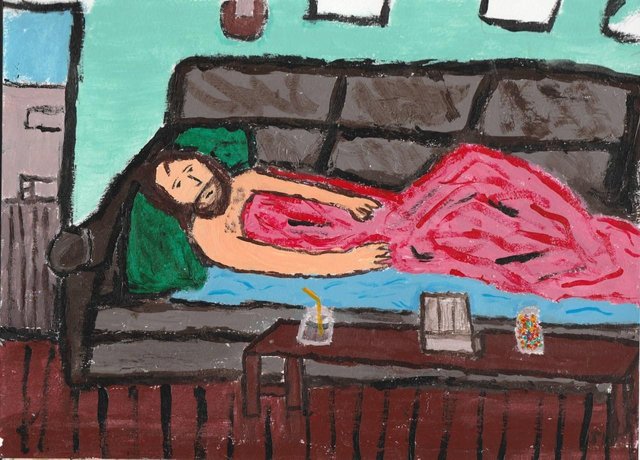 Convalescence, Acrylic on Paper, 2015
In February of 2015, I wrecked my motorcycle and broke four bones. Having never broken a bone before I figured I would go big!
This was the longest time I had ever had to lay down in my life. I was on a couch for six weeks after the wreck and didn't move much even after that. I don't remember how long I stopped painting, thankfully it was my left side that was injured, but I knew I had to do a self-portrait of my miserable condition.
I think I was going for a Van Gogh effect here but it ended up looking more like a bad Matisse. That may be an insult to Matisse.
But I don't regret painting it. It memorialized a very rough spot in life for me, one which I didn't realize was so bad while I was in it.
It was only later that I realized how much being helpless and powerless affected my mental health. Perhaps painting made it a bit more bearable.
I'm posting every painting I have ever done from 2014 to the present, the good, the bad, and the ugly. With an occasional photograph thrown in just to mix things up. Check back daily to see my progression as an "artist"!
#everypaintingihaveeverdone